Hitting all the right notes
As one of Taiwan's least known industries, Houli's brass instrument manufacturers have successfully been keeping the world in saxophones for nearly 50 years
He might be the musician
people love to hate, but crack a joke about soprano saxophonist, Kenny G and his "smooth jazz" in the Taichung County town of Houli (后里鄉) and you could be cruising for a bruising.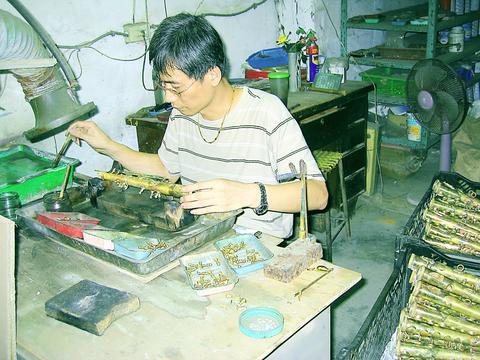 Twelve kilometers north of Taichung City, with the Danan (大安溪) and (大甲溪) Dajia rivers running through it, on the surface Houli appears to be an odd place for a G fan-base.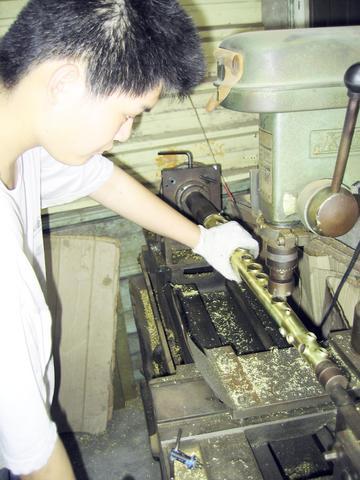 The surrounding countryside is littered with farms, predominantly grape farms, and the skyline is dominated by the town's bread and butter industries -- a steel factory and an equally large paper mill.
It's not the mind-numbing monotony of the long hours large numbers of Houli's 55,531 inhabitants spend on farms or factory floors, however, which has led to the saxophonist's huge following. More affectionately known as Musical Instrument Town (樂器之鄉), the reason for G's popularity is because Houli happens to be one of the largest centers of saxophone production in the world.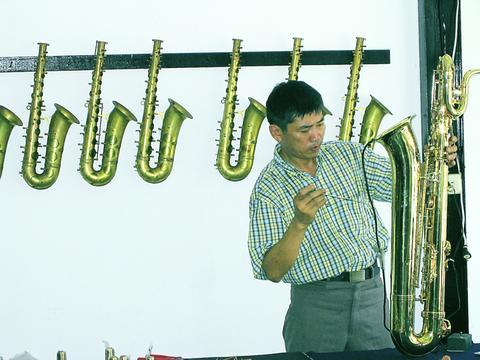 According to life-long Houli resident, Chang Ming-teh (張明德), 97 percent of the world's saxophones originate from the town's roughly 20 family-run factories. A more moderate estimate provided by the Taichung County Cultural Bureau is a little less, however, with Houli accounting for approximately two thirds of the world's saxophones.
While its production of brass instruments is undeniably prolific, the industry doesn't offer much in the way of employment. The business is a cottage industry and run solely by family members out of their own homes with no outside help or with as few as six or seven employees.
Except for the cylindrical brass tubing that can be spotted in the backs of vans as they make their deliveries, there is little indication as to the
presence of the industry in the town.
It might be one of Taiwan's least talked about businesses, yet Houli's saxophone production is one of the nation's oldest and most successful export-orientated industries.
"As many of the factories are located in private houses and we all know each other there's little point in having huge signs," said saxophone manufacturer, Wang Tsai-rei (王彩蕊). "We have been doing this for almost 50 years now, and, whether they knew it or not, people all over the world have used Houli saxophones."
The town's little-known saxophone-legacy began shortly after World War II. A resident who'd lived in Japan during the war returned home in 1946 toting an old and rather natty saxophone. The battered instrument fell into the hands of painter and entrepreneur, Chang Lien-cheng (張連昌), who set about toying with the brass contraption. Within a short period of time and with no prior knowledge of saxophones he managed to restore it to its former glory.
Learning to play the repaired instrument, however, wasn't enough for Chang. According to his grandson Chang Tsong-yao (張宗瑤), the current proprietor of the family business, the elder Chang was "was always looking for a challenge." He figured that he could make his own saxophones and market them.
A mere year after the battered saxophone had come into his possession Chang established the town's first saxophone factory. Receiving only unpaid assistance from family members, he was soon one of the nation's leading private manufacturers of saxophones. Selling his products for NT$1,200, or roughly twice the average monthly wage.
Not wishing to monopolize on his new found business opportunity, Chang soon set about teaching other town residents the tricks of the saxophone trade. Before his death in 1986 aged 73, Chang had taught about 200 people the secrets of his success. Many of these people went on to establish their own factories, which today still produce saxophones and are now run by the heirs of those taught during the 1950s.
Some of those he taught attempted to transplant their skills in big cities, but the move out of Houli was rarely lucrative. Instead it was those who chose to stay in the town who enjoyed saxophone-manufacturing success.
"Several people taught by my grandfather moved to Taipei to set up a business, but it didn't work out for them," said Chang Tsong-yao (張宗瑤). "I guess it was a question of reputation. If you remain in Houli people know you are a reputable manufacturer. Move away and, well, you're on your own and you lose the benefit of the town's good name."
Depending on the size and number of employees, on average, each of the town's family-run factories can produce from between 100 to 300 saxophones per month. Production costs are relatively cheap. According to Chang, costs range from NT$200 to NT$500 per unit -- a cost based on the price of the between 3kg to 5kg of brass it takes to produce one saxophone. The retail value of the finished articles ranges from NT$8,000 to NT$20,000.
Houli's family-run factories may have carved out a niche for themselves in the low-end saxophone market, but companies such as Yamaha remain firmly in command of high-end saxophone production. A comparison in price sees those manufactured by the Japanese giant commanding two or three times that of Houli-produced saxophones. Regardless of the difference in cost, however, Houli still manages to produce good quality products.
"They make amazing stuff for the price. Sure it's not Yamaha, but the quality of saxophones made in Houli has certainly gotten a lot better over the past five to 10 years," said popular saxophonist and recording artist, Corbett Wall.
Along with producing saxophones for US and European markets, several of the larger factories owned by third generation factory boss, Lin Hsi-song (林細松) do a lucrative business producing parts such as keys and key rods for the town's smaller home-based factories; a sideline that suits everybody.
"We're all in this business together and there's certainly no rivalry. We all work for the good of the town and for each other," Lin said.
Lin's business may be booming, but on his arrival at work every morning he is greeted by an unpleasant slice of the manufacturing industry in Taiwan today. Adjacent to his workplace sits an empty shell of a factory that until last year was home to a shoe manufacturing company; a company that, like so many others has since relocated to China.
"Sure, it's a worry, but I can't see me moving to China. If I wasn't in Houli then there'd be little point in continuing to manufacture saxophones," continued Lin. "Houli and saxophones go hand in hand."
On the whole Houli's saxophone manufacturers remain unperturbed by international economics. China, according to the current owner of the town's first saxophone factory, poses no threat to their livelihoods.
There is, according to Chang, a big difference in the quality of saxophones made in China and Taiwan. China's don't pass muster as far as the grandson of Taiwan's saxophone legacy is concerned.
"They don't have the same sound. In fact, those made in China sound pretty flat," he said with a smirk.
The town's saxophone factory owners might be in agreement over the lack of threat from China, but they are all firmly divided on one issue: Who made ex-US president William Jefferson Clinton's saxophone?
While they have it on good authority that the saxophone originated in the town, the actual factory in which it was produced remains unknown. As all of the town's saxophones are made for the OEM market there is no specific Houli manufacturing mark or logo.
The topic of heated, yet cordial debate for many years, many reckon iit is better for all concerned if the question of Clinton's saxophone remains a mystery.
"I guess not knowing who made it makes it better in a way," admitted Lin pointing to a photograph of Clinton holding the much-debated instrument.
"The fact that it comes from Houli is reward enough. It is a great honor for us all as well as the town itself." Like the town's saxophone manufacturing industry, Kenny G's popularity in Houli also looks set to continue indefinitely. Despite the Taipei Times' constant barrage of well-meaning quips, his music will continue to provide the background sound in many of the factories.
"We listen to him all the time while working," laughed saxophone factory owner, Chang Chun-hui (張俊輝) over the background buzz of jazz. "Kenny G rocks!"
Comments will be moderated. Keep comments relevant to the article. Remarks containing abusive and obscene language, personal attacks of any kind or promotion will be removed and the user banned. Final decision will be at the discretion of the Taipei Times.