Facing up to a gambling problem
Taiwan loves gambling, but it's illegal. As more casinos are built in the region and online betting becomes more popular, this status quo is looking increasingly tenuous
Jason scooted over to the tourists drinking coffee in the small, coastal town of Daxi in Ilan County and
excitedly told them about himself. He said he wasn't sure whether he was 10- or 11-years-old, but he was proud of having recently made NT$8,000 from playing poker.
Like other gamblers, perhaps Jason was stretching the truth, but the small-town vignette shows how entrenched betting is in Taiwan.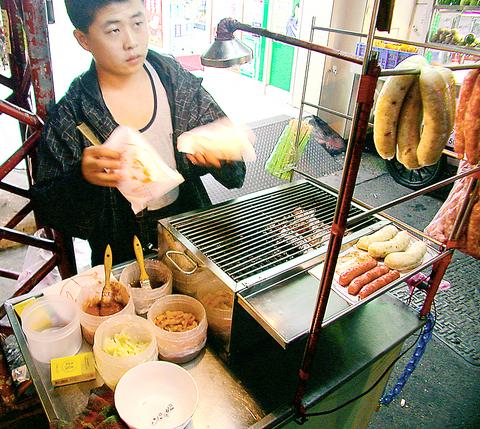 A stallholder on Linsen North Road serves up sausages with the bowl and dice he uses to take bets from customers in the foreground.
PHOTO: JULES QUARTLY, TAIPEI TIMES
From the millions who play lotto every week, to the pigeon racers who put money on their birds, betting is rampant.
But it is illegal. The Criminal Code, promulgated in 1935, prohibits public
gambling and providing a place for gamblers to assemble for profit. Penalties are fines from NT$1,000 to NT$9,000 and three years in prison. A "temporary amusement" clause, however, allows families to spend Chinese New Year playing mahjong all day, or earn a pot playing cards. But they must play for toothpicks in bars or teahouses, and a private house becomes public if the game is big enough.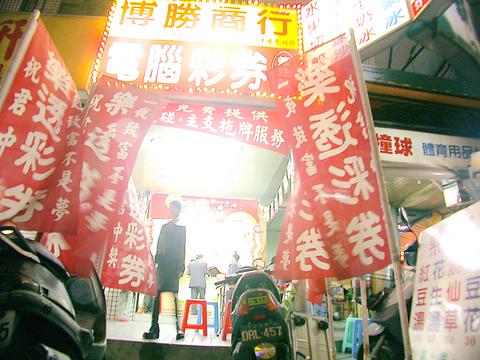 Customers line up to buy tickets for the national government-sponsored lottery draw on I-tong Street.
PHOTO: JULES QUARTLY, TAIPEI TIMES
Recently, virtual gambling has been exercising the minds of the authorities after a British online betting company chief and his financial adviser went one step too far two weeks ago by openly advertising their services.
Sportingbet Asia finance director Charles Moore said he expected just a few journalists to turn up at a spa hotel in Sanhsia, Taipei County, for the planned press conference. Instead, there was a ring of around 20 TV cameras and arc lights trained on the bemused duo when they stepped up to speak.
"We were overwhelmed by the media interest," Moore said. "We have customers in over 150 different countries and Taiwan is just another of those countries. In fact our customer base in Taiwan of less than 500 is very small compared to customers world wide of over 750,000."
A woman sells scratch-off lottery tickets from a stand on Nanjing East Road.
PHOTO: JULES QUARTLY, TAIPEI TIMES
Minister of the Interior Yu Cheng-hsien (余政憲) was reported to have been grim-faced when asked for his reaction and said the government would be clamping down.
True to his word, the next day the Criminal Investigation Bureau (CIB) raided Sportingbet's two local agents, Shijiwei Advertising Company in Taichung and Sports 101 in Taipei. They hauled away boxes of files and information stored on computers -- including a partial client list -- and said the company or its agents may have broken the law because bets took place in Taiwan.
Then, on Thursday, the chief of the CIB's Internet crime squad Eric Lee (李相臣) announced it would be referring for possible prosecution around 300 of Sportingbet's local customers, and the company's local agents for soliciting gaming action.
Sportingbet founder Mark Blandford said he had been confident his company had not infringed local laws since it was licensed in Britain and the clients' accounts were in London and "this is where the [betting] transaction took place."
"I take this as vindication of Sportingbet's claim that it was not conducting illegal gambling in Taiwan," Blandford said. "The fact that they are claiming to have customer data is purely a scare tactic to potential Taiwanese customers."
Lee Mau-sheng (李茂生), professor of law at National Taiwan University, said he had been surprised by the CIB's action, which referred the highest number of people ever for prosecution at one time.
"It's understandable that to protect the nation's fragile economy and prevent foreign syndicates from stretching their tentacles into Taiwan that the government has clamped down," Lee said.
"But it's interesting to note that not long ago Yu Cheng-hsien pledged zero growth in the crime rate ... and now all of a sudden 300 people are sent to the police."
Lee said it was unlikely these prosecutions would be made in the end and the punters would likely receive small fines or probation if they were, but the local agents could be "severely punished" for setting up a public gambling place and promoting gaming.
There are over 2,000 online betting Web sites that can be accessed in Taiwan, some of them Chinese-language. They promote online casinos, video games and keno, as well as betting.
Blandford said gambling operations run by companies based in the US were raking in gaming losses of over US$500 million a year from Taiwan customers on major US sports alone. "There is a huge underground supply for betting in Taiwan," he said.
As the Sportingbet case shows, there has been a vigorous public policy against gambling, but an equally strong desire to carry on regardless has led to the current Janus-faced position: On the one side there seems to be zero tolerance, but on the other side there is the state-sponsored lottery -- which brought in revenues of NT$79 billion last year.
Also, many Taiwanese figure if you can't gamble here then do it elsewhere. This can mean calling relatives abroad to place a wager, or making the pilgrimage to Las Vegas -- as over 85,000 Taiwanese do so annually. Others catch a ship from Keelung that steams around in international waters for night-and-day gambling action before returning home.
During last year's recession, a Chinese-language newspaper said gambling houses in the Philippines were packed with punters from Taiwan hoping to win back loses made on stocks. Flights to Macau, Cebu and Subic Bay in the Philippines were all full, it reported.
Added to the rollcall of betting that doesn't officially exist, there are informal bookies in workplaces, on campuses and in the markets, and illegal syndicates that give odds on anything from women's soccer to the result of a legislative election.
Like any other gambler, Taiwan is having difficulty facing up to the fact it has a problem.
Other countries are not so shy and spy huge profits. US gaming analysts at Bearns Stearns who were looking at investing in casinos on the archipelago of Penghu looked at the potential success of such a venture and concluded: "The Asian population within a five-hour flight [from Taiwan] has the highest propensity and frequency of wagering of any demographic in the world."
Though Macau is the only place in the region with a major gaming industry, other Asian countries are reacting to pent up demand for gambling. A state in India is considering allowing casinos, the issue is developing in Japan and Thailand is said to be enacting legislation this year that will see a casino in Pattaya.
An insider at the Ministry of the Interior told the Taipei Times that the attitude of the government toward gambling was of "effective management."
"This has been a consistent principle since Yu Cheng-hsien's predecessor Chang Po-ya (張博雅) was in office. From the government's point of view, it has to be very careful about managing gambling since it might involve the mafia and lead to dire consequences," he said.
"Take Penghu for example. Whether or not a casino can be set up on the outlying islands has aroused differing opinions between the ruling and opposition parties. It is a big policy. If the government hastily gives a green light to the establishment of the casino without taking into account possible consequences, things might become really difficult to resolve. It will be too late by that time."
The government has been burned before.
Baseball went from minor league to major betting scandal in six short years after the Chinese Professional Baseball League was founded in 1989. In 1996 it got so bad baseball players were being threatened, some pistol whipped and others kidnapped.
The public realized the games were being rigged and the young league split into two and nearly died before its time. Only this year with the re-formation of a single league has baseball once again become popular.
The law against gambling is similar to laws prohibiting drugs or prostitution. It is a paternalistic approach intended to prevent people harming themselves and others as a result.
Those against gambling cite studies in the US suggesting crime rates increase in states with casinos, and the number of people addicted to gambling increases fivefold
annually. For each dollar of gambling tax levied, they say, the government returns US$3 in social welfare benefits connected to gambling.
In Thailand, a recent report found gambling accounted for 10 to 18 percent of a gambler's income, and one in four people had gambling debts. The doomsayers predict unbridled
gambling in Taiwan if the law is relaxed, with low-income families in particular suffering and the costs passed down to children. They associate gambling with crime, not the "fun" activity Sportingbet said it promotes.
Even so, the most likely bet is the government will eventually capitalize on gambling and open up casinos in Penghu based on the US model of gaming, leisure and entertainment.
"It's clear that the voices trumpeting the establishment of casinos in specific areas are getting louder and louder," said Huang Jung-chien (黃榮堅), a professor of law at National Taiwan University.
"When the government considers opening up casinos or lowering the threshold for gambling operations, it has to take into consideration different aspects, including tax revenues, tourism, social welfare, management, among others. It does not involve just one aspect."
If the government does not act to catch the revenue streams from gaming, then foreign companies will continue to profit from being Taiwan's bookie, either online, or in nearby countries.
Also, countries which have legal gaming might view the government's position as protectionism. "After all, why should Taiwan close its domestic market to legally based Internet suppliers but still be able to export the technology?" Blandford said.
Since the government cannot stop gambling (it sponsors it through lotto) and may be pressured to open up its markets anyway, the line of least resistance is to reap local bettors' losses, rather than let foreigners profit.
Public opinion is overwhelmingly in favor of casinos in Penghu, with a survey last week commissioned by the Interior Ministry showing nearly two-thirds of people in favor and 22 percent against.
The smart money is on gambling becoming an election issue.
With additional reporting by Jackie Lin
Comments will be moderated. Keep comments relevant to the article. Remarks containing abusive and obscene language, personal attacks of any kind or promotion will be removed and the user banned. Final decision will be at the discretion of the Taipei Times.