Restaurant of the week: Fei Chien Wu 肥前屋
Address: 1F., 13-2, Alley 121, Chungshan N. Rd., Sec. 1, Taipei (台北市中山北路1段121巷13-2號1樓)
Telephone: (02) 2562-8701
Open: 11am to 2pm, 5:30pm to 8pm. Closed Mondays
Average meal: NT$250
Details: Credit cards not accepted. No English Menu
The neighborhood around Tienchin Street between Changan Road and Nanking Road is chock full of Japanese restaurants that are visible reminders that this area was previously home to much of the Japanese colonial administration. Now the narrow alleys are a favorite haunt of Japanese businessmen and tourists, as well as hip young Taiwanese.
Fei Qian Wu is not the oldest restaurant in the neighborhood, but it is easily the busiest, due mainly to its low prices and delicious roasted eel. As soon as its doors open crowds begin to converge so that about 20 minutes into its business hours there is already a line out the door and down the alley. With this kind of meal-time crunch, space is at a premium and it's common to share a table with strangers.
The cafeteria feel of the restaurant's seating arrangement extends to its service as well. A small legion of servers scurries about filling orders while others clear tables using clackety pushcarts. Food arrives at the table in no longer than five minutes from the time of ordering.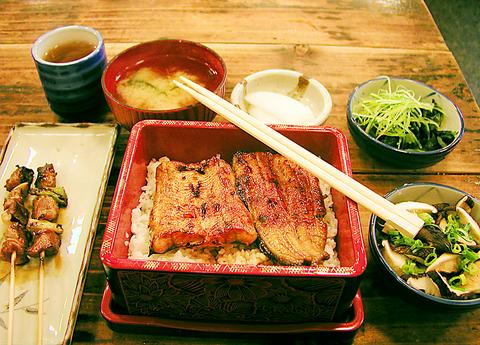 Find out what the fuss is about over Fei Chien Wu's roasted eel.
PHOTO: MAX WOODWORTH, TAIPEI TIMES
Despite the clear emphasis on turning high numbers of tables, not many shortcuts appear to be taken in the kitchen.
Most diners will make a special trip to Fei Chien Wu to eat its roasted eel, which is several cuts above the usual fare at similarly priced Japanese restaurants. A single portion of eel on rice with miso soup costs NT$140, while a double portion comes in at NT$240.
The double portion of eel would be plenty for one person, but it is well worth it to flesh out a meal with some of the smaller dishes on offer. Try the grilled squid, which is sufficient for up to four people or the shrimp and vegetable tempura. The best value must be the chicken kebabs, which cost only NT$20 a piece. The grilled and marinated mushrooms and seaweed are also refreshing choices for summer that cost NT$40 each.
This restaurant does not score high marks in the atmosphere category, but then it's the food and not the ambiance that has kept the store running for over 20 years. First-time visitors to Fei Chien Wu need not be dismayed if there is a line outside the restaurant. The owners see to it that the line moves quickly and the food will make the wait worthwhile.
Comments will be moderated. Keep comments relevant to the article. Remarks containing abusive and obscene language, personal attacks of any kind or promotion will be removed and the user banned. Final decision will be at the discretion of the Taipei Times.