An embroidered garden
As the only store offering handmade embroidered shoes, Little Garden has become a favorite shop of local women, thanks to a retro-Chinese chic fashion craze
The name is Little Garden, but there is no sign of plants nor the scent of flowers in the place -- only shoes. \nThe Little Garden Shoes Co is an aging shop with 65 years of history. Located in Hsimenting, where shops catering to Taipei's youth sell glossy accessories and sportswear, this old wooden house stands in stark contrast to its neighbors. \nThe shop doesn't even have a noticeable signboard. Only by walking close by can you spot the old fashioned Chinese calligraphy, Hsiao Hua Yuan (小花園). \nIt's no exaggeration to say that this is a fine garden for shoe-loving female shoppers. It is the world of embroidered shoes. \nEntering the Little Garden, the variety of flowers adorning the shoes look no less ravishing than if they were real. Droves of customers, including me, come and linger, pondering which pair to take home. Posing in the mirror, we imagine ourselves as the flowers in the garden. \n"Laoban, do you have this one with blue flowers?" asks one customer. \n"No, out of stock. Only in red," the owner relies. \n"No, you look good in blue or purple, not red," says another customer. \n"Try these. This year's trend is peony or chrysanthemum patterns. The dragon pattern is out of date," the owner tells them. \nSome 30 years ago, when Hsimenting was the most prosperous area in Taipei, Little Garden was a favorite shopping spot for the wives of wealthy businessmen or politicians. \nAnd now, thanks to a trend in ethnic and Asian fashions -- so-called Chinese chic -- the garden has again become a hot spot among young women, especially Japanese tourists. \n"There are two must-visit-shops for Japanese tourists coming to Taiwan. One is the steamed dumpling place, Din Tai Fong (鼎泰豐), the other is my store," said Franky Chen (陳弘宜),the proud owner of Little Garden. \nAs we talk, he's also busy attending to his Japanese customers with his fluent "sales Japanese." \n"I heard that the shoes here are all cute and cheap. That's why I came here," said the 29-year-old woman from Japan. She was on a four-day trip to Taipei and showed me her Taiwan guidebook, published by Japanese Earth Walkers, which describes the store as the one and only place for original Shanghai-style embroidered shoes -- most of which are hand-made. \nThe guidebook is right. "We're the sole surviving embroidered-shoe shop in Taiwan," said the 58-year-old Chen. \nThe most distinguished products in the store are the 100 percent handmade shoes with a vamp, or upper, of black silk intricately embroidered with a colorful peacock. The inside is padded with soft cotton and hand-sewn to a leather sole. A pair costs NT$1,500. \nChen said these particular shoes are handmade by craftsman over 70 years old, and so in any given month there is usually only one pair available. \nChen is the third-generation owner of Little Garden. He said that the shop was established by his grandfather in Shanghai in 1936. It was located "in the foreigner's concession area, Sima Rd. (四馬路), which used to be called the `street of little gardens' (小花園街) because all the embroidered shoe shops were there and were referred to as `little gardens,'" Chen said. "We were `Chen's Little Garden,'" he said. \nLike many mainlanders, the Chen family moved to Taipei in 1949, during the KMT's retreat to Taiwan. \n"Until the 1960s, most Taiwanese wore Japanese-style wooden sandals. People were still poor and our customers were mainly the wealthy," Chen said. \nChen took out another pair of black shoes with simple white and gold embroidery and a sole of suede. "This is a typical in-house shoe. A lot of rich wives would buy this pair to play mah-jong while visiting people's houses. It's a very comfortable shoe to wear when playing mah-jong for a long time," said Chen. \nEmbroidered shoes grew in popularity during the Chin dynasty, around the time when the chi-pao (旗袍) became the common dress for women, and were designed to match the style of the dress. According to Chen, the shoes at Little Garden are typical Su style (蘇繡). Su is the abbreviated name for Shanghai. \nThe 1970s were the golden days for Little Garden, when embroidered shoes became very popular. "We received dozens of invoices every day," recalled Chen. At that time, the shop's factory had 50 staffers designing, cutting, sewing and selling the shoes. There were also four other embroidered shoe shops in Hsimenting. \n"I remember there was a chi-pao shop right next to Little Garden. I used to first shop at the chi-pao store, choosing the right fabric and design, then go to Little Garden for a matching pair of shoes," said 71-year-old Chang Kwei-chih (張桂芝), a Little Garden customer for some 30 years. \nAccording to Chen, among the shop's devoted customers are KMT chairman Lien Chan's (連戰) family; Yen Chou-yun (嚴倬雲), wife of Ku Chen-fu (辜振甫), the chairman of the Strait Exchange Foundation; and James Soong's (宋楚瑜) wife, Chen Wan-shui (陳萬水). \nTwenty years ago, the slippers provided in China Airline's first class cabin were also embroidered shoes from Little Garden. \nThe shoes' popularity faded after less expensive plastic shoes became fashionable in the late 1970s. "The market for this kind of shoe is small. It's not waterproof, not very durable and absolutely not made for walking. It's basically a rich person's shoe," Chen said. \nCraftsmen capable of making embroidered shoes are also disappearing. There are less than five shoemakers with the skills of the tradition in Taiwan. The needlework skills to produce the shoes are also found less and less these days as it demands a great deal of concentration and is a strain on one's eyesight. \nAbout three years ago, when retro-Chinese style became chic, Chen designed a series of new styles with a modern twist. The toes of the shoes are sharper and the heels a bit higher. The traditional hand-embroidery has largely been replaced by machine work, or often with a pre-embroidered brocade, which cuts-down on labor costs. \n"I was the first one to begin using pre-made brocade on shoes," Chen said proudly. These styles have become some of the most popular items in the store. \n"I like the style. Most of the shoes maintain the classic, delicate Chinese-style cut. And they're cheap," said another customer. \nPrices at Little Garden are very reasonable. A pair of flats cost NT$500, and modern sandals are NT$800. The two Japanese tourists bought two pairs each. \nSo never mind that you can't walk in them, and never mind that the traditional craftsmanship behind them is waning, as long as the shoes remain fancy, cute and cheap, the Little Garden will remain a favorite spot for born-to-shop. women. The many embroidered shoe shops sprouting up on Shanghai's Nanjing Rd. are evidence of this. \n"I was preparing to retire a few years ago. But now who knows, I might continue for another five to 10 years. And maybe open another shop in Shanghai!" Chen said.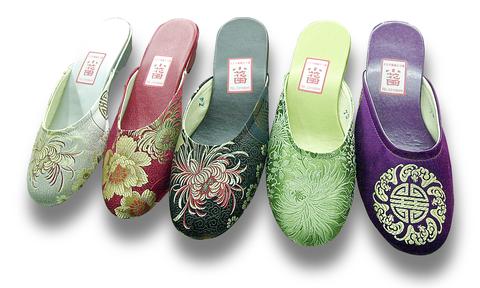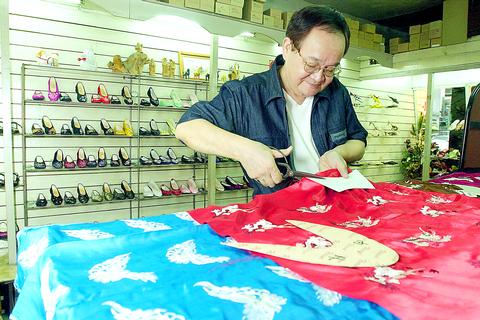 Franky Chen cuts vamps for Shanghai-style slippers.
PHOTO: CHIANG YING-YING, TAIPEI TIMES
Don't give as a gift the shoes with a lotus on the bottom, they're for the dead.
Comments will be moderated. Keep comments relevant to the article. Remarks containing abusive and obscene language, personal attacks of any kind or promotion will be removed and the user banned. Final decision will be at the discretion of the Taipei Times.