Restaurants of the week
This week, we take a look at three hot pot restaurants to beat the winter cold.
Chinghsiang Shantou Shacha Hot Pot (清香廣東汕頭沙茶火鍋) \n5, Lane 82 Hsining S Rd. (西寧南路82巷5號), tel: 2331-9561, 2331-9562. Open: 12 noon to 1 am; average meal: NT$400; No English menu; credit cards no accepted. \nLocated in Taipei's Hsimenting district for more than 40 years, Chinghsiang has maintained its popularity for one very simple reason -- its homemade Shacha Sauce (沙茶醬), a barbecue sauce similar to satay sauce. \nShacha sauce is a standard of Taiwanese cooking and is available at most convenience stores and groceries. But for those who crave the genuine Shantou Shacha sauce, originally from the town in China's Guangdong Province, Chinghsiang is the best place to go. \nOwner Wu Hsiu-fang (吳秀芳) is the second generation manager of this Cantonese hot pot restaurant. Simply decorated, the store has an old-fashioned Taiwanese friendliness created by the forthright service of Wu and her staff. \n"Our Shacha sauce, our hot pot broth, and honest service are what we have built our brand on," said Wu. These same things keep this venerable establishment in business in the face of growing competition from fancier hot pot establishments. \nChinghsiang's Shacha sauce is made of ground peanuts, sesame oil and "naturally there are ingredients we won't reveal," says Wu with a smile. The sauce enhances the flavor of the many meats and vegetables that can be added to the hot pot -- from frozen tofu, which acts like a sponge and is ideal for getting a full mouthful of the flavor, to sliced beef, fish balls, squid and duck intestines, vegetables and much else. \nTeh-Keh Lamb Hot Pot (德哥羊肉爐) \n109, Linsen North Rd. (林森北路109號), tel:2511-8491. Open: 5pm to 5am, average meal:NT$700; no English menu; credit cards not accepted. \nBecause of his love for lamb -- the cooked variety -- Chang Hsien-teh (張賢德) opened the Teh-Keh Lamb Hot Pot one year ago. His aim was to share his love of the tender flesh of Taiwan's goats with others. \nIn Chinese medicine, lamb is regarded as a "warm" meat suited for winter eating. Lamb hot pot (羊肉爐) is a typical Taiwanese winter tonic. It is usually stewed with Chinese herbs and served in dark, highly flavored broth. But at Teh-Keh, the soup is clear and the taste is pure. "Most lamb hot pots use imported lamb. With the meat frozen, the food must be strongly flavored to cover-up the poor quality of the meat," he said. \nChang uses flesh from local goats that are killed just prior to delivery. "And it's all eaten up within 72 hours. Freshness means a sweet taste and the absence of a mutton flavor [which is the reason why many people dislike mutton.]" The stock is made from the spin of the goat, which is stewed for a whole day. Its pure flavor makes additional spices unnecessary. \nIn addition to the house standards, ginger-flavored lamb hot pot, a variety of other flavors are available, including fish head hot pot and medicinal wine hot pot. \nTo provide for a wide range of tastes, Teh-Keh also offers many traditional Taiwanese dishes, which ensures a good variety of flavors to complement the hot pot. Bitter gourd with salted egg (鹹蛋苦瓜) and deep fried squid (鹹酥中卷) are highly recommended. \nChang-bai Bistro (長白小館) \n53, Lane 240 Kuanfu S Rd. (光復南路240巷53號), near the Sun Yat-sen Memorial Hall MRT station, tel:2751-3525, 2711-2643. Open:11:30am to 2pm, 5pm to 9pm; average meal:NT$500; English menu for non-hot pot dishes; credit cards not accepted. \nIf you have never tasted the delicate flavor of a pickle and white meat hot pot (酸菜白肉鍋), then Chang-bai is definitely the place to get a taste for it. This dish, which has proved popular in Taiwan in a number of different guises, is prepared in the authentic Beijing/Manchu style by Chang-bai owner Sung Tzi-ming (宋子明). \nSimply mixing the dip is a thrill. It is made up of 12 ingredients and if you are approaching this taste for the first time, Sung is happy to point you in the right direction. "First, one spoon of sesame sauce, half a spoon of garlic paste and scallion sauce, one spoon of fermented tofu sauce, half a spoon of shrimp oil and chili sauce and then some mustard sauce, coriander leaves and chopped green onions," he said. Many of these ingredients, such as the fermented tofu sauce and the mustard, are prepared in Chang-bai's kitchen. \nThe white meat is belly pork that layers fat and lean meat. Preparing this meat to make it taste right is a complicated process that involves sweating out excess oil through steaming, followed by washing and freezing. "Sixty percent of the oil is removed and the meat is not the least greasy," Sung said. Although the meat is "fatty," Sung said that many people find it delicious after tasting it. For people who don't eat pork, Chang-bai also has portions of sirloin beef and sliced mutton, prime cuts sliced thin to melt in your mouth. The stock is made from chicken, so that Chang-bai is also popular with Chinese Muslims. \nIn addition to the hot pot, Chang-bai has a number of northern specialties, such as scallion pancakes (蔥油餅) and chive turnovers (韭菜盒子). Although these dishes are widely available, the skill and high-quality ingredients that goes into their production at Chang-bai make them stand out from the crowd.
Its many hardy ingredients make hot pot a winter favorite.
PHOTO: YU SEN-LUN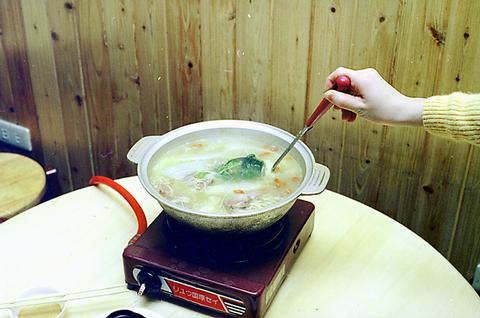 Tender goat meat is this kitchen's main attraction.
PHOTO: YU SEN-LUN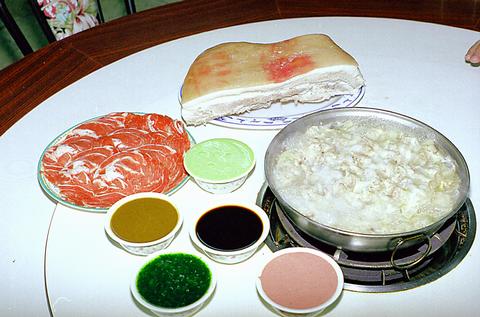 The specially prepared belly pork, top, and the selection of sauces are delicacies at Chang-bai.
PHOTO: YU SEN-LUN
Comments will be moderated. Keep comments relevant to the article. Remarks containing abusive and obscene language, personal attacks of any kind or promotion will be removed and the user banned. Final decision will be at the discretion of the Taipei Times.