Ireland haunted by ghost estates after property bust
The advertising catalog promised a new residential development, with a creche, tennis court and a mini golf course, minutes from the bustling center of the Irish town of Longford.
But as the leaking sewerage, pot-holed roads, lack of street lights and abandoned half-built houses around his home testify, the Silver Birches estate is far from what karate teacher John Killane had hoped for his family.
Wiring and abandoned building materials are scattered across the site making the grounds a dangerous playground for his children. Some of his neighbors also complain of rats coming to a nearby pool.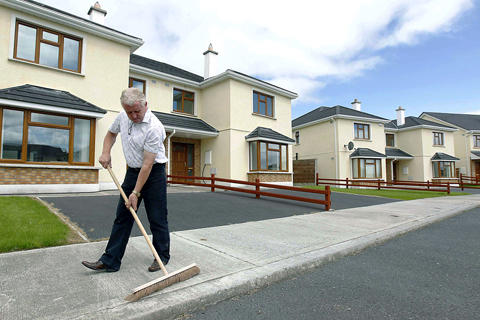 Property developer Johnny Owens does odd jobs around his practically deserted housing development in Mullingar, Ireland, on Wednesday.
PHOTO: REUTERS
He and his wife say that with the developer in liquidation and with property prices slumping, there is little they can do but wait for help from the local council.
"This, which is a family home, is now slowly but surely turning into a derelict," the 45-year-old Killane said. "If I were to try and sell my house right now, I'd say I would be laughed off the face of the earth."
With more than half of its 50 houses empty or unfinished, Silver Birches has been dubbed a "ghost estate" — one of 620 residential developments around Ireland that are a haunting legacy of the former Celtic Tiger's property boom and bust.
After two years of austerity, Ireland still faces a slow climb out of recession as it tries to deal with the fallout of a crash that left an estimated oversupply of at least 100,000 housing units as the cost of rescuing its exposed lending sector mounts.
The government set up a "bad bank," the National Asset Management Agency (NAMA), to cleanse commercial banks of shaky property loans worth a nominal 81 billion euros (US$106 billion).
It says the body, which would eventually become the country's biggest landlord via the non-performing loans it buys, is an essential tool to clean up the stricken housing and banking sectors. It aims to make a profit over its 10-year lifespan.
While NAMA still has to finish transferring the loans and conduct an inventory of properties, it is still unclear if stalled projects can be rescued or what avenues of recompense, if any, may be available to buyers such as Killane. The government is considering options like social housing, but it could also wipe the slate clean and bulldoze some estates.
"The ones closer to Dublin will probably be occupied over the next few years, but I think particularly in some counties far away from Dublin, we'll see hundreds of units vacant for a long period of time," said Ciaran Cuffe, a minister of state whose portfolio includes planning, heritage and horticulture.
Ireland enjoyed a decade-long property boom when developers were lured by generous loans from banks to build houses on cheap land to serve a stream of workers who, rather than pay sky-high prices in Dublin, preferred to pay slightly less and commute.
But the 2007 bursting of the bubble plunged Ireland into its worst recession on record, leaving an estimated 300,000 unsold or unfinished residential houses. Cash-strapped developers abandoned projects still in progress, leaving owners of overvalued homes surrounded by bleak, deteriorating sites.
Almost 200,000 homeowners are facing negative equity, when mortgage holders have to pay off loans exceeding the value of their homes, by the end of this year, official figures show.
"I am stuck with a house that nobody would ever consider buying and I will be in debt for the rest of my life," said one housewife on a "ghost estate," declining to be identified.
The mother of two said she would be lucky to get 200,000 euros for a home for which she paid 320,000 euros three years ago, but with houses in her isolated complex badly finished, she hardly sees buyers lining up.
"I feel I have been conned," she said.
With house prices still falling, cut-price house sales are becoming a feature of the severely depressed housing market as more construction companies go into receivership.
The pace of decline in house prices slowed to 1.7 percent in the second quarter, a survey showed on Thursday, while prices have fallen 35 percent since the peak at the end of 2006.
The National Institute for Regional Spatial Analysis, which advises the government, on Thursday called for an independent inquiry into the "catastrophic failure" of the planning system, like the one carried out into Ireland's banks.
It said planning failures contributed to the property bubble and crisis, with planning driven by demands of developers and speculators, and ambitious localized growth plans, while tax incentives encouraged the excesses.
It said one in six houses in Ireland is now uninhabited for the majority of the year.
Comments will be moderated. Keep comments relevant to the article. Remarks containing abusive and obscene language, personal attacks of any kind or promotion will be removed and the user banned. Final decision will be at the discretion of the Taipei Times.