Peruvian invents eco-friendly gold extractor
Call it green gold. A Peruvian engineer says he has come up with an environmentally sound way to isolate gold from clumps of sand without using toxic mercury that wildcat miners in the Amazon basin rely on to extract the precious metal, then dump into rivers.
The small, cylindrical machine blends mineralized dirt with jets of pressurized air, water and biodegradable chemicals in a centrifugal motion that produces a cocktail of thousands of bubbles that rise to the surface attached to specks of gold.
"This is ethical gold, because it's not using mercury. Small scale mining is a big employer, and the machine's cost of operation is cheap," Carlos Villachica, an engineer who developed the device, said inside his small lab in Peru's capital, Lima.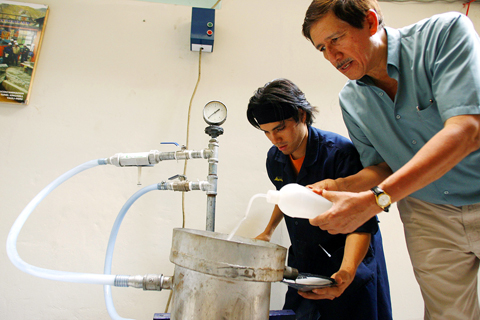 Engineer Carlos Villachica, right, accompanied by a worker, adds biodegradable chemicals mixed with water to a machine he has invented to isolate gold from clumps of sand without using toxic mercury at his laboratory in Lima, Peru, on April 16.
PHOTO: REUTERS
While large, professional gold mines rely mainly on cyanide in sealed pools, mercury is used by millions of wildcat miners around the world. They buy hundreds of tonnes of it each year to extract gold from mud.
Environmentalists say much of it will eventually make its way into the food chain, causing health problems.
About 20 percent of gold in Peru is produced by wildcatters — people who mine, usually without formal permits, using picks and dredges.
The high concentration of gold produced by the device allows for direct melting of the precious metal, according to Villachica, who says it also conserves water, recycling up to 90 percent and as much as 70 percent of all chemicals used during the process.
The government has long struggled with curbing some 300,000 wildcat miners and reducing pollution in the Amazon basin.
Villachica said he was close to introducing the machine in the Madre de Dios region, where 70 percent of Peru's wildcatters operate.
The machine would produce up to 95 percent of the gold obtained by using mercury by wildcat miners, who often put their own health at risk by exposing themselves to the toxic metal.
Villachica runs Smallvill, a Peruvian firm that focuses on green technology and has built a plant to clean waste water of the mining company Volcan.
However, his latest device is still unknown and it remains to be seen whether it can transform Peru's mining industry.
Patrick Taylor and Corby Anderson, two colleagues at the Colorado School of Mines, say it remains to be seen what the invention is capable of doing.
"He might be reaping some gold, but we would need to see the results. He's not going to produce pure gold, just a concentrate," Anderson said.
But, Taylor said, there is room for testing new technologies.
"Even though I am unaware of this specific technology, how it works, and it's utility for small gold miners, advances in technology are made often and this may be very useful. I am interested in learning more about it," he said.
Peru is the world's No. 6 producer of the precious metal and shipments of gold and other metals make up 60 percent of its exports.
Peruvian President Alan Garcia has passed laws to curb pollution by wildcatters, but they have protested against the new rules. A deadly clash with police this month forced the government to say it would revise the laws in Congress.
Villachica said people have contacted him from as far as Australia and Tanzania, asking him how to produce gold in an environmentally friendly manner.
Among the most interested is a local group of farmers and miners in the region of Cusco, the old Inca capital, who want to reopen a 16th century gold mine.
"It's an environmental project that would benefit the community," Samuel Solis, a community leader said. "They want to find gold like their ancestors using the green technology."
Comments will be moderated. Keep comments relevant to the article. Remarks containing abusive and obscene language, personal attacks of any kind or promotion will be removed and the user banned. Final decision will be at the discretion of the Taipei Times.