Shanghai set to step onto world stage with Expo
For countries like Australia and Japan, the event will be a way to help bilateral relations and perhaps even heal the wouds of their wartime past
Shanghai will raise the curtain next month on the biggest-ever World Expo — where China's most cosmopolitan city hopes to stake a claim to being in the same league as London, Paris and New York.
Army trucks and contractors buzz around the Expo site — which is more than twice the size of Monaco — completing pavilions where more than 190 countries will show off their best in the six-month extravaganza, which opens on May 1.
For China, the World's Fair is the latest showcase for its growing global clout after the 2008 Beijing Olympics — and Shanghai has planned an Expo on an unparalleled scale to show it can rival the world's greatest cities.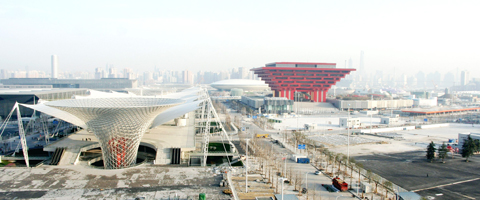 The World Expo 2010 site, with the expo boulevard, left, and the Chinese pavilion, right, rising in the background in Shanghai, is pictured on March 10.
PHOTO: AFP
"What Shanghai stands to gain from the Expo cannot be measured simply in financial terms," said vice-mayor Yang Xiong (楊雄), who is also an Expo deputy director.
"Expo will have a deep influence on Shanghai and will have an impact on several generations," Yang said.
The massive Expo site is 20 times the size of the area used for the last Expo in Zaragoza, Spain, two years ago.
Visitors stand in front of the Spain Pavilion for the 2010 World Expo in Shanghai on Tuesday.
PHOTO: EPA
Officials initially said they aimed to attract 70 million visitors — 95 percent of them Chinese — to the World's Fair, but as the opening draws closer, they have boosted that figure to 100 million.
Shanghai has been given a face lift ahead of their arrival. In the past month alone, the iconic Bund waterfront has reopened with a new look recalling its 1930s heyday, a new gleaming domestic airport has begun operation and the subway has been dramatically expanded.
"Shanghai completed the next 20 years worth of infrastructure investments in advance this year because of Expo," said Chen Xinkang (陳信康), head of the Institute of World Expo Economy at the Shanghai University of Finance and Economics.
Shanghai residents will be treated to an Expo preview from April 20, allowing officials to test the facilities before the official opening. The city has declared April 30 to May 4 a holiday.
A record 192 countries are participating and national pavilion teams are racing — wiring, painting and setting up displays — to meet the deadline.
Despite the seemingly chaotic construction, Yang said fewer than 10 percent of the pavilions would not be ready by May 1.
"We will go all-out to reduce the number of pavilions that are unable to open on schedule," he said.
Australia's US$56 million pavilion is 99 percent finished, director Peter Sams said.
He said this Expo has special significance for Australia, as it does for many other countries, because it offers an opportunity to engage with people in the 21st century's rising power.
"China is extraordinarily important to Australia and has been for a very long time," Sams said. "Helping China have a successful Expo is a very important part of our bilateral relationship."
For the director of Japan's pavilion, Norishi Ehara, Expo will open a new chapter in ­Sino-Japanese relations.
Although Japan's pop culture exports have long fascinated young Chinese, many also feel simmering anger over Japan's World War II-era aggression.
"Historical is historical … now we are going to create new relations. This is it," he said, gesturing around him inside the US$140 million pavilion, where violin-playing robots will serenade visitors.
Other countries are bringing national treasures to woo the Chinese.
Denmark has sent its Little Mermaid sculpture out of Copenhagen harbor for the first time, France is showing seven priceless artworks from Paris' Musee d'Orsay and Italy will display two Renaissance paintings by Caravaggio.
In some cases, the pavilions themselves are modern masterpieces.
Britain's "Seed Cathedral" stops people in their tracks — its 60,000 acrylic rods emanating from a timber cube creates a dandelion effect.
"This is the first time anyone's done a project like this so it's been quite scary and now I'm really, really happy. It's worked out better than I'd hoped," designer Thomas Heatherwick said during a site inspection.
"It's thrilling that it's actually come off," he said.
Comments will be moderated. Keep comments relevant to the article. Remarks containing abusive and obscene language, personal attacks of any kind or promotion will be removed and the user banned. Final decision will be at the discretion of the Taipei Times.