Dubai reaches for the sky
At more than 800m,the new tallest building in the world is to open tomorrow. One architect says it will be 10 years before a taller building is built
Once-bustling Dubai plans to open the world's tallest skyscraper tomorrow, boasting new limits in design and construction, hopeful of polishing an image tarnished by the debt woes afflicting the Gulf emirate.
Emaar, the giant property firm part-owned by the government that developed the needle-shaped concrete, steel and glass structure, has declined to reveal Burj Dubai's exact height.
Apparently wanting to maintain the suspense, the company will say only that the tower exceeds 800m, putting it far higher than the former world's tallest building, Taiwan's Taipei 101 tower at 508m.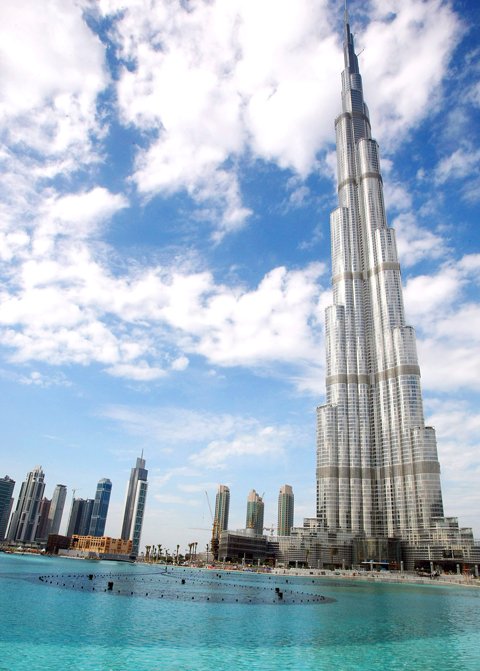 Burj Dubai, the world's tallest tower, sparkles in the sunlight in Dubai, United Arab Emirates, on Friday.
PHOTO: AFP
Bill Baker, a structural and civil engineer and partner in ­Chicago-based Skidmore, Owings and Merrill (SOM), which designed the tower, said Burj Dubai has set a new benchmark.
"We thought that it would be slightly taller than the existing tallest tower of Taipei 101. [Emaar] kept on asking us to go higher, but we didn't know how high we could go," he said.
"We were able to tune the building like we tune a music instrument. As we went higher and higher and higher, we discovered that by doing that process ... we were able to reach heights much higher than we ever thought we could," he said.
Burj Dubai, the world's tallest skyscraper, dominates the skyline in the Business Bay district in Dubai, United Arab Emirates, on Dec. 2.
PHOTO: BLOOMBERG
"We learned quite a bit from Burj Dubai. I would think we could easily do a 1 kilometer [tower]. We are optimistic about the ability to go even higher," he said.
The 160-floor tower, containing 330,000m3 of concrete and 31,400 tonnes of steel, can be seen from as far as 95km away.
Burj Dubai contains 57 lifts, which will whisk people to 1,044 apartments and 49 floors of office space, as well as a hotel bearing the Giorgio Armani logo.
A spiraling Y-shaped design by SOM architect Adrian Smith was used to support the structural core of the tower, which narrows as it ascends. Higher up it becomes a steel structure topped with a huge spire.
To reach the final stages, concrete was propelled to a height of 605m — a world record.
George Efstathiou, managing partner of SOM and the main project manager, said the tripod Y shape provides a stable base.
"We took that basic ... plan and used references to Islamic geometries and pointed arches ... as we go vertical with that shape we stepped it back in order to mitigate the wind issue," he said. "The building is very quiet. There are many storms that you wouldn't notice at all. This building is a lot quieter than a lot of the other supertalls that came before, even if they are shorter buildings."
Construction, which began in 2004, is estimated to have cost US$1 billion.
It was carried out by South Korea's Samsung Engineering & Construction, Belgium's BESIX group and the United Arab Emirates' Arabtec.
The skyscraper is the centerpiece of a US$20 billion new shopping district, Downtown Burj Dubai, which includes 30,000 apartments and the Dubai Mall, which says its space for 1,200 shops makes it the world's largest indoor shopping center
Ahead of tomorrow's grand opening, estate agents said there has been a considerable rise in demand for the tower's residential units, which were sold by the developer several years ago.
Property prices in Dubai have plunged more than 50 percent over the past year, but brokers said that the drop in the tower's prices has been less precipitous.
"I bought a one-bedroom apartment on the 80th floor for US$3 million in 2008. With the slide in prices, my loss will be huge, at least theoretically," one Palestinian businessman said.
One square foot (0.09m2) in the commercial area of the tower fetched between US$4,500 to US$5,500 at the height of the property boom in 2008, before the global recession hit.
Some believe Burj Dubai will be the last of the giant projects that have brought global fame to Dubai, such as the 3km long Palm Jumeirah artificial island developed by the troubled Nakheel company.
Other towers that have been announced but now look doubtful include the 1,000m Nakheel Tower, Kuwait's Silk City tower slated to be more than 1,000m tall, and the 1,600m Jeddah tower by Saudi billionaire Prince Alwaleed bin Talal.
Efstathiou says he believes it will be 10 years before Burj Dubai's record is broken.
"When Burj Dubai was conceived, it was a totally different time and the biggest driving force for these tall towers are the economics," he said. "If you can tell me when the economy is going to turn around, I would have a better idea about when the next building will occur. But we know that if a building started its designs today it wouldn't be done before at least seven to 10 years."
Comments will be moderated. Keep comments relevant to the article. Remarks containing abusive and obscene language, personal attacks of any kind or promotion will be removed and the user banned. Final decision will be at the discretion of the Taipei Times.