New Zealand turns a pest into luxury business
Enterprising manufacturers are blending Australian brushtailed possum fur with merino wool, creating high-end clothing while helping the country avoid an ecological disaster
The Australian brushtailed possum is an ecological disaster in New Zealand, but these days it can be found in Washington and Hollywood as well.
Millions of dollars are spent every year trying to control the millions of cute but destructive possums found throughout the country, and the rapid growth of a commercial industry to exploit its fur is making a difference.
Former US president Bill Clinton and his wife Hillary — the incoming Secretary of State — are among those who own clothing made from possum fur blended with merino wool.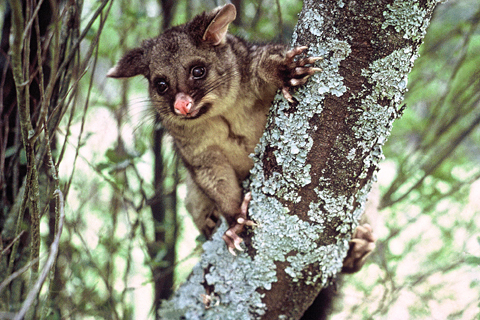 An Australian brushtailed possum watches from a tree in New Zealand in this photo released on Dec. 14. The possums strip trees of their leaves, compete for food with native birds and eat their eggs. Efforts to reduce the millions of possums in New Zealand's forests have been boosted by companies that blend possum fur with merino wool to make luxurious garments.
PHOTO: AFP
Peri Drysdale is the founder of New Zealand fashion label Untouched World, which has an emphasis on environmentally sustainable products and has won fans in the Clintons and Hollywood luminaries including "Desperate Housewives" star Felicity Huffman and Sharon Stone.
Drysdale is one of the pioneers of blending possum fur with merino, knitting her first garment from the blend in 1992 and first selling it commercially in 1996.
"The thing we really like about it is it creates a light, luxurious, beautifully soft garment and, unusually for a very fine textile, it has very good long wearing qualities," Drysdale said.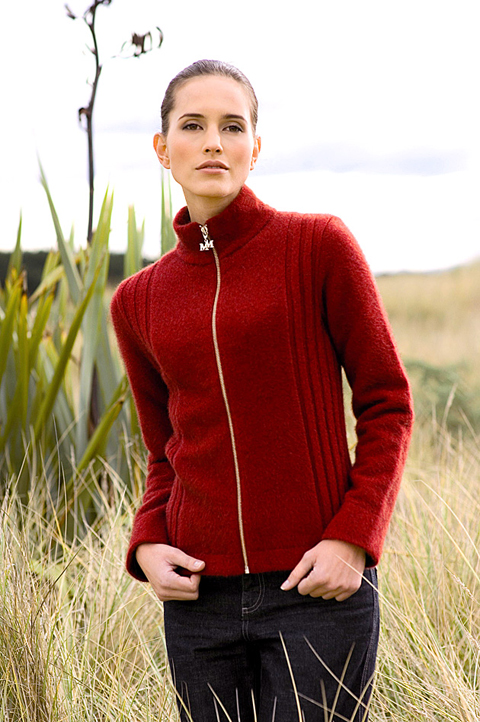 A model wears a jacket from an upmarket New Zealand clothing company that is blending the fur from one of the country's biggest pests, the Australian brushtailed possum, with merino wool to make unique and luxurious garments.
PHOTO: AFP
Possum fibers are hollow and fine, providing great warmth despite their light weight, and they don't tangle and create fiber balls like wool.
"We're passionate about it because it's such a good product," she said.
The product is unique and Drysdale's Snowy Peak and Untouched World companies are among a rising number of New Zealand firms making products under names such as merinomink, eco-possum, possumdown, eco fur and possum wool.
Sales of merino-and-possum-blend knitwear and accessories such as socks, scarves and gloves have grown rapidly and account for about 95 percent of all commercially caught possum fur.
The rest in the form of possum pelts is used for fur trims, jackets, bed throws, possum leather gloves and even novelty items such as fur nipple warmers and g-strings.
Demand has risen sharply worldwide in recent years despite the campaign by animal rights groups such as PETA (People for the Ethical Treatment of Animals) against wearing fur.
Industry figures say most criticism over possum dissipates when critics become aware of the facts about the environmental damage done by possums in New Zealand.
Brushtailed possums were first introduced to New Zealand in 1837 from their native Australia in hopes of starting a fur industry, and their numbers have exploded in the absence of predators.
"They destroy the trees, they eat birds, they eat eggs and they compete directly with many native species for resources," Department of Conservation senior advisor Herb Christophers said.
Numbers of many native New Zealand birds — including the iconic flightless kiwi — are falling fast and they could be doomed to extinction in the wild unless possums and other pests including rats and ermines are brought under control.
Possums also spread bovine tuberculosis, threatening New Zealand's beef, dairy and venison exports.
Animal health and conservation authorities spend many millions of dollars each year on trapping and poisoning campaigns in attempts to control the pest.
Controversially this includes dropping the sodium fluoroacetate poison, known as 1080, from the air over large tracts of forest, with deer and a small numbers of birds also falling victim to poisoning.
Many in the commercial possum industry want the poisoning to be reduced or stopped and for government authorities to work more closely with the commercial industry.
"The issue is whether the commercial industry can play a major role in meeting the animal health and biodiversity goals, and if it can then we should be giving it all the support we can give," said Steve Boot, owner of Basically Bush.
Basically Bush is a trading company responsible for buying more than half the possum fur caught by hunters for commercial use in New Zealand.
Boot estimates that around 1.8 million possums have been harvested in the wild by the commercial industry over the last year.
"If we could grow it to 3 million possums harvested and keep that up for five to 10 years, it would be very difficult to find animals in some areas," he said.
But Christophers said commercial harvesting could never replace the trapping and poisoning possum control program run by the government.
"Some people think it's a substitute for possum management; it's certainly a good supplement but it's not a substitute," he said.
"Show me the people who are going to go out there and do all this work. It's hard work and it's not everybody's cup of tea," he said. "If we stop using 1080 we will lose species, it's as simple as that."
But he said conservation authorities were happy to work with the fur industry and don't want any conflict.
Boot says most in the possum business would be happy if their hunting was so successful that it killed off their industry.
"By and large the industry feels that if it ever got to the point in 15 to 20 years time that there weren't enough possums left to support it then we should all be able to hold our heads up and say well done," he said.
Comments will be moderated. Keep comments relevant to the article. Remarks containing abusive and obscene language, personal attacks of any kind or promotion will be removed and the user banned. Final decision will be at the discretion of the Taipei Times.