Tourists seek nip and tuck, with safari on the side
Luxury retreats in South Africa's Cape winelands and safari hideouts in the Kruger National Park allow visitors to combine lip enhancements and tummy tucks with an 'awesome' vacation
Forget Africa's big game or unspoiled scenery. More and more foreign tourists are coming to South Africa for a little nip and tuck at the country's private hospitals, with safari on the side.
Joy Kramel-Cox traveled 12 hours from London to undergo a tummy tuck, a nose job and eyelid surgery at a private Johannesburg clinic, which cost her about 154,000 rand (US$15,200).
"After a lot of research on the Internet, I settled for South Africa. I loved the rates and the recuperation deal offered to me," the 54-year-old high school drama teacher said.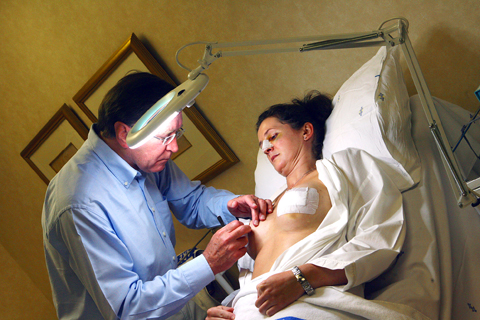 A South African doctor removes a bandage from the breast of a British patient who had plastic surgery in Johannesburg last Sunday. A growing number of foreign tourists are visiting South Africa for a little nip and tuck at the country's private hospitals, followed by a relaxing recuperation.
PHOTO: AFP
"It is no doubt that I would have paid more in my home country and I got a chance to see the country while recovering. I also liked the feeling of coming back home after a holiday and people notice more than just my tan," said Kramel-Cox, mother to a 13-year-old boy.
Tour operators say luxury retreats in the popular Cape winelands, safari hideouts in the Kruger National Park region and secluded coastal resorts are favorite recuperation spots among foreign patients.
The long holiday lets them recover in seclusion, returning home only once the bandages are off.
"Medical safaris are a growing phenomenon, thanks to the country's private hospitals that offer quality services that are on par with other hospitals in Europe," said Lorraine Melvill, founder and owner of Surgeon and Safari in Johannesburg.
South Africa's reputation for affordable, specialized medical care has steadily risen since the mid-1990s.
The handful of medical tourism companies are reporting an increased market share from both overseas and domestic patients.
Melvill said the patients receive extensive consultations before making the trip and their price tag includes flights, visas and accommodation as well as the hospital fees.
"A lot of Europeans choose five-star luxury lodges where they can have game drives and enjoy the African sun while recovering," said Melvill, who also runs an exclusive hotel.
She said South Africa was competing with other emerging economies such as India, Malaysia, Brazil, Thailand and Costa Rica, which are already major players in medical tourism.
"South Africa is a long-haul destination, so we are facing stiff competition from other countries which are closer to Europe, but our medical service and our package deals make it worthwhile," she said.
The lures of such lucrative private practice have raised fears that doctors and nurses will leave the public health system that serves ordinary South Africans to cater to wealthy foreigners.
But Melvill said medical tourism is becoming an important cottage industry for South Africa, drawing in patients from other parts of the continent that lack medical facilities.
Tshepo Maaka, founder of Serokolo Health Tourism, quit her full-time medicine practice five years ago to tap into the demand for medical safaris.
Maaka said the company receives an average of 20 inquiries a day, with most patients coming from Germany, Canada, the Netherlands and Australia.
"We do not operate like normal travel agencies. We hire highly trained staff with medical profession backgrounds as consultants," she said.
Her seven-day packages offer a selection of two surgical procedures such as lip enhancements, tummy tucks, eyelid surgery, facial laser resurfacing or liposuction at US$41,000, excluding the five-star hotel.
"Having your surgery done in South Africa is like killing two birds with one stone," Kramel-Cox said. "You lose the flab and experience one of the most awesome safari escapades in the world."
Comments will be moderated. Keep comments relevant to the article. Remarks containing abusive and obscene language, personal attacks of any kind or promotion will be removed and the user banned. Final decision will be at the discretion of the Taipei Times.