Companies with a nose for sales use aroma-marketing
Fragrance enhancement is being used to encourage women to buy electronics and to simulate the pungent smell of a battlefield
From the soothing aroma of mom's apple pie to the reek of vomit or dinosaur dung, US marketers have sniffed out a new way to push their wares -- fragrance.
Real estate agents are using it to sell homes, retailers are using it to entice customers and the US military is using it for wargames.
"Any place that really cares about a customer's experience is looking into this," said David Van Epps, chief executive officer of ScentAir, one of several firms that design aromas for retail settings or special events.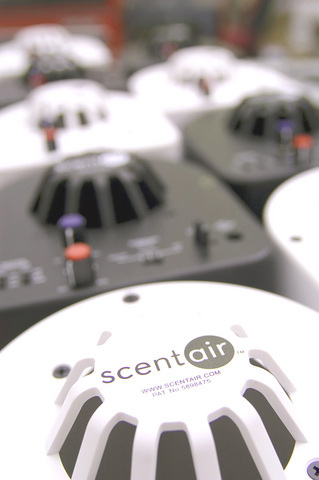 This undated photo provided by ScentAir shows aroma units under production in Charlotte, North Carolina.
PHOTO: AFP
"Of all the things that influence your mood and emotion and memory, fragrance is the powerhouse, more so than any of our other senses," he told reporters.
His company's clients include Sony, the Starwood Hotels chain that owns Westin and Sheraton hotels, Bloomingdale's department store, museums and US military contractors.
Sony sought out ScentAir last year for an aroma to woo female shoppers who may shy away from spending too much time at its electronics stores.
"We worked with them for six months and came up with a scent that has notes of mandarin origin, vanilla and cedar," Van Epps said. "It all blends together to create a very harmonious fragrance."
Sony now spritzes the scent at its stores nationwide and even in its shopping bags in the hope that customers will begin identifying the smell with the brand.
Van Epps said his company has so far catalogued nearly 1,500 aromas, including "dinosaur dung," which was created for a museum exhibit, "vomit," which was used by a theme park for a Halloween event and "open sewers," which is used in combat training to desensitize soldiers who may face unpleasant situations in combat.
ScentAir has also worked with the military to create the smell of airplane fuel, burning electrical wires and gunpowder for simulation training.
Real estate companies and home builders seek out soothing and welcoming scents such as vanilla, apple pie or chocolate chip cookies to create a homey atmosphere for prospective buyers.
"It's all about creating an experience that particular customers will remember," Van Epps said.
Custom blends cost between US$5,000 and US$25,000. Retailers are then usually charged US$100 a month for the small device that diffuses the aroma and for refills.
Van Epps said his company's scents have proven such a hit in the last two years that customers can now buy them off the rack.
Mary-Ellen Lapsansky, executive director of the New York-based Fragrance Foundation, said the market for environmental fragrance has really taken off in the last two years.
She said some companies, for example, pump peppermint scent into the workspace to energize employees. Vanilla scent has proven to be a soothing aroma and cherry scent, makes people happy.
"It has been proven scientifically that fragrance does have an effect on one's mood," Lapsansky said. "Stores that have used scent feel that consumers were inclined to linger longer in the aisles and therefore to purchase.
Comments will be moderated. Keep comments relevant to the article. Remarks containing abusive and obscene language, personal attacks of any kind or promotion will be removed and the user banned. Final decision will be at the discretion of the Taipei Times.