Robin Li's vision powers Baidu's Internet search dominance
The founder of the Chinese site never lost faith in his quest for a better way to find information, even when big Internet companies in the US were losing interest
In the summer of 1998 at a picnic in Silicon Valley, Eric Xu, a 34-year-old biochemist, introduced his shy, reserved friend Robin Li to John Wu, then the head of Yahoo's search engine team.
Li, 30 at the time, was a frustrated staff engineer at Infoseek, an Internet search engine partly owned by Disney, a company with a fading commitment to Infoseek that did not mesh with Li's ongoing passion for search. Like Disney, Wu and Yahoo were also losing interest in the business prospects of search, and Yahoo eventually outsourced all of its search functions to a little startup named Google.
Xu thought the two search guys would hit it off.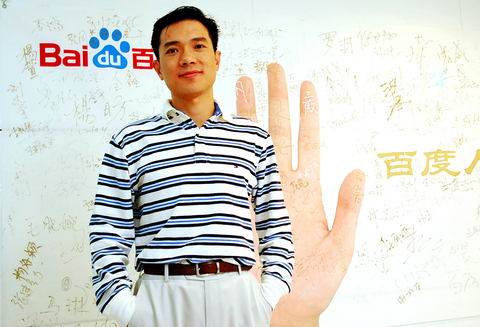 Robin Li, CEO and founder of Baidu.com, now worth US$3 billion.
PHOTO: NY TIMES NEWS SERVICE
Wu says he exchanged greetings with Robin Li, but what most impressed him was that despite all of the pessimism surrounding search, Li remained undaunted.
"The people at Yahoo didn't think search was all that important, and so neither did I," says Wu, who is now the chief technology officer at the Chinese Internet company Alibaba.com. "But Robin seemed very determined to stick with it. And you have to admire what he accomplished."
Indeed. A year after the picnic, in 1999, Li founded his own search company in China, naming it Baidu (pronounced "by-DOO").
Today, Baidu has a market value of US$3 billion and operates the fourth-most trafficked Web site in the world. And Baidu is doing what no other Internet company has been able to do: clobbering Google and Yahoo in its home market.
While Baidu continues to gain market share in China, and does so with a Web site that the Chinese government heavily censors and that gives priority to advertising rather than relevant search results.
Baidu's evolution, and Li's journey as an entrepreneur, offer textbook examples of the payoffs and perils of doing business in China and suggest that Baidu may prove to be far more resilient than some analysts believe.
China has a population of 1.3 billion, about 130 million of whom are Internet users, an online market second in size only to the US market. Because China is the world's fastest-growing major economy, analysts consider it the next great Internet battleground, with Baidu uniquely positioned to prosper from that competition.
In exchange for letting censors oversee its Web site, Baidu has sealed its dominance with support from the Chinese government, which regularly blocks Google here and imposes strict rules and censorship on other foreign Internet companies.
In addition, analysts say, entrepreneurs in China have a knack for pummeling US Internet giants.
"The globally dominant US Internet companies have failed to take the No.1 market share position in any category," says Jason Brueschke, a Citigroup analyst, of the Chinese market. "And they came with more money and major brand names. And so there's something fundamentally different about this market."
So fundamentally different, Brueschke believes, that Baidu will retain its lock on the Chinese search industry.
Li says Baidu's model is working supremely well and that the company has built a loyal base of users who value its search capabilities.
"At the end of the day, if a user finds relevant information, they'll come back," he says.
On its Web site, Baidu says that it takes its name from a Song Dynasty poem that "compares the search for a retreating beauty amid chaotic glamour with the search for one's dream while confronted by life's many obstacles."
Li, born Li Yanhong in 1968, is familiar with life's obstacles. The fourth of five children, he grew up during China's brutal Cultural Revolution. He was bright enough to get into the country's most prestigious school, Beijing University, where he dabbled in computer science.
The government's crackdown on pro-democracy demonstrations in Tiananmen Square came in 1989 when Li was a sophomore, causing his college campus to be shut down.
Interested in studying abroad, he enrolled at State University of New York-Buffalo. He completed his master's degree in 1994 and then joined a New Jersey division of Dow Jones & Company, where he helped develop a software program for the Wall Street Journal's online edition. During that time, he also spent much of his time trying to solve one of the Internet industry's earliest problems: sorting information.
A breakthrough came in 1996, he says, when he developed a search mechanism he called "link analysis," which involved ranking the popularity of a Web site based on how many other Web sites had linked to it.
"The moment I created this thing I was very excited," he says. "I told my boss and pushed him. But he wasn't very excited."
Soon after, he attended a computer conference in Silicon Valley and set up his own booth to demonstrate his search findings.
William Chang, then the chief technology officer at Infoseek, met Li at the conference and recruited him to oversee search development.
"Robin is possibly the single most brilliant and focused person I know," Chang says. "And his inventions, now widely adopted, are still the gold standards in Web search relevance."
Comments will be moderated. Keep comments relevant to the article. Remarks containing abusive and obscene language, personal attacks of any kind or promotion will be removed and the user banned. Final decision will be at the discretion of the Taipei Times.