Japan's `lost decade' leaves many in dire straits
Japan's economy is headed for its longest post-war expansion but away from the thronging shopping malls, new skyscrapers and luxury condominiums, many elderly and unemployed complain of losing out.
Kurumada, 72, who declined to give his first name, says he can only afford two meals a day with his welfare payment of ?96,000 (US$870) per month from the government, which also subsidizes his rent.
"I feel I just survive. I don't feel I'm living a life," said the former blue-collar worker, who began receiving benefits four years ago after heart disease forced him to give up his job fixing electric equipment.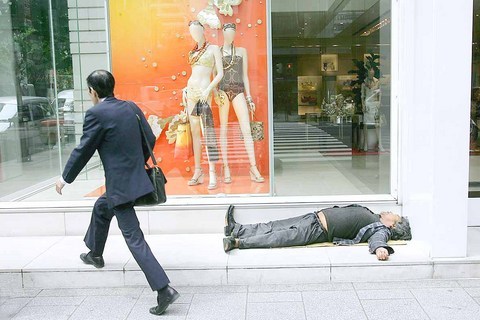 A Japanese businessman skirts past a homeless man sleeping below the display window of an upscale European designer boutique in Tokyo's Ginza shopping district last month.
PHOTO: EPA
Before he earned up to ?5 million, or about US$45,000, a year.
"Now I can't afford three meals a day," he said with rueful smile in his small one-room apartment in Arakawa ward in the old area of Tokyo.
Elsewhere in the capital, 71-year-old Kimiko Kimura has to make do with no bath or shower.
"There is no room equipped with a bath available at a cheap enough rent in Tokyo," said Kimura, who ran a small polystyrene business north of the city until her husband's death.
These are not extraordinary cases in Japan, which has prided itself since the end of World War II on being a classless society. Even today people in need are often reluctant to ask for help.
"In Japan, poor people hide. Those who live on social security don't talk about it because they think they are responsible for their own misfortune," said Kazuya Hata, a charity worker at The Group to Protect Living and Health.
Homelessness, which was largely unknown in Japan until the economic bubble burst in the early 1990s, has also risen and many parks are dotted with the blue tarpaulins of their makeshift shelters.
Japan's economy may be finally emerging from the `lost decade' of deflation but it is still expected to have more than one million households on welfare on average in the year to March, according to the most recent government survey.
This is about 2 percent of the total number of households in Japan and a 60 percent jump from 10 years ago, according to the Ministry of Health, Welfare and Labor.
While the increase is largely due to the aging population, the total number of working-age people on welfare, including disability and other benefits, has also gone up.
Almost 20 percent of the Japanese population is now aged 65 or older.
This ratio, already at a record high, will only increase as post-war baby boomers approach retirement age, while the falling birthrate is set to put increasing strains on the public finances.
While some struggle to scrape by, those with cash to burn head for ultra-chic shopping complexes in Tokyo with jaw-dropping prices, such as Roppongi Hills and its new sister mall Omotesando Hills.
Social inequalities may still be less pronounced in Japan than many other countries but there is increasing public concern about the emergence of the "haves" and the "have-nots" -- and the rising number of Japanese millionaires.
For many Japanese the unsavory side of the country's new style of capitalism was embodied by the fall from grace of Takafumi Horie, the high-flying founder of the Livedoor Internet firm now indicted for fraud.
A poll in March by the Yomiuri newspaper found that some 81 percent of Japanese people think the income gap is widening and many blame Prime Minister Junichiro Koizumi's reforms as he seeks to slim down the government.
According to the Organization for Economic Co-operation and Development (OECD), Japan's gini coefficient, a leading measure of inequality, stood at 0.314 in 2004, worse than Germany, France and Scandinavian nations but better than the US and Britain.
In 1969 Japan's gini coefficient was 0.316, above France's 0.414 at around the same time, where zero corresponds to perfect equality and 1.0 to perfect inequality.
On the face of it Japan's economy is in the best shape for a long time with the unemployment rate is at a seven-year low of 4.1 percent.
The number of people receiving jobless benefits declined to 628,000 in the fiscal year to March this year from 1.1 million four years earlier, out of a total population of about 127 million, according to government statistics.
However, not everyone is benefiting from falling unemployment, said Takuro Morinaga, an economics professor at Dokkyo University near Tokyo.
"Many specialists say the income gap has been rapidly widening," he said, noting that under Koizumi's reforms it has become easier for manufacturing companies to hire temporary workers.
"This means that many workers who used to be protected by the law can suddenly be fired, even though they are on lower incomes," Morinaga added.
Comments will be moderated. Keep comments relevant to the article. Remarks containing abusive and obscene language, personal attacks of any kind or promotion will be removed and the user banned. Final decision will be at the discretion of the Taipei Times.