Parents snap up domain names for babies
Dispatch from the future:
FROM: Carter Kohl, 34 inches, 13.6kg, 17 months.
TO: Friends and family.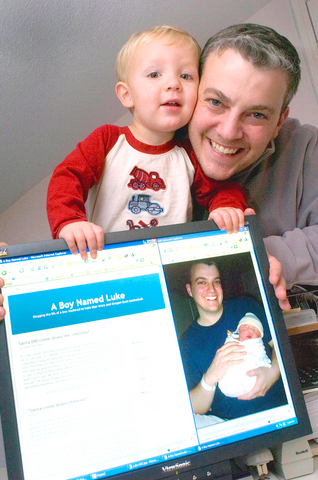 Luke Seeley, 22 months, displays his personal Web site, ``A Boy Named Luke,'' with his father, Gordon, at their home in Vancouver, Washington, this month.
PHOTO: NY TIMES NEWS SERVICE
MESSAGE: Feel free to contact me. Even though I cannot read just yet, you can still send me e-mail. My parents will read it to me and will help me respond to all your messages. In advance, thanks for getting in touch. I'll be reading and replying back to you before you know it!
Young Carter may not know it, but along with a galloping number of tiny citizens, he is already wired. Despite his limited lexicon, featuring the words fish and light (pronounced "ish" and "ite"), Carter possesses his own e-mail address and an inbox filling up with messages from family and fans.
Luke Seeley, 22 months, has two Web sites of his own, including lukeseeley.com, a domain his father purchased soon after an ultrasound showed that his first child was a boy, four months before the baby was born. Given his more advanced age, Luke, who like Carter also has an e-mail address (luke@lukeseeley.com), possesses a slightly larger vocabulary, including computer, mouse and Google, said Gordon Seeley, his father.
Luke "knows his animals," Seeley added, and understands that mouse has two different meanings: something small that moves things on a bright computer screen, and something small that devours cheese and lives in terror of cats.
Carter and Luke are pioneers in the latest technobaby twist to hit the Web, as parents snap up Web sites and e-mail addresses in the names of the next generation, long before their children can read, eat solid food or, in some cases, have even left the womb.
"It's like owning a piece of real estate online for him," said Seeley, 34, who lives in Vancouver, Washington, and specializes in Internet sales for an advertising firm. "By the time he's a teenager and he's really into the Internet, who knows what's going to be left in terms of domains?"
The motivation, parents and other experts say, is akin to securing a good street address in a fast-developing city a decade early, so the children do not have to live on virtual Main Street, stuck when they eventually develop the motor skills to log on, with an obscure domain name like lukeseely.ce, or a pedestrian e-mail address like lukeseeley@hotmail.
With many free e-mail providers like Hotmail, Yahoo and AOL, the user typically has to sign on regularly to keep the accounts active. And, really, who has time when you are teething?
"There is a little bit of squatting, for lack of a better term, in trying to gather up some of these better domain names," said Kevin Kohl, Carter's father, who lives in Pennsylvania, holds a master's degree in information science and built the family Web site.
Kohl said he considered buying Carter his own domain, instead of just the e-mail address he now has on the family site, which he did not want published to shield his family's privacy. But he has decided to wait at least until Carter "was old enough to start using the computer and understand what the Internet was."
It is impossible to say exactly how many preliterate children possess their own e-mail accounts and Web sites, but companies that sell domain names and e-mail accounts say the trend is increasingly common. It is the latest expression of baby obsession in cyberspace, following the explosion over the last few years of Web logs documenting a child's every milestone and similar family Web sites filled with photographs.
"Any life in transition, in a positive transition, that seems to be when people make the Internet their own," said Marci Hansen, marketing director for Dotster, which owns three services that sell Internet domains.
Namezero.com, one of the US' largest domain providers, markets heavily to parents, newlyweds, college students and retirees in the belief that people reaching a major milestone -- marriage, graduation, retirement -- will want to document it online.
Hansen said her company was looking into how e-mail addresses, domain names and help in building Web sites for babies could become gifts for expectant parents.
Dotser's average prices, which reflect those of other domain providers, are US$15 annually for a domain and US$10 for an e-mail account at the domain, with additional costs for extra e-mail addresses
Needless to say, this has all been met with some annoyance, especially among the weary childless, who can easily overdose on baby gaga.
"Why would anyone do that?" asked Donna Stewart, an aspiring artist who lives in Seattle and heard about the baby e-mail fad from a friend. "That's like getting e-mail for your dog."
Stewart, who has a dog, added that while it seemed understandable to post photographs on a Web site, "nobody's going to actually e-mail the baby." She added, "I just thought that's absurd."
(She confessed, though, that she sometimes sends e-mail messages to friends from the point of view of her dog, a mixed-breed shepherd, whom she declined to name.)
But for those looking for e-mail addresses or Web sites in their children's names, it's a dog-eat-dog domain world, and the sites are selling rapidly.
A quick search on www.namezero.com, on whose home page you can type in a name to see what Web sites are still available, shows that unless you have an unusual name, many of the coveted dot-com, dot-net and dot-org sites are spoken for.
Beyond these familiar extensions, there are a fast-growing number of new ones, including dot-es, which stands for espana, or Spain, and is being marketed to Hispanics and does not require Spanish citizenship. There are many other country extensions, like dot-uk, for residents of Britain, and dot-ca, for Canadians. (Hansen noted that her kitchen contractor, a US citizen, turned out to have a dot-to e-mail address, which stands for the country of Tonga and is what is known as an "open extension.")
On a list of 46 possible Web sites the only Smith domain still available is Smith.org.cn, which is only open to Chinese citizens (dot-cn stands for China).
For Browne there are a few more options, including Browne.la, which stands for Laos but is open to Americans and popular with residents of Los Angeles and Louisiana, and Browne.md, which has been marketed heavily to doctors but is also popular with Maryland residents.
Nima Kelly, a vice president of one of the country's largest domain providers, GoDaddy.com, bought four domains for her 11-year-old daughter two years ago.
"People are moving away from free accounts: their name at Hotmail or John Doe at aol.com," she said. "What's happening is that if you don't have a personalized e-mail address, it's seen as having a lack of credibility."
Comments will be moderated. Keep comments relevant to the article. Remarks containing abusive and obscene language, personal attacks of any kind or promotion will be removed and the user banned. Final decision will be at the discretion of the Taipei Times.