Japanese rice farmers fear an end to government protection
Each spring in the paddy-dotted rice bowl provinces of Japan, farmers such as Masaki Nagai gather at their local shrine for an ancient ritual to appeal to the gods for a bountiful harvest.
After seeing the low price of foreign rice first hand on a recent trip to Taiwan, and with Japan under increasing pressure to reduce protection of its agriculture sector, they may now pray just that little bit harder.
Falling rice prices have already put many of his fellow farmers out of business and 56-year-old Nagai fears his fields will be washed away by a flood of cheap imports if Japan bows to calls to scale down its trade barriers.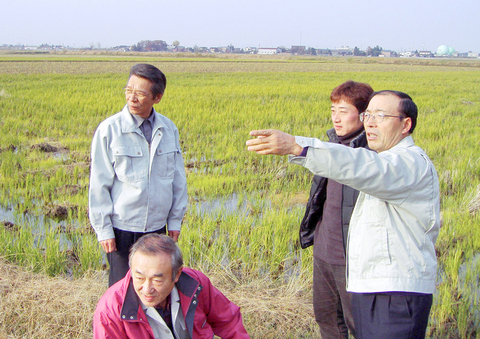 A Japanese farmer, Tadao Iwabuchi, right, shows his post-harvest rice field at Mitsuke city in Niigata prefecture, some 200km north of Tokyo, on Nov. 28, while his fellow farmers look on.
PHOTO: AFP
"The rice in Taiwan was really tasty, and only one-third of the price of the same kind we make here," he lamented, exchanging a rueful look with fellow rice farmer Tadao Iwabuchi, 59.
"And rice made in California is just one-tenth the price of Japanese rice," Iwabuchi added.
Although Japan's dwindling number of rice farmers are cushioned by whopping import tariffs of up to 778 percent, they fear such protectionist measures are unlikely to last.
Japan has signaled it is prepared to make difficult concessions at this week's WTO talks in Hong Kong.
While it seems unlikely the rice import tariffs will be scrapped at this month's meeting, Toshihiro Nikai, the economy, trade and industry minister, has said Japan is ready to "accept considerable pains" to help broker a deal.
price slump
In Japan rice prices have slumped by almost one-third over the past decade.
Even before that, many farmers of the staple food had been forced to take second jobs to make ends meet. Others abandoned their paddies altogether.
The trauma is heartfelt since rice is deeply rooted in Japan's rural culture, and the government has a history of protecting its farmers.
Many Japanese view foreign rice as vastly inferior to the home-grown, short-grain variety, and there are few complaints about prices in the shops that are several times higher than in many overseas countries.
Despite this, full-time farmers are rare in Japan nowadays. Just 13 percent of a total of 3.12 million farming households devote themselves entirely to agriculture, based on a government census in 2000.
In Niigata prefecture north of Tokyo where Nagai and Iwabuchi are struggling to eke out a living, 75 households of rice farmers with more than 10 hectares of rice paddies remain.
Iwabuchi has been expanding his own paddies -- not because the profits are pouring in but to try to boost efficiency to better compete with importers. Still, he fears it might not be enough.
"A few years ago I wanted to expand my rice fields to a total of 10 hectares, but now I am still worried with 13 hectares because circumstances surrounding us are changing so rapidly," Iwabuchi said.
They fear such efforts may count for nothing in the face of the vast farm lands of the US and the low labor costs of China and Taiwan.
"Farmers in the United States have hundreds of hectare rice fields each whereas in Japan even farmers with the largest fields have only about 10 or 20 hectares," Iwabuchi said.
The farmers' fear is amplified by a sense of betrayal by their political leaders.
"What frustrates me most is that the Japanese government has not drawn a comprehensive picture of how to make structural reform of the Japanese agriculture," Nagai said.
barriers erected
Rice, a Japanese staple food, was scarce following the end of World War II. But as agricultural advances boosted global harvests, Japan erected barriers to protect its farmers.
Until the Uruguay round of trade talks under the WTO's predecessor GATT, the Japanese government had repeatedly vowed that "not even a single grain of rice will be imported."
By the close of the round in 1993, however, Japan had agreed to open the door to a minimum amount of imports.
Now, it is under pressure to make further concessions in the WTO talks on agricultural trade.
Major food-exporting countries, led by the US, want a drastic cut in the number of "sensitive products" with special protection, as well as the introduction of caps on import tariffs, in the US proposal at 75 percent.
zero imports
Under the principle of zero rice imports, the Japanese government controlled production and prices of rice for decades, pressing farmers to reduce planting areas to bring national production down in line with falling consumption.
As a result, many small-sized farmers survived alongside a smaller group of large producers.
In the late 1990s, the government turned toward market-oriented rice production policy, sending prices into a steady decline.
Now it is trying to limit subsidies to large farmers only.
For those who have toiled away in the paddies all their life, as their ancestors did before them, more is at stake than just economics.
"Most of the local festivals and events are rooted in rice cultivation, and if small-sized farming is destroyed, so are local communities," Iwabuchi said.
"There are so many things linked to rice cultivation that bring us together as community members ... collaborative work on cleaning of waterways, seasonal festivals and rituals praying for a rich harvest," he said.
In Niigata prefecture rice-growing households gather at their local shrine in the spring when the shrine priest prays for a bumper season and again in the autumn just before harvesting.
One day, they fear, even prayers may not be enough to save their paddies.
Comments will be moderated. Keep comments relevant to the article. Remarks containing abusive and obscene language, personal attacks of any kind or promotion will be removed and the user banned. Final decision will be at the discretion of the Taipei Times.