Martin Halstead, 19, becomes Britain's new airline mogul
Dubbed `Baby Branson,' he's believed to be the world's youngest high-flyer, and his company, Alpha One, will travel routes that are too small for larger airlines
AP, LONDON
The founder of Britain's newest airline is discussing his business vision when a very different image pops into his head -- that of his newly hired troop of stewardesses.
At just 19 years old, entrepreneur Martin Halstead may be forgiven for displaying preoccupations more adolescent than corporate.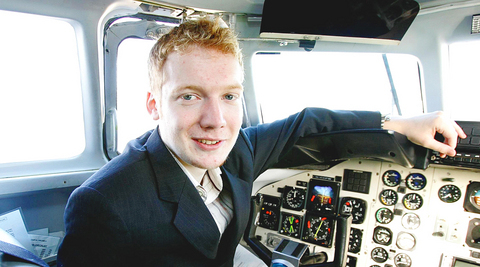 Martin Halstead in the cockpit at Southampton Airport in southern England for the launch of his new airline, Alpha One, last Monday. Alpha One will start services to Southampton and Blackpool from the Isle of Man on Nov. 21, and aims to carry 75,000 passengers in its first year of operations.
PHOTO: AP
"They're all very good-looking," he says of the onboard staff of Alpha One Airways, which made its debut flight this week between the south of England and the Isle of Man, a tax haven off the southeast coast. "I'm very pleased with the uniforms."
But he is as quick to talk about his very real achievements, seemingly lifted direct from the average teenager's daydreams: He set up his first business at 15, and qualified as a pilot at 18. Now, regular passenger flights on the new airline are due to start Nov. 21.
As the face of the airline, bawdy talk fits neatly with the persona he wants to project.
"I see myself as a James Bond type," he said, and adds that he hopes to be driving an Aston Martin fairly soon.
If this kind of personality-driven business strategy sounds familiar, it's because Halstead has honed his plans in talks with Richard Branson, chairman -- and ubiquitous public relations face -- of the Virgin group of companies.
"He's been so fantastic," says Halstead, who was invited on Virgin's inaugural flight to Mumbai after Branson read about him -- inevitably earning Halstead the "Baby Branson" tag from the British press.
"Basically, he said the most important thing about how you present your business is in how you present yourself," Halstead said.
The admiration is mutual, with Branson describing Halstead as being "as bright as a button."
But air hostesses and Richard Branson are the glamorous end of the industry. When Halstead resolved to start the business, it was partly to address a more prosaic concern: He was worried about getting a job. He has been a plane fanatic since his first flight at age 6, and quit halfway through his studies for his A-level exams at D'Overbroecks College in Oxford to train for his pilot license, which he was awarded at age 18.
"When I started looking I found that jobs were very hard to come by, and I was chatting with a friend and we kind of joked that I should start up my own airline," he said.
The airline is not his first venture. He's been bringing in cash since he was 15, when he started selling his own computer programs -- flight simulators.
Halstead wouldn't say how much he made from the sale of that business a few months ago, but acknowledged it amounted to about two-thirds of start-up costs of Alpha One. Living with his mother in their Oxford home also freed up cash. And Mohammed Moinuddin, a Dubai businessman, invested ?250,000 (US$440,000), after becoming friends with Halstead at Oxford Air Training School.
Though his youth has drawn plenty of welcome publicity, Halstead has insisted that "age is just a number." He points out that he is the youngest of his 26-strong team by a good seven years, but that his board of directors boast years of business and airline experience. He'll be trying to keep them happy by initially flying 2,000 passengers a month.
EuroManx, another Isle of Man airline, flew roughly that number until discontinuing the route about a month ago, citing high charges at Southampton airport.
Halstead believes EuroManx floundered by flying large planes half-empty; he thinks success lies in flying smaller 19-seat turboprop planes at full capacity.
The airline is starting with just one plane on the Southampton to Isle of Man shuttle. Halstead is banking on interest from business travelers whom he believes will happily fork out from ?99 for the 90-minute flight when the alternative is a ferry ride and a couple of train connections that can eat up the best part of a day.
Malcolm Ginsberg, editor of Air and Business Travel News, warned that the success of flights within Britain has so far been limited to main routes such as London to Edinburgh or London to Glasgow.
"I don't want to knock something when he might make a success out of it, but Isle of Man to Southampton isn't the first route that springs to mind. It's not an impossible one, we'll just have to wait and see," he said.
Halstead said he believes the Southampton connection is attractive to business commuters because it has good links to the island of Jersey, another tax haven. There are already plans to fly from the Isle of Man to Cardiff and Edinburgh, which are both discontinued routes that Halstead thinks could be successfully resurrected.
Halstead's Alpha One still has the folksiness of the typical start-up -- instead of shots of a gleaming air fleet, the company Web site is dominated by a photograph of a man jumping up and down and flapping his arms. And it turns out Nick, the man who answers the ticket line, is also one of the pilots.
Halstead refuses to be drawn on any long-term goals. But he is clear about one thing: "I don't want to be the next Richard Branson," he says. "I want to be the first Martin Halstead."
Comments will be moderated. Keep comments relevant to the article. Remarks containing abusive and obscene language, personal attacks of any kind or promotion will be removed and the user banned. Final decision will be at the discretion of the Taipei Times.