Graduates in Japan embark on difficult road to employment
The job market in Japan is tougher than ever, so some young people are going to rallies to get pumped up
Nanae Okubo was "inspired." Shunta Taka-yama was "waaaah, all fired up."
The heady mixture of pompom-waving cheerleaders, chants drawn from ancient warrior purification rituals, drummers, a brass band and ear-splitting rock music had gotten the two 19-year-old Tokyo students psyched up for their coming challenge.
They are about to start looking for work.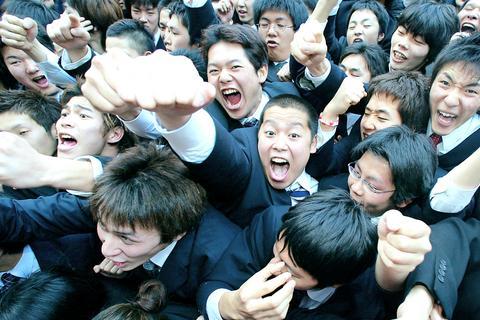 A group of college students from 14 vocational schools in Tokyo and Osaka, western Japan, gets into the swing of things during a pep ceremony to launch a job fair at Tokyo's Hibiya Park on Thursday. In the latest government report announced on Feb. 27, the unemployment rate in the world's second largest economy edged up to 5.0 percent in January after falling to its lowest level in two years the month before.
PHOTO: AP
The two were among some 3,000 students from business and technology colleges who filled an outdoor auditorium in a central Tokyo park earlier this week for an event aimed at giving them a rousing send-off on their journey into the corporate world.
Crowding the stage and screaming at the cheerleaders, the students, identically clad in severe grey suits, weren't behaving like the salarymen and women of tomorrow, even if they looked like them.
But their exuberance masks a serious reality.
Times are tough for young workers in Japan. Unemployment in the 15-24 age group is 10 percent, twice the overall rate and double what it was 10 years ago.
Japan's decade-long slowdown has pushed the unemployment rate up to record highs as companies cut costs by shedding older workers, closing subsidiaries and holding off on new hires.
"Listening to older students I realize that things are getting more difficult each year," Okubo said, struggling to make herself heard over the brass band's rendition of Frankie Valli's Can't take my eyes off you.
With a recovery gathering steam, there are signs that employment conditions are getting better, with more jobs available. But the slowdown has left a legacy of problems for the economy.
Fewer young workers means less tax income and welfare payments to boost falling government revenues and prop up the ailing pension and health systems needed to cope with Japan's rapidly aging society.
In addition, poor prospects and a more individualistic outlook on life have seen some 4 million young people opt for a life of casual job-hopping, more than double the number 10 years ago.
This has raised government concern about whether Japan will have enough skilled workers to maintain its industrial productivity, a problem that some say will take more than an economic recovery to sort out.
"The worrying aspect is the skill mismatch angle," said Richard Jerram, chief economist at ING Securities.
"Job vacancies are running at record levels, generally in highly value-added manufacturing and information services," he said.
"It appears that many young people may have spent their university years playing Game Boy but they are not qualified as IT engineers."
Remedying this, he said would mean taking a look at the education system, which may be too generalist.
However, the government may take some heart from the positive approach of Okubo, Takayama and several other students who took time away from the fun and games to talk about their prospects.
All were aware of how difficult the challenge was, but none was interested in the casual labor route.
"I don't think it's bad for people to become casual workers, if they are working toward some dream of their own," said Takayama.
"But I want a regular job," he said.
Takeo Ariga, a goatee-sporting 21-year-old would-be public official, said people shouldn't just blame the economy.
"High school students are too superficial when they think about work. They need to think more seriously."
Comments will be moderated. Keep comments relevant to the article. Remarks containing abusive and obscene language, personal attacks of any kind or promotion will be removed and the user banned. Final decision will be at the discretion of the Taipei Times.