Brazilian's bet on beef pays off
Four former waiters struck gold after pooling their savings to start a chain of politically incorrect steakhouses
When Jair Coser arrived in Texas six years ago from Sao Paulo with a plan to open a chain of high-end Brazilian steakhouses in the US, restaurateurs told him that he was crazy. After all, demand for beef had been falling since 1980 as health-conscious Americans switched to poultry and fish. Who would spend US$60 for a bacchanalian, all-you-can-eat Brazilian buffet of barbecued beef sliced from skewers over their plates by waiters in gaucho outfits?
"The whole premise was politically incorrect for its time," said Coser, 46, chief executive and one of four partners in the restaurant chain Fogo de Chao (pronounced FOE-go-deh-shau). "I guess that also made it appealing."
Six years later, as high-protein, low-carbohydrate diets spur an increase in beef consumption, Fogo de Chao has become the driving force behind the country's growing love affair with Brazilian steakhouses, or churrascarias (pronounced shoo-HAHS-kah-ree-ahs). Most big cities have one, and some, like Dallas and Miami, have several. A Midtown Manhattan restaurant, Churrascaria Plataforma, will soon open a site in TriBeCa.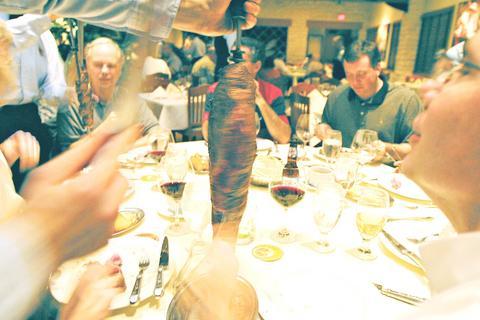 One of Jair Coser's restaurants in Houston, Foge de Chao, where waiters slice meats from skewers. The chain has become the driving force behind America's growing love affair with Brazilian steakhouses.
PHOTO: THE NEW YORK TIMES
Fogo de Chao now owns restaurants in Dallas, Houston, Atlanta and Chicago, and three in Brazil; it plans to open a fifth American one in Beverly Hills, California, this year. With projected sales for this year of about US$50 million, or an average of more than US$12 million a restaurant, the chain is among the industry's more successful ventures in recent years.
"Fogo has set the standard among idea generators in the high-end restaurant business," said David Geraty, a restaurant industry analyst at RBC Capital Markets. "They've succeeded in fusing dining with entertainment, a proposition that's talked about a lot but rarely executed with success."
By entertainment, he means the way the food is presented in a sprawling ranch-style setting. Salad-bar offerings like hearts of palm and baked manioc and a bar serving caipirinhas, a cocktail made from the Brazilian sugar-cane rum called cachaca, are mere footnotes to the 15 varieties of meat that are served up, from beef cuts like picanha (rump roast seasoned with sea salt) and alcatra (top sirloin) to leg of lamb, pork sausage and chicken breasts wrapped in bacon. There are also side dishes like fried polenta, fried bananas and Brazilian cheese bread.
Waiters in the traditional billowing pants worn by gauchos, the cowboys of Argentina, southern Brazil and Uruguay, swirl from table to table, bewildering diners with platter after platter of meats on skewers. Each customer receives a disk that is green on one side, a signal for the waiters to bring on more platters; the disk can be flipped to red on the other, to plead with them to stop.
At the Houston restaurant, for example, the price is a fixed US$43.50 for dinner and US$25 for lunch, aside from beverages, which also include Argentine or Chilean wine. The restaurants have 845m2 to 1,161m2 of space and seat 280 to 350 people. The chefs are all from southern Brazil, as are about half the waiters, who receive several months' training at the Brazilian sites to make sure they master the mechanics and theatrics.
"The overwhelming atmosphere is what matters," said Ned Davis, a Houston sales executive and regular customer. "People I take to Fogo ask where the menu is. I say it's all around them on a bunch of skewers."
Coser's partners in Fogo de Chao are his brother Arri and the brothers Jorge and Aleixo Ongaratto. The two sets of brothers met in the 1970s, as teenage waiters at a churrascaria in Rio de Janeiro. The four pooled their savings to open a restaurant in their native Rio Grande do Sul, the southern Brazilian state where gauchos once roamed, and later started two restaurants in Sao Paulo before setting their sights on the US.
Texas seemed a good place to start, Coser said, especially after the first President Bush dined at one of their Sao Paulo restaurants in 1995 and suggested that an unlimited-meat menu might do well in Texas. They chose Dallas for their first foray after meeting Lawrence Johnson, a lawyer at Baker & McKenzie in Dallas who is fluent in Portuguese.
"Brazil has traditionally not been an exporter of services but of agricultural commodities and some industrial products," Johnson said. "I saw this venture as an opportunity to change that in a big way."
Coser says he and his partners financed their international expansion through savings rather than debt, taking advantage of a rare period in the mid-1990s when the Brazilian currency was strong against the dollar. Just as fortuitously, US beef consumption reversed a 17-year decline a year after the Dallas restaurant's opening in 1997 and has been growing ever since by an average of 3.5 percent a year, according to HedgersEdge.com, a livestock analysis company based in Denver.
The soaring demand for beef, however, has been a mixed blessing for Fogo de Chao. Beef prices have surged this year, to record highs. Selma Oliveira, Fogo de Chao's chief of operations, said the company had been hesitant to pass on the entire cost to customers.
Inevitably, competitors are already challenging it at the luxury end of the churrascaria market. International Restaurant Concepts of Lakewood, Colorado, for example, plans to open a churrascaria in Houston early next year called Avenida Paulista, designed to capture Sao Paulo's image as a financial center.
In New York, Joao de Matos, an owner of Churrascaria Plataforma, says his restaurant goes even farther than Fogo de Chao in recreating the Brazilian churrascaria atmosphere. Plataforma serves sushi and other seafood at his salad bar, as do many churrascarias in Brazil, he says, and it has kept roasted chicken hearts on its menu, an item that Fogo de Chao dropped because American diners didn't like it.
"Fogo de Chao is an impressive company, but I think there is a need to be very careful now that the concept is becoming popular," said de Matos, a Sao Paulo native who opened Plataforma in 1996, a year before Fogo de Chao started in Dallas. "There's no room in a big city for more than one or two good churrascarias."
And is there room in the market for two whose names begin with "Fogo"?
Anthony Grandinette, a lawyer for Fogo e Brasa, a churrascaria based in Phoenix, has accused Fogo de Chao of trying to intimidate his client by filing a trademark-infringement lawsuit over the summer. In the complaint, Fogo de Chao, which means "fire on the ground" in Portuguese, said Fogo e Brasa, which translates as "fire and coal," had borrowed too freely from its name and business practices.
"They're flexing their muscle," said Grandinette, speaking for Fogo e Brasa, which is operated by Israeli immigrants. "They want to shut my client down."
Fogo de Chao says it is protecting its turf. "Flattery through imitation is one thing but it gets to be a problem when someone plays off your good name," said Johnson, the company's lawyer. "This is something we have to pursue vigorously if we're to benefit from our success."
Comments will be moderated. Keep comments relevant to the article. Remarks containing abusive and obscene language, personal attacks of any kind or promotion will be removed and the user banned. Final decision will be at the discretion of the Taipei Times.