Surreal disparities abound as Zimbabwean currency crumbles
A thriving black market keeps the few wealthy people afloat in a collapsed economy that is in an inflationary spiral
For the millions of hungry and unemployed, Zimbabwe's once vibrant economy has collapsed. For the tiny rich elite, it hasn't. The thriving black market keeps their cars on the streets and their cupboards replete with food and luxuries. \nEconomic meltdown in Zimbabwe is a question of perception, financial analysts and bank executives say. Unlike a bankrupt firm, a country doesn't simply shut down. \nIt prints its own money, its industries battle to stay open -- factories run at less than 40 percent of their capacity in Harare -- and on the surface, there appears some normality. \nBelow it, however, a different picture emerges. Most gas stations in the capital have not received fuel deliveries for a month because of hard currency shortages for fuel imports by the state oil procurement monopoly. \n"As long as you can print your own money, you don't go bust. It causes inflation and a host of other problems, but you can grind on for a long time," said Harare economist John Robertson. \nBlack market gasoline, selling for four times the government's fixed price, keeps traffic moving. \nAdvertisements in the main state newspaper regularly offer "fuel available" and give mostly mobile phone numbers for price quotations. \nWhile shelves are bare in regular stores, other advertisements offer foodstuffs, cooking oil and even bank note counting machines to help traders in the hyperinflationary economy do their business. \nHyperinflation \nRobertson said about 6,000 Zimbabwe dollars buys today what 100 Zimbabwe dollars bought in 1995. \nThe official hard currency exchange rate rose from about 8 Zimbabwe dollars to US$1 in 1995 to 824 to 1 this year, alongside a current black market exchange rate of up to 2,700 to 1. \nThe state Central Statistical Office said last month annual inflation reached a record 269 percent and unemployment exceeded 70 percent, driving many unemployed to scavenge for goods to sell in order to survive. \nThe chaotic government seizures of thousands of white-owned farms have been blamed for starting three years of political violence and disruptions in the agriculture-based economy that in turn have led to acute shortages of food, fuel, power, medicines and other imports. \nAccording the UN World Food Program, nearly half of all Zimbabweans will need food aid this year to avoid mass starvation. About 80 percent of the people live in poverty. \nA fraction of the rest -- perhaps 3 percent, mostly President Robert Mugabe's ruling party elite and their business associates -- control the hugely profitable black market in goods and hard currency, Robertson said. They are enjoying boom times. \nAgencies selling limousines and even luxury cosmetics said that sales are brisk. \n"Shortages are profitable. The people who could fix the situation are the ones who are making a fortune out of it," Robertson said. \nOrdinary Zimbabweans "get up in the morning and try to find something to survive on," he said, adding that some join in spiraling crime. \nThe farm seizures and political violence since 2000 have disrupted production of tobacco, the main hard currency earner, and slashed hard currency earnings from mining, industry and tourism. \nMugabe,79, who has been in power for 23 years, traveled to Libya this week to discuss the resumption of gasoline supplies, cut off after Zimbabwe failed to pay US$62 million in arrears for previous shipments. \nZimbabwe, which needs about US$30 million worth of fuel a month, contracted with Libya last year to supply 70 percent of the country's gas, some of it traded for Zimbabwean beef, sugar and tobacco. \nFarms disruptions have prevented those deliveries. \nAnti-government strikes called by the opposition Movement for Democratic Change shut down much of the economy June 2 to 6, but street protests demanding democratic reform were thwarted by a massive show of force by police, troops and ruling party militia backed by armored cars, water cannons and helicopters. \nThe protests appeared of little concern to one pro-Mugabe businessman who threw his 50th birthday party soon afterward. He hired a replica of a Mississippi paddle steamer on Zimbabwe's northern Lake Kariba, according to guests at the party. \nThe calligraphy for the handwritten dinner place name cards alone cost five times Zimbabwe's average annual per capita income.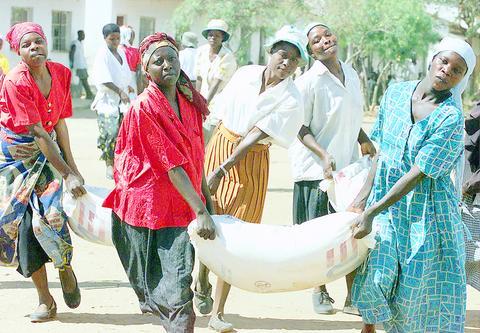 Women carry bags of corn at a World Food Programme distribution point in Centenary, Zimbabwe some 300km west of Harare, on Friday. Zimbabwe is going through its worst economic and political crisis since independence in 1980.
PHOTO: AP
Comments will be moderated. Keep comments relevant to the article. Remarks containing abusive and obscene language, personal attacks of any kind or promotion will be removed and the user banned. Final decision will be at the discretion of the Taipei Times.