Operator of 85°C closed 14 stores in China in Q3
Gourmet Master Co (美食達人), which operates cafe and bakery chain 85°C (85度C) in Taiwan and overseas, yesterday said it shut down 14 outlets in China last quarter to cope with the vast consumer market's lackluster recovery in the post-COVID-19-pandemic era.
Gourmet Master sought to play down the move as normal business adjustments to keep its economic scale optimal, rather than massive closures or intentions to pull out of China, its largest source of revenue.
Revenue contributions from China grew 3 percent in the first three quarters of this year, although its overall share declined to 51 percent from a peak of 72 percent in 2014, it said.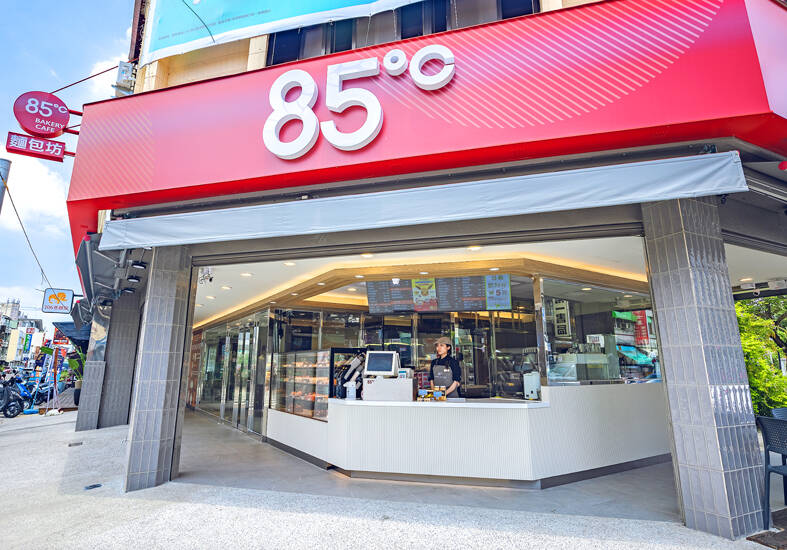 An employee stands at the counter of an 85°C bakery cafe in Tainan's Sinying District in an undated photograph.
Photo courtesy of Gourmet Master Co
"It is common for restaurant brands to adjust product lines and portfolios to strengthen operational efficiency in a competitive market such as China," the company said.
Gourmet Master said it reviews the financial performance of every outlet on a quarterly basis.
The Chinese market lagged behind expectations after emerging from pandemic restrictions, but the company would not abandon the market it entered in 2007, it said.
As of September, Gourmet Master operated 440 stores in Taiwan, 71 in the US, six in Hong Kong and 575 in China.
Analysts said Gourmet Master might shut another 15 shops in China this quarter and stand by a cautious approach next year to improve its profitability.
Sales in China last month declined 5.8 percent year-on-year to NT$1.6 billion (US$50.88 million) but expanded by double-digit percentages in the US market, company data showed.
The figures indicated that operations in China have dragged on profits for the company, which said it had no expansion plans in the country while customers remain conservative about spending.
Net profit increased 38.62 percent year-on-year to NT$228.66 million during the July-to-September period, or earnings per share (EPS) of NT$1.27. Cumulative net profit in the first three quarters more than doubled to NT$741.28 million, or EPS of NT$4.12.
In contrast to China, Gourmet Master said it would open new stores in the US from this quarter, as operations there have a higher profit margin over its Chinese and Taiwanese operations.
Net profit for the US market last quarter rose 18 percent annually to NT$1.78 billion.
"That market still poses ample growth potential," it said.
Comments will be moderated. Keep comments relevant to the article. Remarks containing abusive and obscene language, personal attacks of any kind or promotion will be removed and the user banned. Final decision will be at the discretion of the Taipei Times.