Trash cans make techy return to Japan as tourists flood cities
While other Asian cities, such as Taipei and Seoul, have also removed trash cans to keep streets clean, tourists are often not cognizant of Japan's strict rules around sorting trash at home and do not want to carry it around with them
Japan has long managed to keep its streets spotless despite having no trash cans in sight, but cities are now turning to "smart" bins as tourist numbers — and the amount of garbage — surges.
This week, the tourist-heavy Dotonbori district in Osaka installed about 20 new technologically enabled garbage cans called SmaGO.
Solar panels allow the trash can to automatically sense when it is getting full and then compress the garbage by about 20 percent. It is also connected to a smartphone app that analyzes data on garbage volume and sends alerts to workers before it fills up.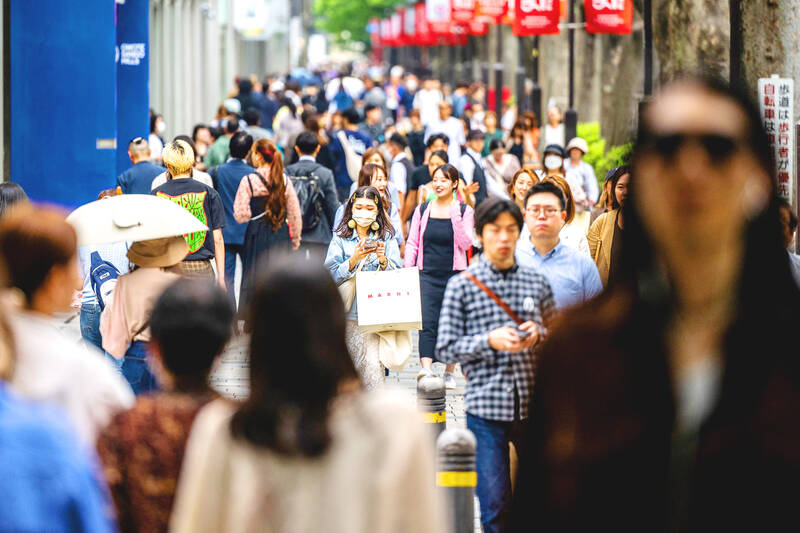 People walk through Tokyo's Omotesando shopping area on June 23.
Photo: AFP
"Some local governments are finally starting to realize that there's little else you can do other than provide trash cans," said Yohei Takemura, CEO of start-up Forcetec, which distributes the SmaGO in Japan.
"There are also more people saying that they would like to experiment with garbage cans to see if it will make their cities cleaner," Takemura said.
Following the 1995 poison gas terrorist attack by the Aum Shinrikyo cult in Tokyo, waste receptacles disappeared from many public spaces in Japan, although they can now be found in heavy-traffic areas such as major train stations. Maiko Kimura, town beautification manager of Osaka's Environment Bureau, said the city completely removed them as a way to deal with overflowing garbage and resulting complaints from citizens.
However, with the number of inbound tourists surpassing pre-COVID-19 levels last month, trash is becoming more common on Japanese city streets.
Japanese Prime Minister Fumio Kishida launched a policy package on overtourism last month that even includes a subsidy for smart trash cans, in addition to other measures such as promoting lesser-known destinations for tourism.
The trash problem is compounded by the fact that Japan offers many different kinds of street food such as fried octopus balls or fish-shaped cakes filled with red bean paste, and tourists who buy them are often not cognizant of Japan's strict rules around sorting trash at home and do not want to carry trash around with them.
"For Japanese people, it's always been normal to carry around their trash in their bag to throw it out when they get home," said Takemura, a surfer who started Forcetec after noticing how much waste there was in the sea.
The company imports the bins from Massachusetts-based waste management company Bigbelly, which first introduced them in Colorado almost two decades ago. In Manhattan, Wi-Fi-enabled Bigbelly bins were tested in 2015.
Takemura said that there was initial reluctance to use them in Japan, and that it was a "big deal" to finally convince Tokyo's Omotesando shopping street to install them in 2020.
More than 200 smart trash cans can be found across other major tourist hot spots, including the Arashiyama bamboo forests of Kyoto. SmaGOs even have instructions written on them in multiple languages catering to foreign tourists, and are sometimes funded by sponsorships to lessen the burden on municipalities. For example in Hiroshima, bins sponsored by snack maker Calbee Inc are decorated with the city's ocean landscape and shrimps from the brand's signature shrimp chips.
Other Asian cities have also removed trash cans from streets as a way to keep streets clean, such as Taipei and Seoul, although the South Korean capital recently announced that it would add thousands more bins over the next few years as trash such as takeout cups starts to pile up on streets.
Fumitake Takahashi, an associate professor at Tokyo Institute of Technology who specializes in environmental social science and also studies recycling behavior using data from SmaGOs, used the broken window theory to explain how having poorly managed trash cans in streets encourages more people to just add their trash to an already overflowing pile.
"Separating garbage is simply a hassle, but maybe the power of design can help us overcome that hassle, so we must research what the best design would be and what the best location is for these trash cans" he said.
Emellience Partners, the venture capital arm of Japanese technology company Biprogy Inc, sees smart trash cans as a growing industry in Japan and has invested about ¥300 million (US$2 million) into Forcetec.
"We see great potential in this solution," Emellience Partners CEO Shinsuke Chiba said. "Since the partnership, we are getting almost twice as many inquiries from local governments."
Still, there remains opposition to trash cans by some local governments, including in Osaka itself. The SmaGOs placed in Dotonbori are actually being paid for and maintained by the shopping district with a subsidy from the Japanese Ministry of Land, Infrastructure, Transport and Tourism.
Kimura said that the city does not have any plans to add smart trash cans in the near future.
"Having the trash cans on the street actually made the city dirtier, because people would bring their food waste from home and it would overflow and make the area smell," she said. "I hope that tourists will have the manners to bring their trash home or return it to the stores that they bought the food from."
Comments will be moderated. Keep comments relevant to the article. Remarks containing abusive and obscene language, personal attacks of any kind or promotion will be removed and the user banned. Final decision will be at the discretion of the Taipei Times.