Nvidia skirting US sanctions: Chinese state media
GAMES: China's outward-facing state-run paper said that US attempts to keep advanced chips from China is causing tech companies to search for workarounds
US curbs on China have created a game of "catch me if you can" with US chip giant Nvidia Corp and other companies, which affect the interests of both countries and would accelerate Chinese innovation, the Global Times newspaper said on Saturday.
The chip industry newsletter SemiAnalysis reported earlier that Nvidia plans to release new artificial intelligence (AI) chips aimed at the Chinese market less than a month after the US tightened rules on selling high-end AI chips to China.
"The several rounds between Nvidia and the US government are the story of a high-tech enterprise that does legitimate business but encounters strong political interference in free trade, and tries every means to ensure its own survival and development," the state-controlled newspaper said in a commentary. "For commercial companies, this is not funny at all, and even a bit sad."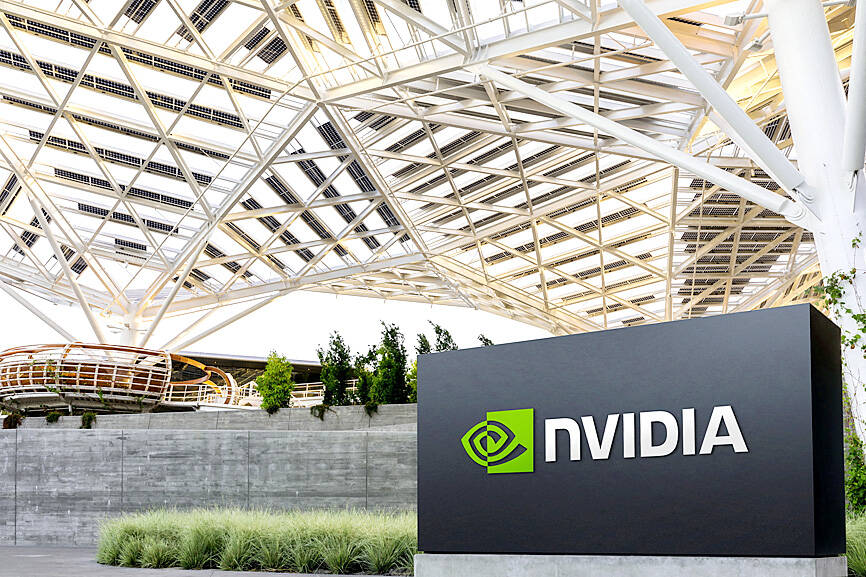 The logo of Nvidia is seen at its corporate headquarters in Santa Clara, California, in May last year.
Photo: Reuters
The US restrictions on chips, which seek to stop China from obtainting cutting-edge US technologies to strengthen its military, were "not only harmful to China's interests, but also to the US," the newspaper said.
"What the US government has done makes normal and legitimate transactions tremble with fear, creating an intense atmosphere in the market," it said.
Last month, Nvidia, whose graphics processing units (GPUs) dominate the AI market, said new US export restrictions would block sales of two high-end AI chips, the A800 and H800, that it created for the Chinese market last year, to comply with previous export rules.
The new rules capped how much computing power a chip can pack into a small size. They include what analysts call a "gray zone," in which chips might still be allowed to ship to China, but require a license.
SemiAnalysis said the new Nvidia chips are called the HGX H20, L20 PCIe and L2 PCIe, and the company could announce them on Thursday.
The chips include most of Nvidia's newest features, but have had some computing power measures cut back, the newsletter said.
Nvidia declined to comment.
The Global Times said that US companies had been looking for "workarounds" to comply with the regulations.
"It is not difficult to imagine that as long as Washington remains committed to 'choking' China, the game of 'catch me if you can' will continue indefinitely," the newspaper said.
"In this sense, the 'loopholes' that the US is trying to close will never be completely fixed, and they will only find themselves in an awkward situation of pressing one end of the gourd only to make the other end float up," it said.
"This will inevitably force and accelerate the process of independent innovation in high-tech industries in China," it said.
Comments will be moderated. Keep comments relevant to the article. Remarks containing abusive and obscene language, personal attacks of any kind or promotion will be removed and the user banned. Final decision will be at the discretion of the Taipei Times.