Workers strike at the 'Big Three' US automakers
Nearly one in 10 of the US' unionized auto workers went on strike on Friday to pressure Detroit's three automakers into raising wages in an era of big profits and as the industry begins a costly transition from gas guzzlers to electric vehicles.
By striking simultaneously at General Motors (GM), Ford and Chrysler owner Stellantis for the first time in its history, the United Auto Workers union is trying to inflict a new kind of pain on the companies and claw back some pay and benefits workers gave up in the past few decades.
The strikes are limited for now to three assembly plants: a GM factory in Wentzville, Missouri, a Ford plant in Wayne, Michigan, near Detroit, and a Jeep plant run by Stellantis in Toledo, Ohio.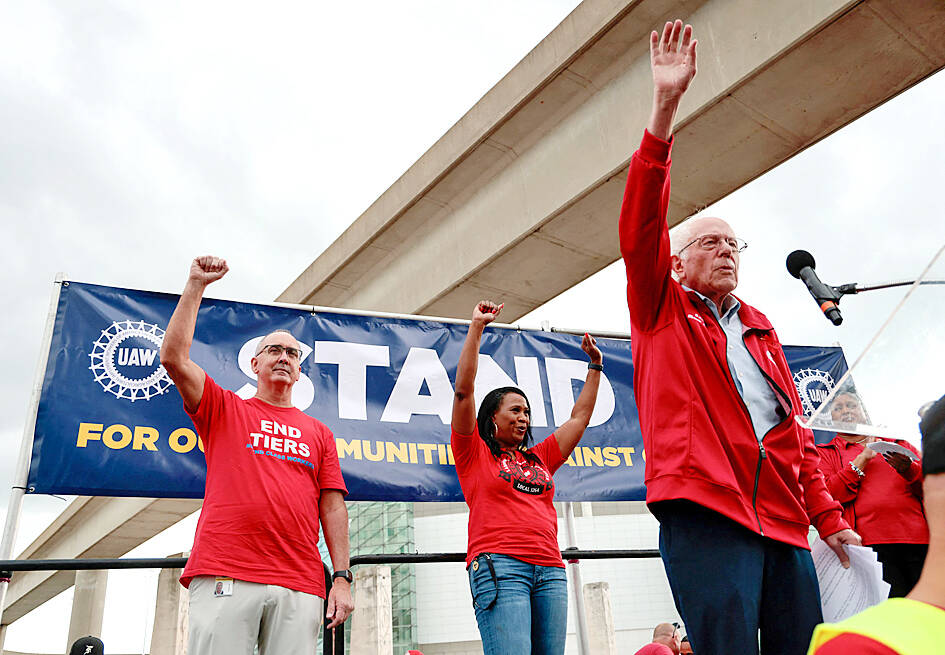 US Senator Bernie Sanders, right, gestures as he speaks to the crowd as United Auto Workers president Shawn Fain, left, and Region 1 director LaShawn English listen during a rally in support of striking union members in Detroit, Michigan, on Friday.
Photo: Reuters
The workers received support from US President Joe Biden, who dispatched aides to Detroit to help resolve the impasse and said that the "Big Three" automakers should share their "record profits."
Union president Shawn Fain said that workers could strike at more plants if the companies do not come up with better offers.
The union is seeking across-the-board wage increases of 36 percent over four years; the companies have countered by offering increases ranging from 17.5 percent to 20 percent.
Workers out on the picket lines said they hoped the strikes did not last long, but added that they were committed to the cause and appreciated Fain's tough tactics.
"We didn't have a problem coming in during COVID, being essential workers and making them big profits," said Chrism Hoisington, who has worked at the Toledo Jeep plant since 2001. "We've sacrificed a lot."
In its 88-year history, the union had always negotiated with one automaker at a time, limiting the industrywide effects of any possible work stoppages. Each deal with an automaker was viewed as a template, but not a guarantee, for subsequent contract negotiations.
Now, about 13,000 of 146,000 workers at the three companies are on strike, making life complicated for automakers' operations, while limiting the drain on the union's US$825 million strike fund.
If the contract negotiations drag on — and the strikes expand to affect more plants — the costs will grow for workers and the companies. Auto dealers could run short of vehicles, raising prices and pushing customers to buy from foreign automakers with nonunionized workers. It could also put fresh stress on the economy.
The new negotiating tactic is the brainchild of Fain, the first leader in the union's history to be elected directly by workers. In the past, outgoing leaders picked their replacements by choosing delegates to a convention.
However, that system gave birth to a culture of bribery and embezzlement that ended with a federal investigation and prison time for two former union presidents.
The combative Fain narrowly won his post last spring with a fiery campaign against that culture, which he called "company-unionism," which he said sold out workers by allowing plant closures and failing to extract more money from the automakers.
"We've been a one-party state for longer than I've been alive," Fain said while campaigning as an adversary to the companies rather than a business partner.
David Green, a former local union leader elected to a regional director post this year, said it was time for a new way of bargaining.
"The risks of not doing something different outweigh the risks of doing the same thing and expecting a different result," Green said.
During his more than two-decade career at GM, Green saw the company close an assembly plant in Lordstown, Ohio, that employed 3,000 workers. The union agreed to a series of concessions made to help the companies get through the Great Recession.
"We've done nothing but slide backward for the last 20 years," Green said, calling Fain's strategy "refreshing."
Carlos Guajardo, who has worked at Ford for the past 35 years and was employed by GM for 11 years before that, said he likes the new strategy.
"It keeps the strike fund lasting longer," said Guajardo, who was on the picket line in Michigan on Friday before the sun came up.
The strikes will likely chart the future of the union and of the US' homegrown auto industry at a time when US labor is flexing its might and the companies face a historic transition from building internal-combustion automobiles to making electric vehicles.
The walkouts also will be an issue in next year's presidential election, testing Biden's claim to being the most union-friendly president in US history.
The limited-strike strategy could have ripple effects, GM chief executive officer Mary Barra said on Friday on CNBC.
Many factories are reliant on each other for parts, Barra said.
"We've worked to have a very efficient manufacturing network, so yes, even one plant is going to start to have impact," she said.
Citing strike disruptions at its Wayne plant, Ford told about 600 non-striking workers at the plant not to report to work on Friday, Ford spokeswoman Jennifer Enoch said.
Even Fain has called the union's demands audacious, but he says the automakers are raking in billions and can afford them.
He scoffs at company claims that costly settlements would force them to raise vehicle prices, saying labor accounts for only 4 to 5 percent of vehicle costs.
In addition to the wage increases, union negotiators are also seeking restoration of cost-of-living pay raises, an end to varying tiers of wages for factory jobs, a 32-hour week with 40 hours of pay, the restoration of traditional defined-benefit pensions for new hires and pension increases for retirees, among other items.
Comments will be moderated. Keep comments relevant to the article. Remarks containing abusive and obscene language, personal attacks of any kind or promotion will be removed and the user banned. Final decision will be at the discretion of the Taipei Times.