Kwang Yang hails Thai e-scooter
Aiming high: Kwang Yang hopes to reclaim its top position in Taiwan's fuel-powered scooter segment after losing it last year for the first time in 22 years
Kwang Yang Motor Co (光陽工業), which sells electric scooters under the brand Ionex, yesterday said its first made-in-Thailand electric scooters would be available in Bangkok in the first half of next year.
The company also established a joint venture, Aionex Co, with PTT Public Co to create a scooter ecosystem in Thailand, it said.
"In Taiwan, Kwang Yang produces electric scooters, and deploys and operates a battery swapping system by its own," Kwang Yang chairman Allen Ko (柯勝峯) told reporters. "But beyond Taiwan, it is not feasible to do it all by yourself as every part of the supply chain will require huge investments."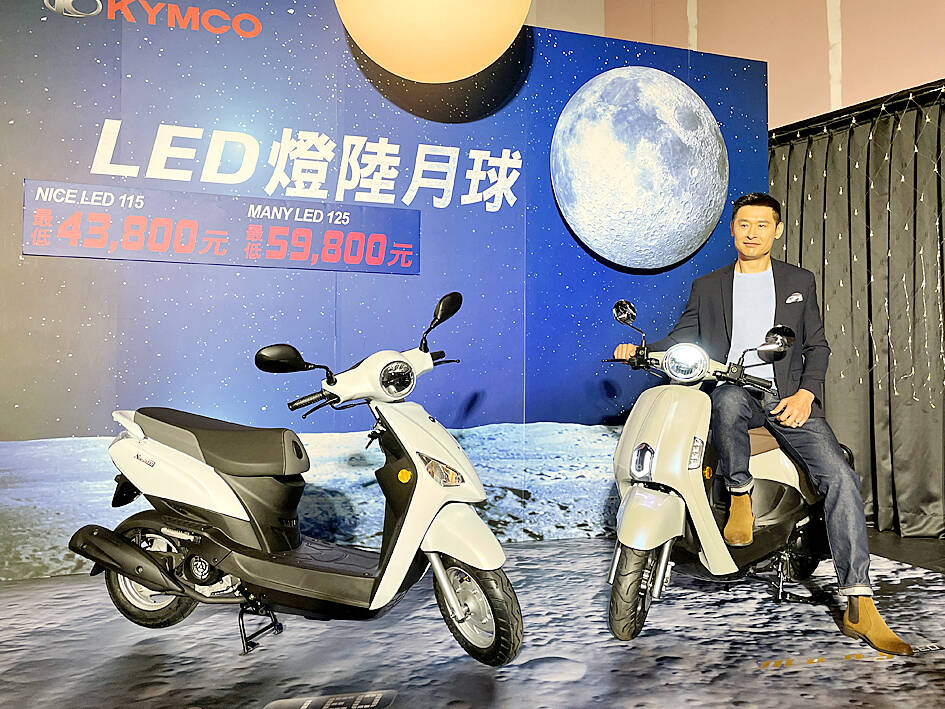 Kwang Yang Motor Co chairman Allen Ko sits on an electric scooter at a media event in Taipei yesterday.
Photo: Amy Yang, Taipei Times
In Thailand, the company is considering building its own electric scooter production line, or outsourcing the production to local partners, Ko said.
The Thai investment is part of the company's three-to-five-year goal to expand its footprint in the Southeast Asian market, and Ko said Kwang Yang is looking to Vietnam and Indonesia for future expansions.
The company has received numerous inquiries for potential collaborations from Northeast Asia, India and the US, following the announcement of its partnerships with PTT, he said.
"As compared with India, we believe the Southeast Asian market will be easier to begin with. India is a much more complicated market than most people thought," Ko said.
The Kaohsiung-based company hopes to see initial results of its overseas expansion within the next three to five years, he said.
Despite rising competition from existing fuel-powered scooter brands from Japan, the company said it is ahead of its rivals by three to five years in terms of technology.
On its home turf, Kwang Yang targets to recoup its top position in the fuel-powered scooter segment next year. The company, which sells its fuel-powered scooters under the KYMCO brand, lost the No. 1 spot last year for the first time in 22 years.
The company, which last month slashed the price of a popular model, GP125, to NT$39,800 from NT$57,000, yesterday announced the extension of the special offer to Sept. 20 as the strategy turned out to be very successful. The company has received 40,000 orders in just a month, which has never been seen in the history of Taiwan's scooter industry, Ko said.
The company said it was unable to fully satisfy consumer demand as the orders received have greatly surpassed its capacity of 10,000 PG 125 scooters a month.
"We expect the backlog orders to be fully digested in October or November," Ko said.
The promotion campaign helped boost Kwang Yang's fuel-powered scooter sales last month to 26,014 units, up 60 percent from a year ago, and lifted the company's market share to top 30.6 percent, the best since April last year, according to market researcher U-Car's statistics.
Sanyang Motor Co Ltd (三陽工業) safeguarded its No. 1 position last month with sales of 33,443 units, capturing 39.3 percent in market share, according to U-Car.
Comments will be moderated. Keep comments relevant to the article. Remarks containing abusive and obscene language, personal attacks of any kind or promotion will be removed and the user banned. Final decision will be at the discretion of the Taipei Times.