Nvidia bets US$25bn that AI boom is far from over
Nvidia Corp chief executive officer Jensen Huang (黃仁勳) said he expects the artificial intelligence (AI) boom would last well into next year and made what could be the largest single bet yet in the tech sector to back up his optimism.
The company's sales forecast on Wednesday blew past Wall Street's expectations and it said it would buy back another US$25 billion of its shares, a move most companies make when their leadership thinks the company is undervalued.
However, Nvidia's stock price has more than tripled this year and was set to hit an all-time high after Wednesday's results.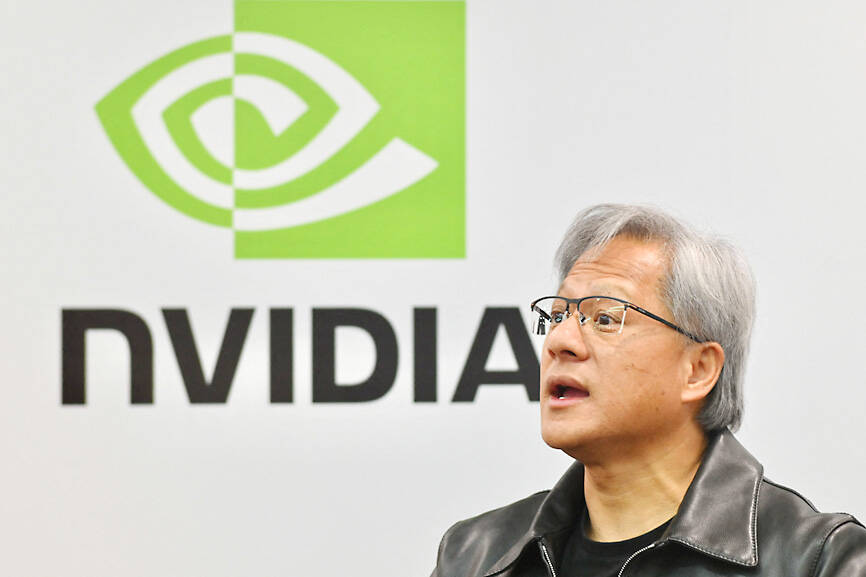 Nvidia CEO Jensen Huang speaks during a press conference at the Computex 2023 in Taipei on May 30
Photo: Sam Yeh, AFP
Nvidia said it plans to ramp up production of its hardware into next year, quashing doubts that a few analysts had raised about how long the AI craze could last. The company has a near-monopoly on the computing systems used to power services such as ChatGPT, OpenAI's blockbuster generative AI chatbot.
"We have excellent visibility through the year and into next year, and we're already planning the next-generation infrastructure with leading [cloud computing firms] and data center builders," Huang told investors on a conference call.
In an interview with Reuters, Huang said two things are driving that demand: a switch from traditional data centers that were built around central processors to ones built around Nvidia's powerful chips, and the rising use of content generated by AI systems in everything from legal contracts to marketing materials.
"These two fundamental trends are what's behind everything that we're seeing, and we're about a quarter into it," he said.
"It's hard to say how many quarters are ahead of us, but this fundamental shift is not going to end. This is not a one-quarter thing," he added.
Demand for AI chips has given Nvidia the cash for the investor payday. The company reported its adjusted gross margins nearly doubled to 71.2 percent in the second quarter, when most semiconductor companies have gross margins between 50 and 60 percent.
Summit Insights Group analyst Kinngai Chan (陳金蓋) said Nvidia's inventory of US$4.32 billion is "light."
"We think [Nvidia] will continue to beat the US$16 billion guide for the October quarter as demand continues to outstrip supply," Chan said, referring to the company's third-quarter revenue outlook.
However, some analysts do not see unlimited demand.
SemiAnalysis chief analyst Dylan Patel said many tech companies are spending heavily on Nvidia graphics processing units (GPUs) this year before determining how they would actually make money off products developed with those chips.
"They must overinvest in GPUs or risk missing the boat. At some point the true use cases will shake out, and many of these players will stop investing, though others will likely continue accelerating investment," Patel said.
Huang declined to comment on whether the AI boom would last past next year.
He said the biggest risk Nvidia faces is securing supplies and the company is doing everything it can to stay on top of surging demand.
Although Nvidia did not give long-term projections on Wednesday, Huang said that supply would "substantially increase for the rest of this year and next year."
The company relies on vendors such as Taiwan Semiconductor Manufacturing Co (台積電) and Samsung Electronics Co for components.
"We're focused on increasing our supply," Huang said. "We have to do that with great urgency, and we are."
The company said the biggest sales driver this quarter was its HGX system, which is an entire computer built around Nvidia's chip. That system is much more complex than just the chip itself, and any missing piece can delay shipments.
"We're getting great cooperation from our supply chain, and it's a complicated supply chain," Huang said.
"People think it's a GPU chip. But it's a very complicated GPU system. It's 70 pounds [31.75kg]. It's 35,000 components. It's US$200,000," he said.
Additional reporting by Bloomberg
Comments will be moderated. Keep comments relevant to the article. Remarks containing abusive and obscene language, personal attacks of any kind or promotion will be removed and the user banned. Final decision will be at the discretion of the Taipei Times.