UBS mulling cutting Asia-Pacific jobs
UBS Group AG is weighing a plan to cut about two-thirds of Credit Suisse Group's investment bankers in the Asia-Pacific region as part of the first major job reductions following the merger of the two Swiss lenders, people familiar with the matter said.
That would cost about 200 jobs at its global banking division in Asia over the next couple of months, the people said, asking not to be identified because the matter is confidential.
The Zurich-based bank might announce global leadership changes internally, without details on the cuts, one of the people said.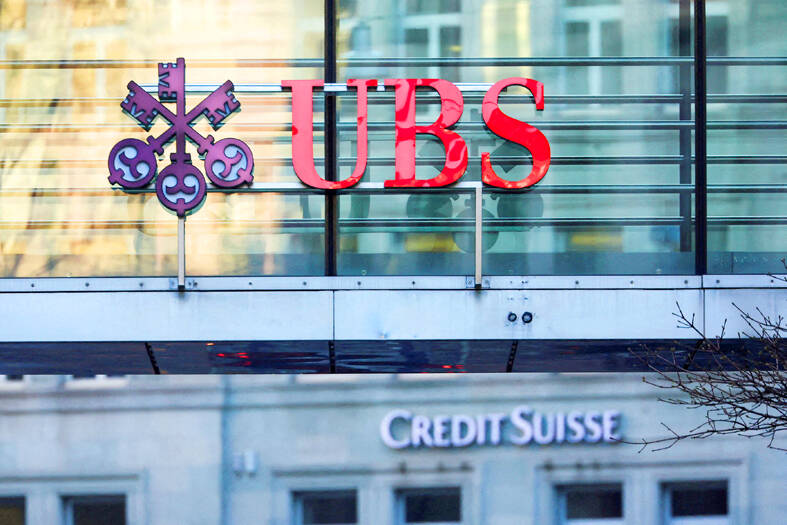 The logos of Swiss banks UBS and Credit Suisse are pictured in Zurich, Switzerland, on March 20.
Photo: Reuters
Reuters reported earlier that UBS is letting go of about 80 percent of Credit Suisse investment bankers in Hong Kong starting this week. A Hong Kong-based spokesperson at UBS declined to comment.
UBS is still looking to retain more than 100 Credit Suisse investment bankers across Asia, with many of them focusing on markets outside of Hong Kong, the people said.
The headcount at Credit Suisse's domestic securities venture in China would be largely unaffected by the latest round as the firm is in process of selling its stake, one of the people said.
UBS has shown little appetite for Credit Suisse's investment bank since the government-brokered deal was announced in March. The bank said it would continue its own strategy of a smaller capital-lite securities unit and would only use Credit Suisse's investment bank to reinforce its global business while managing the rest down.
The Credit Suisse acquisition has increased UBS' workforce to about 120,000, which the bank intends to ultimately reduce by about 30 percent, Bloomberg has reported.
UBS aims to reduce staff costs by about US$6 billion over the next several years.
The move also reflects plummeting revenue at investment banking divisions across the globe due to a slowdown in dealmaking.
Deal values have fallen more than 40 percent this year which has led to Wall Street banks going into retrenchment mode, planning job cuts and freezing hiring.
Comments will be moderated. Keep comments relevant to the article. Remarks containing abusive and obscene language, personal attacks of any kind or promotion will be removed and the user banned. Final decision will be at the discretion of the Taipei Times.