Cathay introduces non-SIT funds
THE BEST LOCALLY: Cathay United Bank's private banking services have been internationally recognized as the best in Taiwan for four consecutive years
In August last year, the Financial Supervisory Commission (FSC) allowed banks to engage in wealth management business for high-asset clients to invest in non-Securities Investment Trust (non-SIT) offshore funds. Starting from this year's first quarter, Cathay United Bank (CUB) launched the very first non-SIT offshore funds in Taiwan.
For four consecutive years, CUB has been awarded the Best Domestic Private Bank in Taiwan by Asian Private Banker for its excellence in private banking and became the only bank in Taiwan to receive this prestigious accolade.
Unlike traditional investment methods, non-SIT offshore funds allow various channels of investment, including private equity funds and other alternative investments. CUB has provided its clients with numerous investment plan options to arrange and allocate their assets.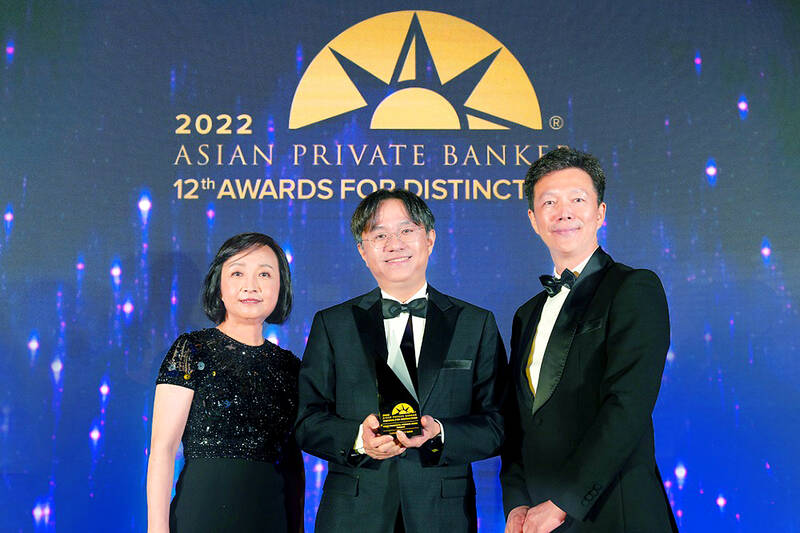 Cathay United Bank Private Banking CEO Robert Fuh Po-Sheng, center, in Hong Kong receives the 2022 Asian Private Banker Awards for Distinction's Best Domestic Private Bank in Taiwan Award.
Photo: courtesy of Cathay United Bank
According to Fu Po-Sheng (傅伯昇), the CEO of the Cathay United Bank Private Banking, the bond stock and relevant bond markets have continued to be volatile due to the ongoing dual impact of inflation and interest rate hikes. Alternative ways of investment are less affected by the fluctuations in publicly traded market prices such as stocks and bonds, thereby achieving portfolio diversification that reduces investment risk. With diverse strategies, alternative investments can hedge against inflation while pursuing Alpha investment returns. Even with rising interest rates, alternative investments can maintain a robust performance in helping clients to maximize returns.
CUB has established collaborative relationships with a number of world-famous asset management companies. According to Fu, we are now confronted by the global tightening of money supply and slowing economic growth, and so it is crucial to construct investment portfolios for high-asset clients that can reduce risk in traditional equities and bonds. Cathay United Bank Private Banking continues to devote itself to planning alternative ways of investment, designing financial products such as private equity funds to cater to the needs of high-asset clients. CUB's mission is to offer comprehensive financial market instruments and asset allocation solutions catering to clients' needs.
Comments will be moderated. Keep comments relevant to the article. Remarks containing abusive and obscene language, personal attacks of any kind or promotion will be removed and the user banned. Final decision will be at the discretion of the Taipei Times.