First China-made passenger jet makes maiden flight
'COMING OF AGE': The C919 commercial jetliner would operate on China Eastern Airlines' route between Shanghai and the southwestern city of Chengdu, CCTV said
China's first domestically produced passenger jet made its maiden commercial flight yesterday, a milestone event in the nation's decades-long effort to compete with Western rivals in the air.
Beijing hopes that the C919 commercial jetliner would challenge foreign models such as the Boeing Co 737 MAX and the Airbus SE A320, but many of its parts are sourced from abroad.
Its first homegrown jetliner with mass commercial potential would also cut the country's reliance on foreign technology as ties with the West deteriorate.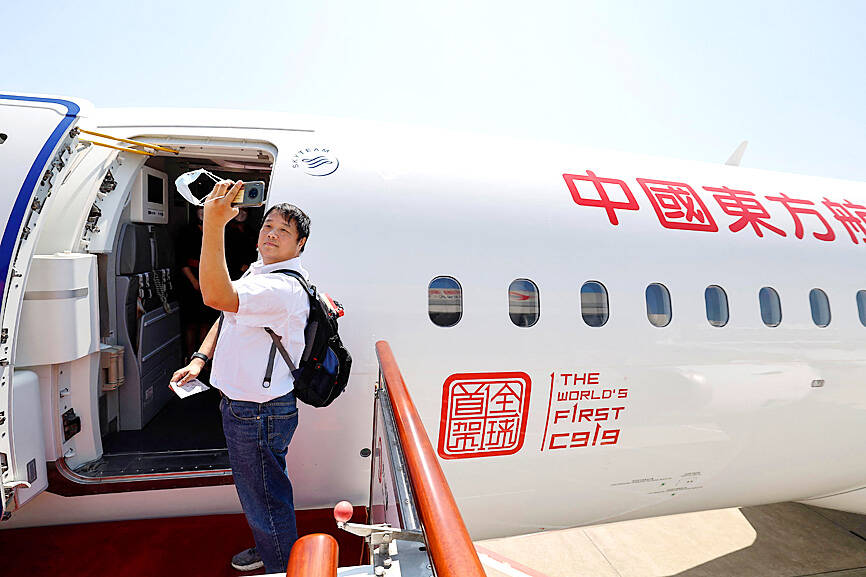 A passenger takes photos as he boards China's first domestically produced passenger jet C919 before its first commercial flight from Shanghai to Beijing, at Shanghai Hongqiao Airport yesterday.
Photo: AFP
"In the future, most passengers will be able to choose to travel by large, domestically produced aircraft," China's state broadcaster China Central Television (CCTV) said.
China Eastern Airlines Corp (中國東方航空) Flight MU9191 from Shanghai "arrived smoothly" in Beijing just after 12:30pm, about 40 minutes ahead of schedule, CCTV said.
China has invested heavily in production of the homegrown jet as it seeks to become self-sufficient in key technologies.
The aircraft is manufactured by state-owned Commercial Aircraft Corp of China (COMAC, 中國商用飛機), but many of its parts — including its engines — are sourced from overseas.
The flight was a "coming of age ceremony [for] the new aircraft," COMAC marketing and sales director Zhang Xiaoguang (張小光) told China's official Xinhua state news agency, adding that the C919 "will get better if it stands the test of the market."
From today, the C919 would operate on China Eastern's regular route between Shanghai and the southwestern city of Chengdu, CCTV reported.
The first model of the narrow-body jet was formally handed over to China Eastern last year.
The company had taken about 1,200 orders for the C919, COMAC deputy general manager Zhang Yujin (張玉金) told state-backed Shanghai daily The Paper in January.
COMAC plans to increase annual production capacity to 150 models within five years, Zhang said at the time.
Asia, and China in particular, are key targets for European manufacturer Airbus and its US rival Boeing, which are looking to capitalize on growing demand for air travel from the country's vast middle class.
Last month, Airbus said that it would double its production capacity in China, signing a deal to build a second final assembly line for the A320 in China's northern city of Tianjin.
The first assembly site opened in 2008 and produces four A320s per month, with Airbus hoping to increase that to six per month before the end of the year.
Comments will be moderated. Keep comments relevant to the article. Remarks containing abusive and obscene language, personal attacks of any kind or promotion will be removed and the user banned. Final decision will be at the discretion of the Taipei Times.