GDP forecast trimmed to 2.04%
SLOWER GROWTH: A DGBAS official said first-quarter inventory adjustment was obvious and the downward trend is expected to continue in data for this quarter
Taiwan's economy would probably grow more slowly this year than previously forecast, the government's statistics office said yesterday, as weakening global demand weighs heavily on its key technology exports.
Taiwan, home to major tech companies including the world's largest contract chip maker, Taiwan Semiconductor Manufacturing Co (TSMC, 台積電), has seen its exports contracting amid interest rate hikes around the world in response to rising inflation and growing US-China trade tensions.
Export orders slipped for an eighth straight month last month and missed forecasts.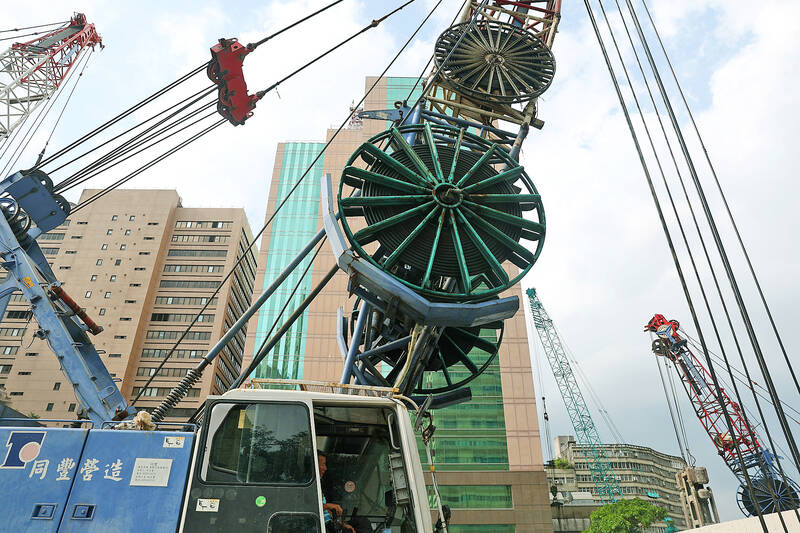 A man operates a crane at a construction site in Taipei's Zhongzheng District yesterday.
Photo: CNA
The nation's GDP is expected to expand 2.04 percent in 2023 from last year, the Directorate-General of Budget, Accounting and Statistics (DGBAS) said, revising down its earlier 2.12 percent growth forecast.
The economy is likely to grow at the slowest pace since 2015, the DGBAS said.
First-quarter GDP fell by a revised 2.87 percent year-on-year versus a preliminarily forecast 3.02 percent fall, the agency said, the worst performance since 2009.
"First-quarter inventory adjustment was very obvious," DGBAS deputy head Tsai Hung-kun (蔡鴻坤) told reporters, adding that the adjustment was NT$50.5 billion (US$1.64 billion) in the fourth quarter last year, followed by NT$24.4 billion in the first quarter this year, a declining trend that is expected to continue in the second quarter.
"Although the economic growth was negative, domestic demand performed pretty well," Tsai said, adding that unemployment was at its lowest in more than two decades.
The DGBAS now sees exports this year falling 7.27 percent from last year, compared with a 5.84 percent slide predicted earlier.
Private consumption in Taiwan grew 6.5 percent in the first three months of this year, yesterday's updated figures showed, gains that were largely offset by a 3.2 percent drop in investments.
As a result, domestic demand was not able to counteract the 10.8 percent drop in exports.
Weak overseas demand for Taiwanese semiconductors pushed export orders down for an eighth consecutive month last month, undermining growth in the trade-dependent economy, while uncomfortably high inflation led the central bank to raise its key interest rate for the fifth consecutive time in March.
The higher borrowing costs also risk piling pressure on Taiwan's homebuilders, as well as homebuyers and consumers, who have been hit by higher mortgage costs and higher prices for everyday goods.
Taiwan's economy has slipped into recession after contracting for two quarters in a row and central bank Governor Yang Chin-long (楊金龍) warned this week that it might not rebound until the fourth quarter.
Yang on Wednesday said that policymakers would weigh inflation and economic growth when making their next interest rate decision on June 15.
The bank has raised rates five times since March last year.
The DGBAS also revised upward Taiwan's inflation outlook for this year to 2.26 percent, versus a previous forecast of 2.16 percent.
Comments will be moderated. Keep comments relevant to the article. Remarks containing abusive and obscene language, personal attacks of any kind or promotion will be removed and the user banned. Final decision will be at the discretion of the Taipei Times.