Money supply rises even as foreigners wire cash
The nation's money supply last month rose slightly, as demand and time deposits increased, even though foreign investors cut their holdings and wired money abroad, the central bank said yesterday.
The narrow M1B money supply gauge grew 2.68 percent from a year earlier, while the M2 broad supply reading rose 6.7 percent, the central bank said.
The pickup in M1B — referring to cash, demand deposits and other liquid deposits — had to do with the government's distribution of a NT$6,000 (US$195) tax rebate, which mostly went to people's demand deposit accounts, the central bank said.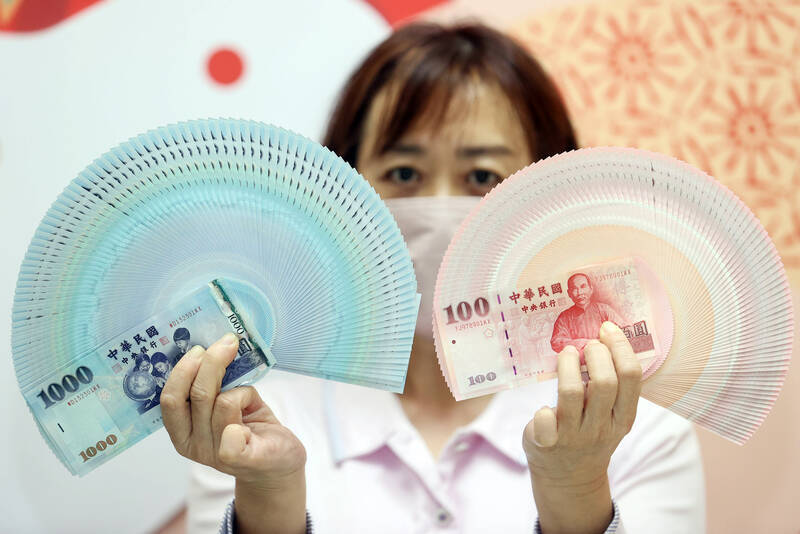 A woman holds fanned out NT$1,000 and NT$100 banknotes in Taipei on Jan. 13.
Photo: CNA
The M1 measure was also supported by increasing securities accounts, whose balance grew by NT$47.8 billion to NT$3.19 trillion by the end of last month, the central bank said.
The rise in securities accounts came even though foreign portfolio managers cut their positions in local shares by NT$78 billion and wired capital and profit abroad, sinking their savings deposits to a two-year low of NT$196.9 billion, the central bank said.
CAPITAL FLIGHT
The capital flight dragged the benchmark TAIEX by 1.8 percent after Taiwan Semiconductor Manufacturing Co (台積電) gave a conservative business guidance for this quarter and lowered its revenue forecast for this year.
The sole chip supplier for Apple Inc's iPhone series also said that inventory adjustments by major customers would stretch into the third quarter, dashing hopes of a quick recovery.
The M2 measure, which encompasses time deposits, time saving deposits, foreign currency deposits, mutual funds and M1B, registered a double-digit percentage increase in time deposits encouraged by interest rate hikes, the central bank said.
It dismissed concerns that the rapid increase in time deposits would deny the local bourse liquidity and growth momentum, saying that the market remains active in light of improving daily turnover.
Comments will be moderated. Keep comments relevant to the article. Remarks containing abusive and obscene language, personal attacks of any kind or promotion will be removed and the user banned. Final decision will be at the discretion of the Taipei Times.