Nanya expects chip prices to stabilize next quarter
'SLIGHT IMPROVEMENT': The chip market has been improving, albeit slowly, driven by factors including easing inventory pressure and smaller chip supply, Nanya said
DRAM chipmaker Nanya Technology Corp (南亞科技) yesterday said chip prices might stabilize next quarter, as improving inventory along the supply chain and industrywide production cuts have yielded initial results.
"We are feeling a slight [improvement]," company president Lee Pei-ing (李培瑛) said in response to a reporter's question about the latest market conditions compared with last month.
"This is not extensive, but a gradual [pickup]. It is moving in a positive direction," Lee said.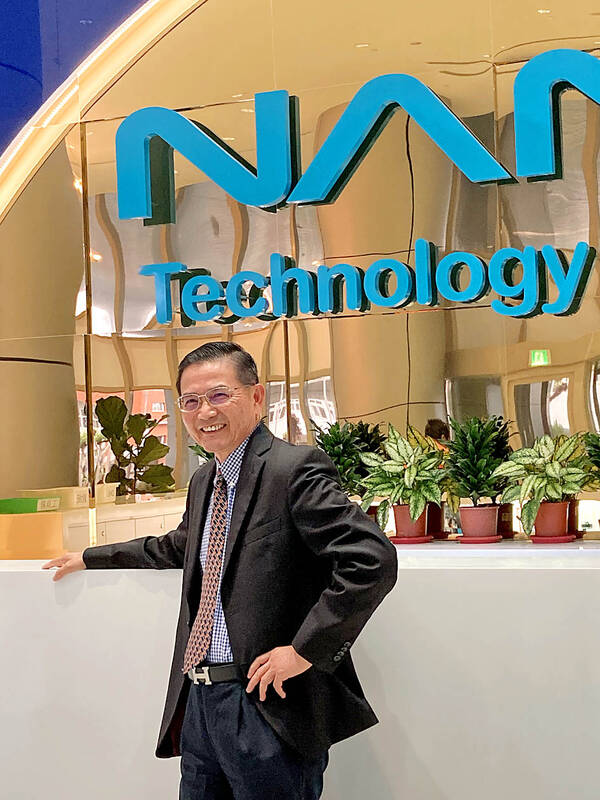 Nanya Technology Corp president Lee Pei-ing poses for a photograph at the chipmaker's headquarters in New Taipei City's Taishan District on April 9, 2021.
Photo: Lisa Wang, Taipei Times
The mild improvement is driven by a combination of factors including easing inventory pressure and smaller chip supply, Lee said.
TV demand also bounced back lately, he said.
To cope with sagging chip demand, Nanya Technology is adjusting its factory utilization within a range of 20 percent as previously planned, he said.
South Korean rivals Samsung Electronics Co and SK Hynix Inc also unveiled plans to scale down production to prevent a supply glut and falling memorychip prices eating into their profitability.
The DRAM industry has been in a correction cycle for more than a year. Last year, DRAM prices plummeted 40 percent from the previous year, market researcher TrendForce Corp (集邦科技) has said.
With the electronics industry's peak season arriving in the second half, Nanya Technology expects seasonal demand to help buoy memorychip prices.
PC demand is expected to improve in the third and fourth quarters, compared with the first half of this year, Lee said.
Asked about the effects of China's restrictions on using Micron Technology Inc memory chips in servers and data centers due to national security concerns, Nanya Technology said it would closely monitor how the restrictions play out.
It is too early to say whether Nanya Technology would benefit from the curbs as some have speculated, as geopolitical issues are complicated, Lee said.
The company has not received any requests from customers to fill the void in supply left by Micron, he said.
Nanya has learned that some companies in China are concerned about being requested to abandon components made by US suppliers, Lee said.
Customers are closely monitoring how geopolitical tensions would affect their component procurement strategy, he said.
China accounts for about 20 percent of Nanya Technology's revenue, Lee said.
Comments will be moderated. Keep comments relevant to the article. Remarks containing abusive and obscene language, personal attacks of any kind or promotion will be removed and the user banned. Final decision will be at the discretion of the Taipei Times.