Industrial production plummets 23%
PICKUP? With local supply chain inventory gradually improving since the start of the year, manufacturing production could pick up this month, the economics ministry said
The nation's industrial production plunged 22.86 percent year-on-year last month, as semiconductor and flat-panel makers took a severe hit from prolonged inventory correction due to macroeconomic uncertainty, the Ministry of Economic Affairs said yesterday.
The index slid to 76.4 last month, hitting the lowest level in about four years after an 11-month losing streak.
The index of manufacturing production, a major contributor to industrial production, dropped 23.52 percent annually to 75.85 last month, which was also the poorest performance in about four years.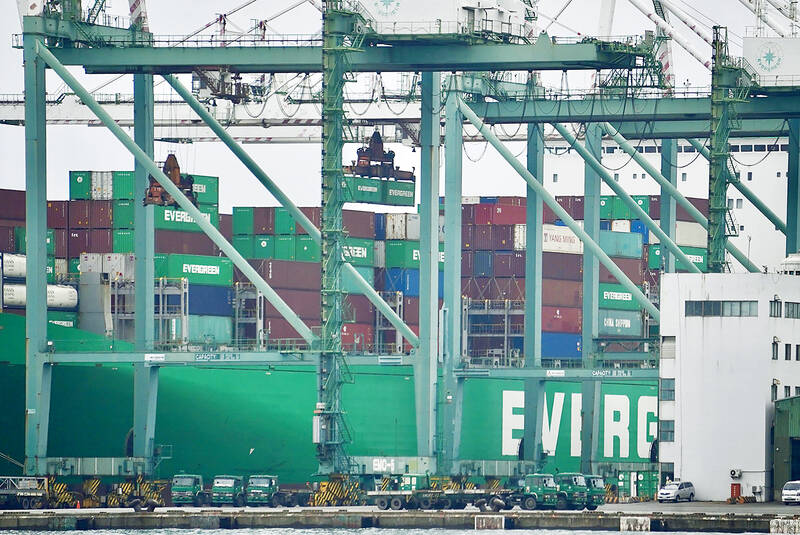 Cargo containers and trucks are pictured at the Port of Kaohsiung yesterday.
Photo: CNA
However, with the local supply chain inventory gradually improving since the beginning of this year, the manufacturing production index this month could pick up sequentially, the ministry said, adding that it expects the figure to climb 4.8 percent to 79.51 this month at best or decline 0.4 percent to 75.51 at worst.
"The semiconductor industry's performance last month was a drag on manufacturing production because of inventory digestion in the supply chain," Department of Statistics Deputy Director-General Huang Wei-jie (黃偉傑) said by telephone. "As the issue is likely to persist in the third quarter, the outlook for manufacturing production remains bleak."
Taiwan Semiconductor Manufacturing Co (TSMC, 台積電) told investors last month that inventory adjustments would extend into the next quarter before rebalancing to a healthier level, one quarter longer than the company had expected, due to macroeconomic uncertainty.
On an annual basis, manufacturing production would continue its downtrend, falling between 21.1 percent and 25.1 percent this month, Huang said.
To better track developments in the local semiconductor supply chain, the department last month added chip designers such as MediaTek Inc (聯發科) to the index last month.
The production of electronic components plunged 31.1 percent year-on-year last month, with semiconductor and flat panels suffering the steepest decline of more than 33 percent each.
Computers and optical component production dropped 14.01 percent last month on weak demand, while servers and switches posted robust growth last month, it said.
Basic metals, mainly steel, fell 11.57 percent as manufacturers contended with sluggish demand and high inventories, while some used the downturn to undertake equipment maintenance, it said.
Petrochemicals contracted by 19.37 percent due to reduced demand, while machine tools plunged 24.72 percent as most companies slowed capacity expansion in response to a weak macroeconomy, the ministry said.
Automotive production slid 2.94 percent, the smallest retreat in the manufacturing segment, thanks to strong domestic demand, the ministry said.
Comments will be moderated. Keep comments relevant to the article. Remarks containing abusive and obscene language, personal attacks of any kind or promotion will be removed and the user banned. Final decision will be at the discretion of the Taipei Times.