China bars US chips made by Micron
SECURITY RISK: Chinese companies could respond to the announcement by moving away from all products made by the US firm, diverting business toward Korean rivals
China delivered the latest salvo in an escalating semiconductor war with the US, announcing that Micron Technology Inc products have failed to pass a cybersecurity review in the country.
Operators of key infrastructure in China should not buy the company's goods, the Cyberspace Administration of China (CAC) said in a statement on Sunday, adding that it found "relatively serious" cybersecurity risks in Micron products sold in China.
The components caused "significant security risks to our critical information infrastructure supply chain," which would affect national security, it said.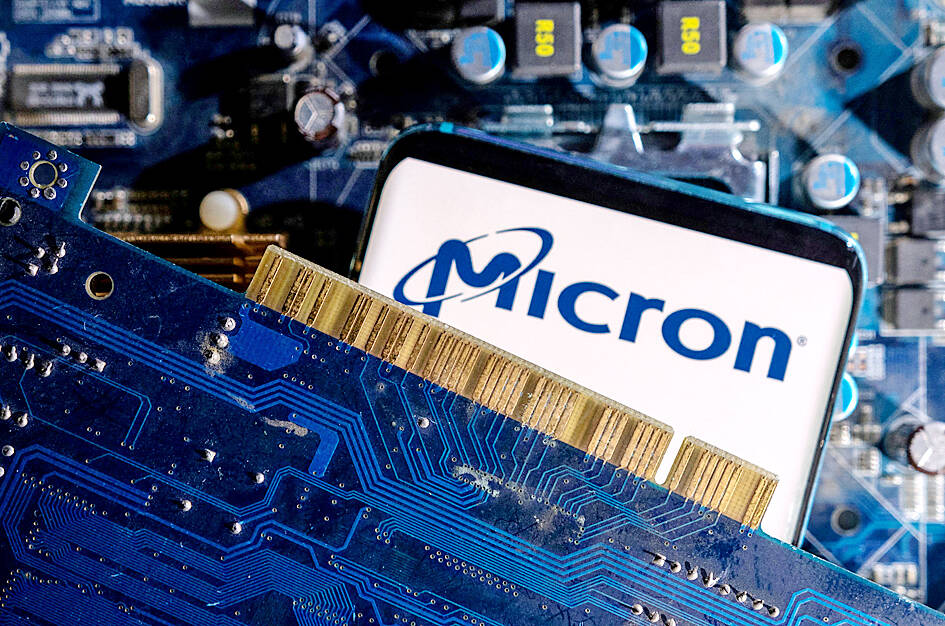 A smartphone displays the Micron logo on a computer motherboard in an illustration on March 6.
Photo: REUTERS
The results come more than a month after China announced an investigation on imports from the US' largest memorychip maker.
The tech sector has become a key battlefield over national security between the two largest economies, with Washington having blacklisted Chinese tech firms, cut off the flow of sophisticated processors and banned its citizens from providing help to the Chinese chip industry.
Beijing's conclusion had "no basis in fact," and Washington would continue to limit industry disruptions with its allies, the US Department of Commerce said in a statement.
"No one should understand this decision by CAC as anything but retaliation for the US's export controls on semiconductors," said Holden Triplett, founder of Trenchcoat Advisors and a former FBI counterintelligence official in Beijing.
"No foreign business operating in China should be deceived by this subterfuge. These are political actions pure and simple, and any business could be the next one to be made an example of," Triplett said.
The move brings fresh uncertainty to other US chipmakers that sell to China, the world's biggest market for semiconductors.
Companies such as Qualcomm Inc, Broadcom Inc and Intel Corp deliver billions of chips to the country, which use the components in electronic products shipped all over the world.
The agency said that while the country welcomes products and services provided by companies of all countries as long as they comply with its laws and regulations, the investigation into Micron products is a "necessary measure" to safeguard national security.
It did not give detail on what the security risks were or identify which Micron products have been barred.
Micron, which had previously said it stood by the security of its products and commitments to customers, said in a statement on Sunday that it is evaluating the conclusion of the review.
The company is assessing its next steps, it said, adding that it looks forward "to continuing to engage in discussions with Chinese authorities."
The agency's move would likely have little effect on Micron, as the ban applies to "critical information infrastructure (CII)," Jefferies Group LLC analysts, including Edison Lee (李裕生), said in a research report, referring to operations such as data centers and cloud computing services with security risks.
Most of Micron's memory chips sold in China are used in consumer electronics, such as smartphones and notebook computers, they said.
"We believe this ban is narrowly focused, as it applies to only CII operators," they wrote. "Therefore, the ultimate impact on Micron will be quite limited."
In the meantime, the Idaho-based chipmaker has been tightening ties with Japan. It is poised to get about ¥200 billion (US$1.5 billion) in financial incentives from the Japanese government to help it make next-generation memory chips in the country, Bloomberg reported.
Memory chips were already a flashpoint for US-China tensions. In December last year, Washington blacklisted Yangtze Memory Technologies Co (YMTC, 長江存儲), a state-backed flash memory chipmaker in Wuhan, China, effectively capping the country's capabilities in advanced 3D Nand-style chips.
YMTC had been in talks to supply the components to Apple Inc for iPhone models before that development.
The majority of Micron's products are made to industry standards, meaning the chips can easily be swapped out with those of rival manufacturers, such as Samsung Electronics Co and SK Hynix Inc.
Those South Korean chipmakers have plants in China.
Memory chips are not usually considered a cybersecurity risk, because they do not require any specific software or run code. They are mostly basic grids of transistors used for storing data and have not typically been a vector of attack for hackers.
Micron derived nearly 11 percent of its revenue from China in its last fiscal year. While that is relatively low compared with other major tech firms, much of the world's electronics production goes through Chinese factories in some way, and China's move has the potential to harm Micron's customer relationships.
Buyers in China could decide to play it safe after Beijing's warning and move away from all products made by the US firm. That could divert business to Micron's larger rivals, Samsung and Hynix.
Comments will be moderated. Keep comments relevant to the article. Remarks containing abusive and obscene language, personal attacks of any kind or promotion will be removed and the user banned. Final decision will be at the discretion of the Taipei Times.