UBS expects gain on Credit Suisse
UBS Group AG is gearing up for an estimated US$34.8 billion gain as a result of its emergency takeover of Credit Suisse Group AG, while saying that it faces billions in potential legal and regulatory costs from the rescue of its stricken former rival.
The Swiss bank stands to benefit from the combined firms' negative goodwill, based on a first assessment it has made on data as of the end of last year, it said in a regulatory filing posted overnight in Switzerland.
UBS is also estimating that litigation, regulatory matters and related liabilities could take a bite of as much as US$4 billion out of capital over 12 months.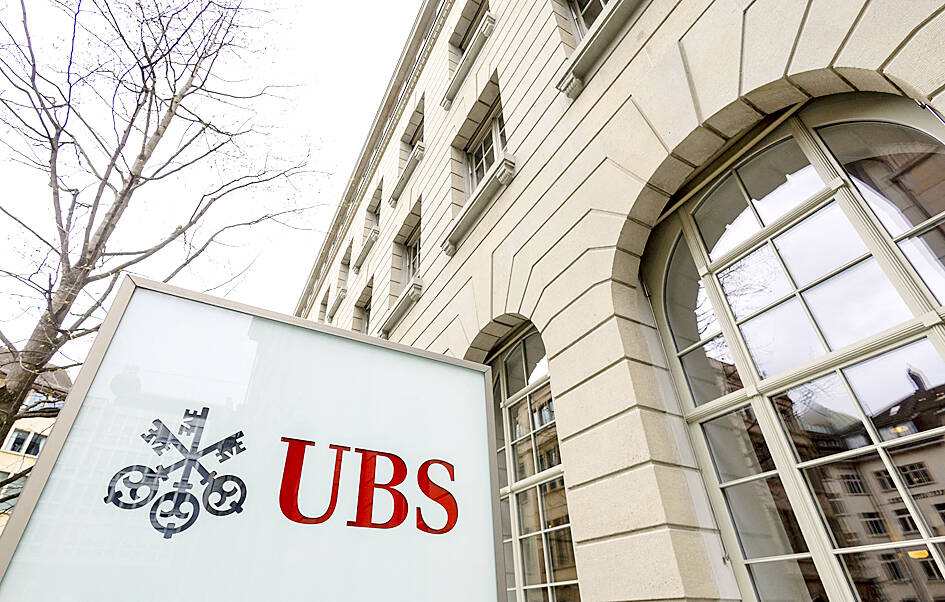 The logo of UBS Group AG is pictured in Zurich, Switzerland, on March 29.
Photo: Reuters
The figures are based on the bank's best estimates now, and as further analyses are performed, the figure is likely to change, UBS said.
Bloomberg had previously reported that the bank could make a gain of as much as 51 billion Swiss francs (US$56.8 billion) from the negative goodwill, calculated on the value of Credit Suisse assets at the end of March.
UBS agreed to take over Credit Suisse this year in an emergency sale backed by the Swiss government, amid fears that the smaller troubled competitor was hurtling toward bankruptcy. Analysts have pointed out that Credit Suisse's local business, Swiss Universal Bank, is probably worth multiple times what UBS paid for it.
Still, if UBS reports a windfall from negative goodwill, many investors are likely to view it as an accounting quirk rather than a sign of strength of the underlying business.
Executives, aware that a paper windfall could prove unpopular in Switzerland, have also been quick to point out the risks they are taking on in an integration that might take several years.
The accounting gain stands to be among the biggest ever reported by a bank in a single quarter, potentially easily surpassing the previous benchmark. JPMorgan Chase & Co's US$14.3 billion profit in the first quarter of 2021 is the modern record for US and European lenders.
Unlike in more standard acquisitions, UBS was unable to conduct a months-long review of the bank's books.
UBS has sent in a so-called clean team to assess its former rivals' client rosters and talent, as well as which business lines should be earmarked for a wind-down unit, people with knowledge of the matter have said.
Credit Suisse had a long list of legal entanglements that might end up costing UBS.
Comments will be moderated. Keep comments relevant to the article. Remarks containing abusive and obscene language, personal attacks of any kind or promotion will be removed and the user banned. Final decision will be at the discretion of the Taipei Times.