E Ink expects revenue boom after Walmart signs on
E Ink Holdings Inc (元太科技), the world's only e-paper display supplier, expects revenue to grow explosively next year, fueled by robust demand for e-paper displays used in electronic shelf labels (ESLs) after Walmart Inc joined its peers in introducing digital price tags.
E Ink's optimism came after its strategic partner, SES-imagotag, on April 27 said that it had entered into a new agreement with Walmart to deploy electronic labels in several hundred Walmart stores in the US.
Initially, a total of 60 million digital shelf labels would be installed at 500 locations over the next 12 to 18 months, SES-imagotag said in a company statement.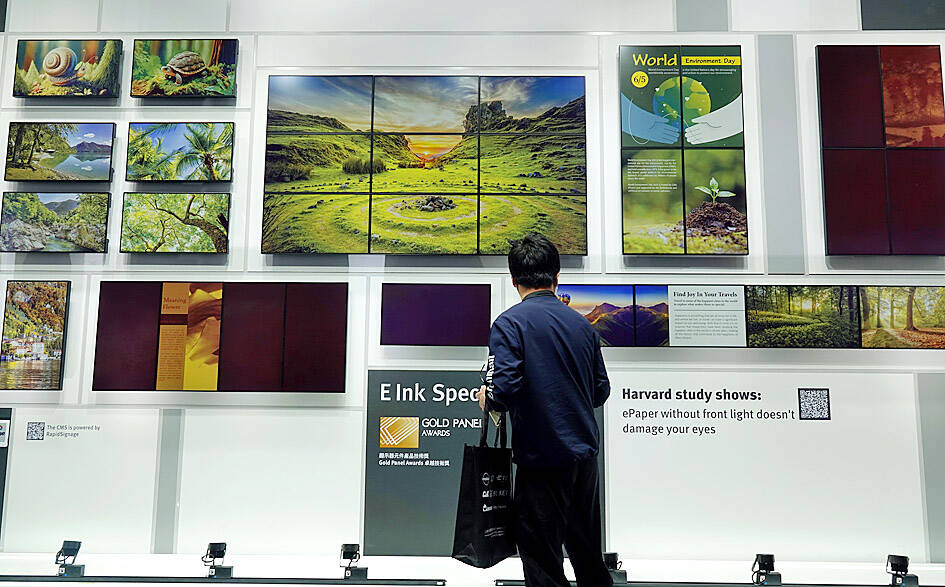 A man looks at E Ink Holdings Inc's Spectra 6 e-paper display panels at the Touch Taiwan trade show in Taipei on April 19.
Photo: CNA
E Ink has about a 5 percent stake in SES-imagotag.
"Rising labor costs and inflation will prompt retailers to introduce ESLs, as they have to change price tags frequently," E Ink chairman Johnson Lee (李政昊) told a virtual investors' conference yesterday.
"With Walmart's introduction of ESLs, we believe more retailers in North America will follow suit," Lee said.
E Ink said that it has laid out multiyear capacity expansion plans to cope with growing demand, with its sixth production line in Hsinchu to begin operating next quarter.
Next year, it plans to build a new production line in Hsinchu to produce larger displays used for digital signage, the company said.
In addition to color e-paper displays used in ESLs, the company is making progress in developing large e-paper displays for outdoor and indoor signage, and digital advertisements. It expects to start producing color e-paper displays for outdoor signage later this year using its new Kaleido technology.
It said it also plans to start using its Spectra 6 technology at the end of this year or early next year for indoor signage and advertisements, when its drive IC partners are ready to receive supply.
The company expects revenue to grow by a single-digit percentage year-on-year this year, little changed from its expectations in March, as demand for consumer electronics such as e-readers is weak due to growing macroeconomic uncertainties, E Ink said.
"It will be difficult to see explosive growth this year. We probably have to wait until next year," Lee said.
This quarter, revenue would only grow mildly from last quarter's NT$7.23 billion (US$234.61 million), Lee said.
Gross margin would improve from 49.1 percent last quarter, as E Ink expects to ship more materials, which deliver better a margin than modules, Lee said.
In the first quarter, E Ink's gross margin declined 8.65 percentage points from the fourth quarter of last year to its lowest in about three quarters.
Net profit last quarter expanded 20 percent to NT$1.77 billion, from NT$1.47 billion a year earlier. Last quarter's net profit was the company's best first-quarter performance in its history.
Earnings per share climbed to NT$1.54, from NT$1.28 a year earlier.
Comments will be moderated. Keep comments relevant to the article. Remarks containing abusive and obscene language, personal attacks of any kind or promotion will be removed and the user banned. Final decision will be at the discretion of the Taipei Times.