Qisda expects recovery after sluggish first quarter
'optimistic': Despite a 10 percent quarterly fall in revenue, hitting the lowest level since 2020, demand is expected to improve business later this year, the company said
Electronics manufacturer Qisda Corp (佳世達) yesterday said revenue would grow sequentially this quarter, adding that the company's business is recovering from the weakest levels in three years.
Qisda attributed last quarter's revenue decline of 10 percent from the previous quarter primarily to sluggish demand for information technology (IT) products, such as monitors and projectors, as well as inventory adjustments by customers.
"The first quarter is the trough in terms of revenue. Revenue in the first quarter fell NT$10.4 billion [US$339.1 million] from the fourth quarter, mainly due to sagging IT demand, which has hit the bottom in the first quarter," Qisda chairman Peter Chen (陳其宏) told an investors' conference.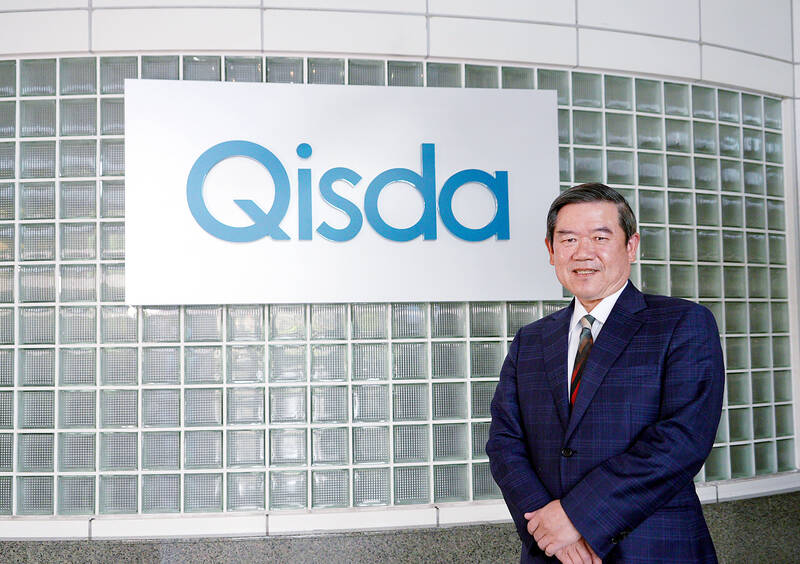 Qisda Corp chairman Peter Chen poses in Taipei on Nov. 6 last year.
Photo: CNA
"As a result, we are maintaining our forecast for this year. Revenue and profitability will improve quarter by quarter," Chen said. "We are also optimistic about a recovery in the second half. The recovery pace will depend on the development of the external environment."
Revenue from the company's core business — IT products — would slightly increase this quarter, bucking the seasonal downtrend, Qisda president Joe Huang (黃漢州) told investors, citing customer orders and the industry's development.
"We are seeing inventory rebuild on household demand for monitors. Demand for commercial models also show stable and mild increases," Huang said. "Monitor brands have shifted their strategy from an extremely conservative attitude to a proper [ordering] plan."
Such an ordering shift would help boost Qisda's monitor shipments this quarter compared with last quarter, Huang said.
Qisda's revenue in the first quarter dipped 10 percent quarter-on-quarter, or down 17 percent year-on-year, to NT$50.45 billion, hitting the lowest level since the second quarter of 2020. The IT business accounted for 51 percent of the company's total revenue in the quarter, the company said.
Qisda expects gross margin this quarter to remain at about 15.8 percent, which last quarter represented the best performance in a decade. The figure improved from 15.6 percent in the fourth quarter of last year and 12.9 percent in the first quarter, due to greater revenue contribution from high-value-added products, the company said.
Net profit last quarter plummeted 39 percent from a year earlier to NT$324 million, compared with NT$534 million in the first quarter of last year. It was also a quarterly contraction of 13 percent from NT$372 million.
Earnings per share dropped to NT$0.16 last quarter, from NT$0.27 a year earlier and from NT$0.19 a quarter earlier.
Separately, Compal Electronics Inc (仁寶), the world's No. 2 contract notebook computer maker, yesterday said net profit expanded 30 percent to NT$1.39 billion last quarter, from NT$1.07 billion in the final quarter of last year.
A better product mix and an improvement in non-operating loss helped boost its bottom line last quarter, Compal said.
Non-operating loss narrowed to NT$43 million last quarter from a loss of NT$385 million a quarter earlier.
Compal posted a foreign exchange gain of NT$25 million, reversing a loss of NT$142 million in the previous quarter.
On an annual basis, net profit plunged 35 percent from NT$2.16 billion in the first quarter of last year.
Earnings per share rose to NT$0.32 last quarter from NT$0.25 a quarter earlier. That represented an annual decline from NT$0.50 per share.
Gross margin rose to 4.5 percent last quarter, from 4 percent in the fourth quarter and 2.7 percent in the first quarter of last year.
Comments will be moderated. Keep comments relevant to the article. Remarks containing abusive and obscene language, personal attacks of any kind or promotion will be removed and the user banned. Final decision will be at the discretion of the Taipei Times.