'Taiwan must improve chip strategy'
KEY SECTOR: Taiwan's new chip legislation is insufficient, and a more strategic 'chip act' that covers the whole semiconductor ecosystem is needed, MediaTek's chairman said
MediaTek Inc (聯發科) chairman Rick Tsai (蔡明介) yesterday urged the government to formulate a state semiconductor strategy and comprehensive "chip act" that includes local chip designers and smaller-scale semiconductor companies, as they are facing intensifying competition from China.
The government is playing an increasingly important role in safeguarding the local semiconductor industry's competitiveness, given that the US, the EU and Japan are offering hefty subsidies and significant tax incentives to build semiconductor capacity domestically, as they have realized the strategic importance of semiconductors, Tsai said.
To implement such a program, the government should take steps to finance a "chip act," Tsai said on the sidelines of a news conference at which the Taiwan Semiconductor Industry Association and DigitTimes jointly released a white paper.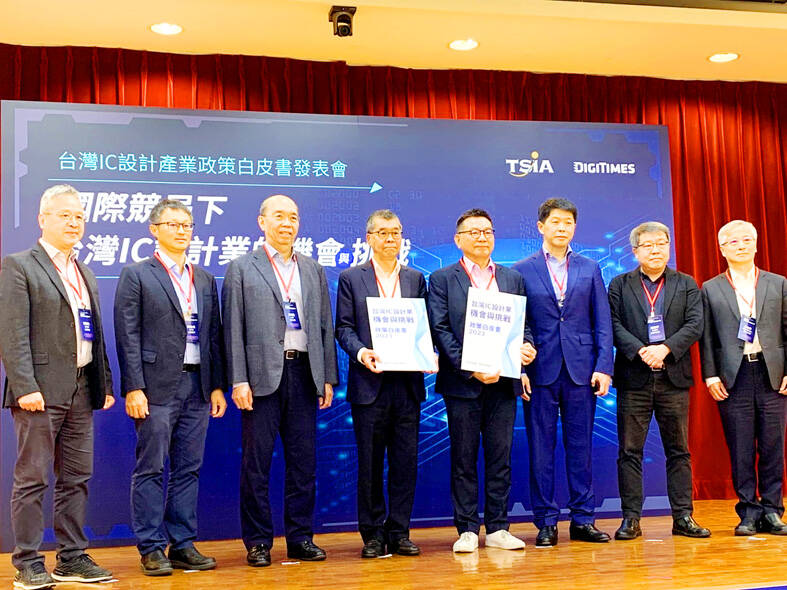 MediaTek Inc chairman Tsai Ming-kai, fourth left, and representatives from Himax Technologies Inc, Phison Electronics Corp, Novatek Microelectronics Corp and Realtek Semiconductor Corp attend a presentation on the Taiwan IC design industrial policy white paper in Hsinchu yesterday.
Photo: Grace Hung, Taipei Times
Tsai was the chief consulting officer for the white paper.
A budget of more than NT$10 billion (US$329.11 million) should be considered for the program, Tsai said.
Taiwan's newly launched chip legislation is insufficient, as it mostly concentrates on subsidizing chip manufacturing, he said.
He was referring to amendments to the Act for Industrial Innovation (產業創新條例), which provide a legal basis for the government to provide chip companies with subsidies for the development of advanced technologies such as artificial intelligence, 5G and electric vehicles.
Only a handful of semiconductor companies are eligible for a 25 percent tax break on their research and development spending.
The government should come up with a "chip act" that is more strategic and covers the whole semiconductor ecosystem, from chip design houses to system and software developers, Tsai said
Taiwan's small and medium-sized chip design houses are facing a growing threat from China and would suffer the most from the US' semiconductor curbs on China, he said.
As the US has banned exports of advanced semiconductor technology and equipment to China, Chinese chip companies have been forced to shift their focus to developing matured process technology, which overlaps with the technologies developed by local chip companies, he said.
Without the government's support, Taiwan's chip design houses risk losing their market share to China, the white paper says.
Taiwanese chip designers' portion of the global market share is expected to drop to 17 percent in 2026, from 18 percent last year, lagging behind China at 18 percent. China held a 15 percent share last year.
Taiwan's chip design houses contributed 2.4 percent to the nation's GDP last year, and employed about 52,000 people, the white paper said.
The white paper is endorsed by the nation's major chip design houses, including Himax Technologies (奇景光電), Realtek Semiconductor Corp (瑞昱半導體), Novatek Microelectronics Corp (聯詠) and Phison Electronics Corp (群聯).
As the nation's semiconductor industry is facing a prolonged labor shortage, chip designers advised the government to relax rules to introduce foreign talent, given Taiwan's low birthrate.
On top of that, the government should review its policy of subsidizing foreign companies that set up research and development centers in Taiwan, as those multinational companies compete with local chip companies for talent and subsidies, they said.
Nvidia Inc and Micron Technology Inc received subsidies of NT$4.72 billion and NT$6.7 billion respectively last year for their research and development projects, the white paper says.
However, local chip firms are eligible only for tens of millions of New Taiwan dollars for advanced technology research programs, and must compete with companies outside of the chip industry, it says.
Some local chip companies said they are feeling mounting pressure because they are losing talent to foreign chip companies, rather than Chinese companies, it says.
Comments will be moderated. Keep comments relevant to the article. Remarks containing abusive and obscene language, personal attacks of any kind or promotion will be removed and the user banned. Final decision will be at the discretion of the Taipei Times.