Taiwan tops SEMI's spending forecast
SEMICONDUCTOR EQUIPMENT: The international trade group said the sector would recover from a slump, with spending expected to rise 4.2 percent to US$24.9 billion
Taiwan is to retain its position as the top spender on semiconductor front-end equipment and facilities next year, with spending expected to increase 4.2 percent year-on-year to US$24.9 billion, international trade group SEMI said yesterday.
The spending forecast matches an expected recovery in global semiconductor equipment and facilities investment next year, it said.
International equipment spending is to return to growth next year, SEMI said in a report, forecasting 21 percent growth to US$92 billion.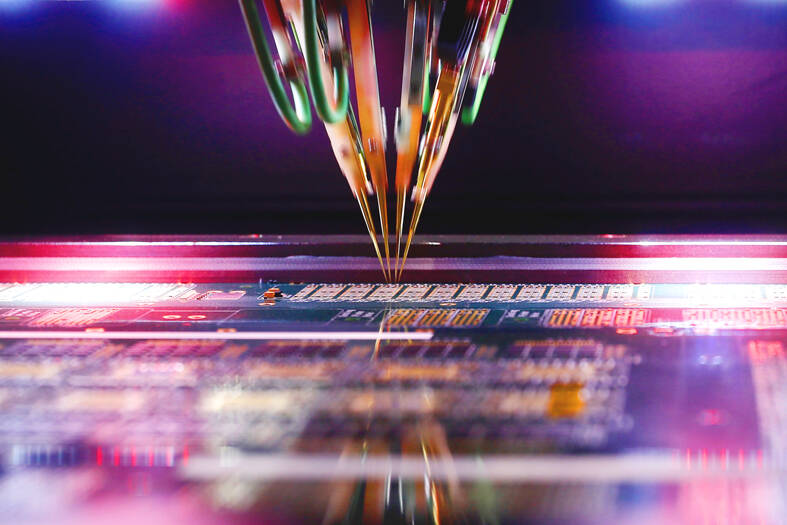 A machine checks a circuit board during the Semicon Taiwan trade show in Taipei on Sept. 15 last year.
Photo: Ritchie B. Tongo, EPA-EFE
The expansion would manly be driven by robust demand for semiconductors in the automotive and high-performance computing segments, the association said.
"This quarter's SEMI World Fab Forecast update offers our first look ahead to 2024, highlighting the steady global expansion of fab capacity to support future semiconductor industry growth driven by the automotive and computing segments and a host of emerging applications," SEMI president and CEO Ajit Manocha said in the report.
South Korea is expected to be the second-largest spender, with investment surging 41.5 percent annually to US$21 billion next year, the report said.
China is forecast to rank third, with spending little changed from about US$16 billion this year, it said, citing the effects of US controls on exports of advanced chipmaking equipment to China.
The US is projected to retain fourth spot, with spending soaring 23.9 percent year-on-year to US$11 billion, which would be an all-time high, the report said.
Europe and the Middle East are forecast to log record investments next year, increasing spending 36 percent to US$8.2 billion, it said.
Fab equipment spending in Japan and Southeast Asia is expected to increase to US$7 billion and US$3 billion respectively, the report said.
The global semiconductor industry's capacity is forecast to grow 5.6 percent annually next year, after an expansion of 4.8 percent this year, SEMI said.
With more suppliers providing foundry services amid increasing global capacity, the foundry segment is expected to lead the semiconductor expansion next year, with spending growing 12.4 percent annually to US$48.8 billion, it said.
This year, foundry service providers are expected to curtail their spending by 12.1 percent to US$43.4 billion, SEMI said.
Taiwan Semiconductor Manufacturing Co (TSMC, 台積電), the world's largest foundry service provider, cut its expenditures for this year to between US$32 billion and US$36 billion from record spending of US$36.3 billion last year, citing near-term uncertainties.
TSMC said that it registered aggravated weakness in demand for chips made on 7-nanometer nodes, as PC and smartphone vendors led the tech sector in posting inventory corrections and delayed new product launches.
Memorychip makers are to significantly increase investment to US$28.2 billion next year from US$17.1 billion this year, SEMI said.
This year, memorychip makers are to slash spending 44.4 percent annually, it said.
Spending on semiconductor manufacturing equipment and facilities this year is to contract 23 percent year-on-year to US$76 billion from a record-high of US$98 billion last year, it added.
Comments will be moderated. Keep comments relevant to the article. Remarks containing abusive and obscene language, personal attacks of any kind or promotion will be removed and the user banned. Final decision will be at the discretion of the Taipei Times.