Infineon and Delta extend partnership to auto applications
Infineon Technologies AG yesterday signed a memorandum of understanding with Delta Electronics Inc (台達電) to extend their partnership to automotive applications by providing more efficient and higher-density solutions for electric vehicles (EVs).
Delta, based in Taipei's Neihu District (內湖), has been collaborating with Infineon in industrial products for the past 25 years.
The new cooperation covers a wide range of components such as microcontrollers, and high and low-voltage modules, the companies said in a statement.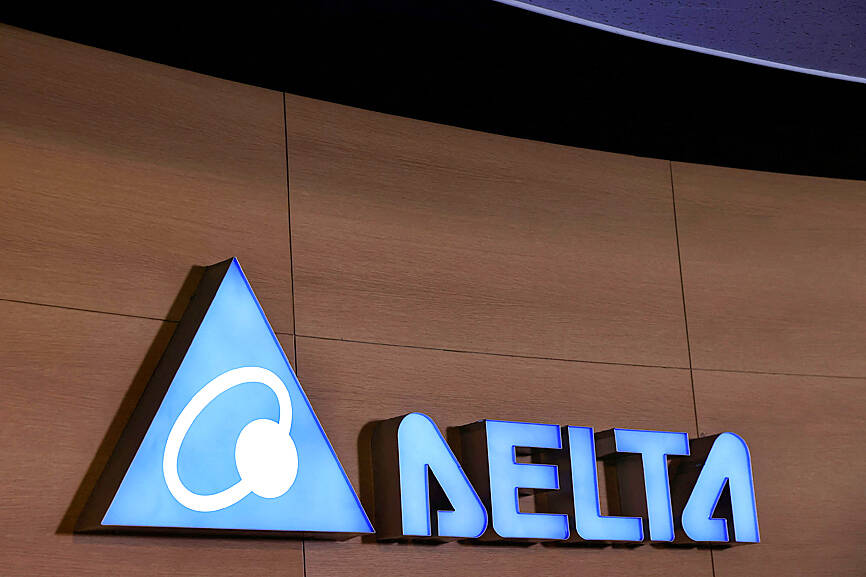 Delta Electronics Inc's logo is pictured at its Taipei office on Friday last week.
Photo: Ann Wang, Reuters
The components are to be used in EV drivetrain applications such as traction inverters, DC-DC converters and onboard chargers, the statement said.
In addition, both parties agreed to create a joint innovation lab to be named the Delta-Infineon Automotive Innovation Center in Taoyuan's Pingzhen District (平鎮) in the second half of this year. The center would be managed by both companies.
"We want to further advance the energy efficiency of electromobility together by combining Infineon's comprehensive automotive product portfolio and application know-how with Delta's expertise in integration and system optimization," Peter Schiefer, president of Infineon's Automotive division, said in the statement.
"Ensuring the energy efficiency of automotive applications is of paramount importance in our time and we are committed to further improving it," Schiefer said.
"We are now looking forward to extending this partnership to electromobility," Delta vice president James Tang (唐修平) said. "We see growing demand in the automotive industry for innovative, clean and energy-efficient solutions. Together with Infineon, we are committed to support the global transition to electromobility with our products and solutions, and to bring electromobility to a whole new level."
Delta last month told investors it expected strong growth momentum in its EV component business this year and forecast that its EV business would turn a profit for the first time this year, 15 years after it tapped into the market.
Delta counts major automakers from the US, Europe and Japan among its customers, including Ford Motor Co.
The company is aiming to seize 15 percent of the global market for EV-related components and piles by 2030, compared with about 8 percent last year, Delta founder Bruce Cheng (鄭崇華) said in November last year.
Comments will be moderated. Keep comments relevant to the article. Remarks containing abusive and obscene language, personal attacks of any kind or promotion will be removed and the user banned. Final decision will be at the discretion of the Taipei Times.