TAIEX falls amid concern over global banking woes
RATE HIKE CYCLE ENDING? The losses came ahead of a Fed policy meeting, with speculation mounting that it is becoming more dovish toward its monetary policy
The TAIEX yesterday closed lower after fluctuating in a narrow range throughout the session, as market sentiment remained haunted by financial woes in the US and European banking sectors.
The benchmark index closed down 32.99 points, or 0.21 percent, at 15,419.97, in tandem with declines in regional stock markets, despite news of UBS Group AG's takeover of embattled Credit Suisse Group AG and global central banks' pledges to provide liquidity to troubled lenders.
Turnover on the local main board fell ahead of a policymaking meeting scheduled by the US Federal Reserve for today and tomorrow, totaling NT$189.698 billion (US$6.20 billion), compared with NT$264.593 billion a session earlier, Taiwan Stock Exchange data showed.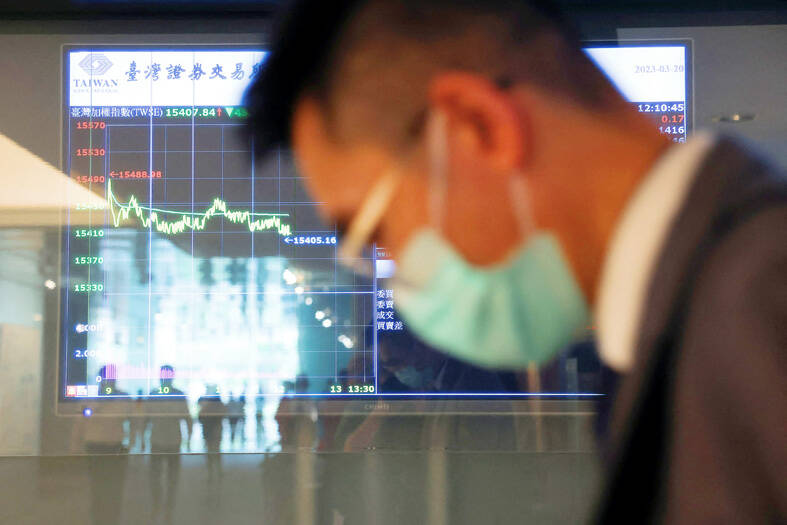 A man wearing a mask passes screens showing trading data while using an escalator outside the Taiwan Stock Exchange in Taipei yesterday.
Photo: Annabelle Chih, Reuters
Foreign institutional investors sold a net NT$4.78 billion of shares on the main board yesterday.
In the local financial sector, Cathay Financial Holding Co (國泰金控) lost 1.95 percent, Fubon Financial Holding Co (富邦金控) fell 0.90 percent and China Development Financial Holding Co (中華開發金控) closed down 0.82 percent, while CTBC Financial Holding Co (中信金控) shares rose 0.72 percent.
In Hong Kong, HSBC Holdings PLC dropped 6.23 percent, while Standard Chartered PLC fell 7.3 percent and Bank of East Asia Ltd gave up 4.5 percent, as investors weighed a collapse in the value of additional tier 1 (AT1) bonds issued by lenders following the terms of the Credit Suisse's rescue.
Japanese banks were also mostly lower, with Mizuho Financial Group Inc shedding 2.3 percent and smaller bank Resona Holdings Inc down 3.7 percent.
In Australia, Macquarie Group Ltd sank 4.6 percent.
The AT1 notes were created after the 2008 global financial crisis to ensure that losses in times of crises would be borne by investors, rather than taxpayers bailing out borrowers, but the complete write-down of Credit Suisse's AT1 debt as part of a Swiss bailout had investors in the US$275 billion market scrambling to determine how much protection the notes offer in a crisis.
The Financial Supervisory Commission yesterday said that Taiwan's major insurance companies — Cathay Life Insurance Co (國泰人壽), Fubon Life Insurance Co (富邦人壽), Shin Kong Life Insurance Co (新光人壽), Nan Shan Life Insurance Co (南山人壽), China Life Insurance Co (中國人壽) and Taiwan Life Insurance Co (台灣人壽) — have more than NT$100 billion in combined exposure to Credit Suisse, but none of them held any of the Swiss lender's AT1 bonds.
"Despite regulators' efforts to stem the panic in the global banking system, investors remained worried that possible further financial woes from other banks will emerge to send equity markets into turmoil," Concord Securities Co (康和證券) analyst Kerry Huang (黃志祺) said. "That's why local financial stocks, as well as the entire main board, weakened today."
The losses came ahead of the Fed's policy meeting this week, with speculation mounting that it is becoming more dovish toward its monetary policy.
"The market has widely anticipated the US central bank will raise its key interest rates by only 25 basis points this time and stop its rate hike cycle afterwards," Huang said.
Additional reporting by Bloomberg
Comments will be moderated. Keep comments relevant to the article. Remarks containing abusive and obscene language, personal attacks of any kind or promotion will be removed and the user banned. Final decision will be at the discretion of the Taipei Times.