US dollar slips as banking turmoil snares markets
The US dollar on Friday fell as further declines in the shares of Credit Suisse Group AG and First Republic Bank rattled markets fearful of contagion and increased concerns that a recession lies ahead because of the effects of tighter monetary policy.
An early recovery in European stocks ran out of steam as investor sentiment remained fragile after a week of turbulence following the failure of Silicon Valley Bank on March 10.
US banks have sought a record US$153 billion in emergency liquidity from the US Federal Reserve in the past few days, while the US$54 billion loan for Credit Suisse and US$30 billion lifeline for First Republic failed to halt their stock declines. Credit Suisse fell 8 percent in Europe and First Republic tumbled 30 percent.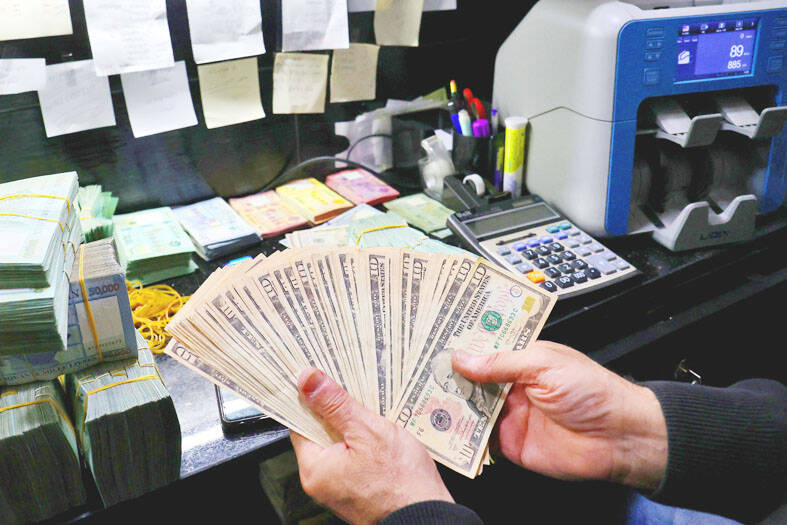 A man holds US dollars bills at a currency exchange office in Beirut on Tuesday.
Photo: AFP
The US dollar index, a measure of the dollar against six other currencies, fell 0.53 percent to 103.86, as traders waited for the Fed's two-day policy meeting that is expected to end with a one-quarter percentage point hike in interest rates on Wednesday next week. The index fell 0.68 percent from the previous week.
Contracts for funds futures showed a 61.3 percent probability that the Fed will raise rates by 25 basis points, the CME Group's FedWatch Tool showed.
Futures also showed that the Fed would have cut rates by July in a sign recession fears are mounting as the US central bank tightens monetary policy to fight high inflation.
Whether the banking turmoil of the past week leads to an immediate recession is hard to say, said Mazen Issa, senior foreign-exchange strategist at TD Securities in New York.
"It probably increases the probability that you do have a recession and perhaps it increases the probability that you may have a hard-landing scenario, a more severe recession dynamic," he said.
"Once you have one regional bank go down, households question whether or not the regional banks are in trouble. That's a natural human emotion to feel," he said.
The New Taiwan dollar on Friday rose against the US dollar, gaining NT$0.77 to close at NT$30.554, up 0.24 percent from NT$30.848 a week earlier.
The yen fell 1.43 percent to ¥131.83 against the greenback, down 2.35 percent for the week.
Additional reporting by staff writer, with CNA
Comments will be moderated. Keep comments relevant to the article. Remarks containing abusive and obscene language, personal attacks of any kind or promotion will be removed and the user banned. Final decision will be at the discretion of the Taipei Times.