Oil posts worst weekly loss since start of pandemic
Oil on Friday posted its worst weekly loss since the early months of the COVID-19 pandemic as banking turmoil poisoned investor sentiment.
West Texas Intermediate for April delivery dropped 2.36 percent to US$66.74 per barrel, falling 12.96 percent for the week, the largest drop in almost three years.
Brent crude for May delivery fell 2.32 percent to US$72.97, posting a weekly loss of 11.85 percent.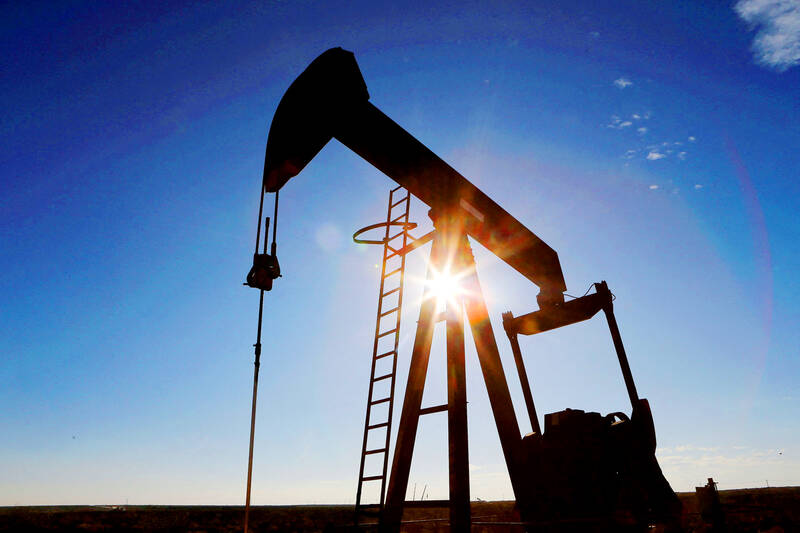 A crude oil pumpjack in in Texas' Loving County is pictured on Nov. 22, 2019.
Photo: Reuters
The failure of Silicon Valley Bank and troubles at Credit Suisse Group AG drove investors from risk assets, with oil-options covering accelerating the sell-off.
"Crude action this week reminded many of how quickly the commodity can be decimated by macroeconomic events," CIBC Private Wealth senior energy trader Rebecca Babin said. "The commodity broke a significant level of support as the market tries to quantify the economic ramifications of banking turmoil."
Traders had been waiting for a catalyst to break prices out of the relatively narrow trading range that has dominated the market as expectations for rebounding Chinese demand compete with weaker economic outlook in the West.
This week's banking crisis provided the spark, driving oil prices to a 15-month low. That plunge triggered another: Prices went so low that 43,000 options contracts totaling more than 40 million barrels of crude came "into the money," resulting in a tidy payday for some, while at the same time further deepening the downturn.
Oil's next leg might depend on decisions by the US Federal Reserve and OPEC. The Fed is to decide next week whether to raise rates again, a move that has implications for oil demand.
Meanwhile, OPEC and its allies are to convene on April 3 to revisit the group's production policy. Several technical measures suggest that the recent plunge has pushed the commodity into oversold territory.
Additional reporting by staff writer
Comments will be moderated. Keep comments relevant to the article. Remarks containing abusive and obscene language, personal attacks of any kind or promotion will be removed and the user banned. Final decision will be at the discretion of the Taipei Times.