Yang Ming to pay average bonus of NT$1.34m
Container cargo shipper Yang Ming Marine Transport Corp (陽明海運) is to give its employees an average mid-year bonus of about NT$1.34 million (US$43,802) per person after posting a net profit of more than NT$180 billion last year.
Most Taiwanese companies are expected to give workers smaller mid-year bonuses this year, but those in the shipping industry are to reward their employees with big bonuses after reporting strong profitability in the past year.
In a statement, Yang Ming Marine said the bonuses were being issued based on the company's charter, which requires it to pay no less than 1 percent of its profits as mid-year bonuses to employees.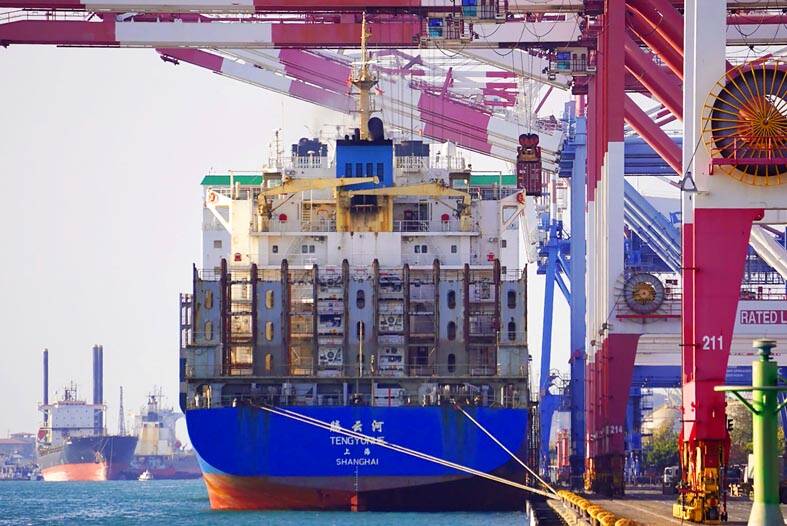 A container ship is docked at the Port of Kaohsiung on Jan. 31.
Photo: CNA
The company posted record net profit of NT$180.6 billion for last year, up 9.32 percent from a year earlier, while its consolidated sales also hit a high of NT$375.9 billion, up 12.6 percent from a year earlier.
Based on the NT$50,000 average monthly salary of Yang Ming Marine employees, the mid-year bonuses are expected to equal 26 to 27 months of salary and total NT$2.329 billion.
Yang Ming last week proposed to distribute a cash dividend of NT$20 per share after reporting earnings per share (EPS) of NT$51.71 last year, up from NT$48.28 in 2021. That translates into a payout ratio of 38.68 percent.
EVERGREEN
On Tuesday, bigger rival Evergreen Marine Corp (長榮海運) said it would distribute NT$1.918 billion in mid-year bonuses.
Evergreen Marine's planned bonuses were about equal to 10 to 11 months of the average monthly salary of NT$60,000 for its 3,100 employees, after the company posted record net profit of NT$334.2 billion for last year, up 39.82 percent from a year earlier.
With EPS of NT$87.07, the shipper announced on Tuesday that it was proposing a cash dividend of NT$70 per share, equal to a payout ratio of about 80.4 percent.
WAN HAI
Wan Hai Lines Ltd (萬海航運), which did not perform as well last year as its two local rivals, plans to give its employees a total of NT$744 million in mid-year bonuses, but it did not provide employee numbers, making it hard to gauge the size of the bonus relative to average pay.
The company's net profit last year fell 9.9 percent to NT$93.07 billion after Wan Hai reported a net loss in the fourth quarter. It has proposed paying a cash dividend of NT$5 per share based on its EPS of NT$33.17, a 15.07 percent payout ratio.
Wan Hai's fourth-quarter loss and falling international container shipping rates were signs that the high demand of the past two years, when containers were in short supply and freight rates soared, has come to an end.
Evergreen Marine president Eric Hsieh (謝惠全) on Tuesday said that the global shipping industry could weaken in the first quarter before rebounding in the second quarter.
Any real comeback would have to wait until the second half of the year, with the key to the recovery hinging on the end of the war in Ukraine, Hsieh said.
Comments will be moderated. Keep comments relevant to the article. Remarks containing abusive and obscene language, personal attacks of any kind or promotion will be removed and the user banned. Final decision will be at the discretion of the Taipei Times.