EVA orders five 787-9s for Europe, America routes
EVA Airways Corp's (長榮航空) board of directors has approved the purchase of five Boeing Co 787-9 Dreamliners to use on its European and North American routes in anticipation of growing passenger demand, the company announced on Monday.
Boeing is to start delivering the Dreamliners in 2025, with all of the planes to be delivered by 2027, EVA Airways said in a statement.
The airline is also scheduled to take delivery by 2025 of four previously ordered 787-9s, seven 787-10s and a Boeing 777 cargo plane, the statement said.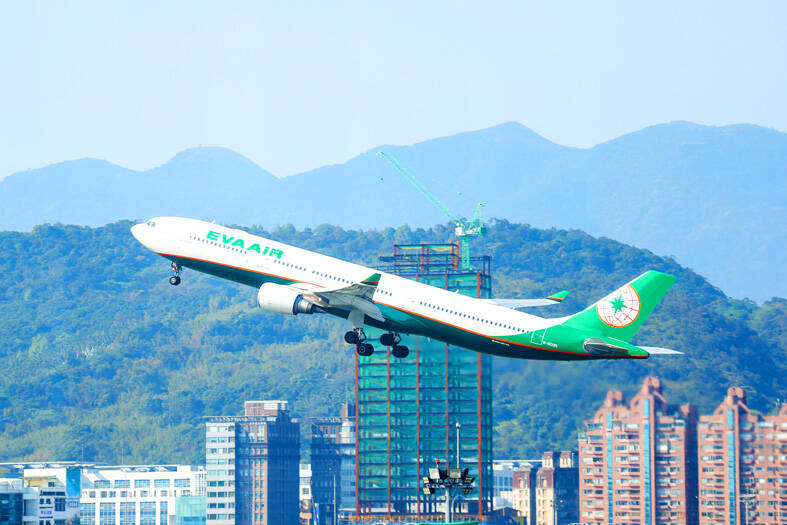 An EVA Airways Corp plane bound for Shanghai takes off from Taipei International Airport (Songshan airport) on Thursday last week.
Photo: CNA
Once the additional five 787-9 Dreamliners join its fleet, EVA Airways would have 26 Boeing 787s in service, with half of them being 787-9s and the other half 787-10s, it said.
The board approved the purchase of the five 787-9 aircraft for a price not to exceed US$1.777 billion, local media reported.
The airline is to use its 787-9 Dreamliners on routes to Europe and North America because of their longer range, EVA president Clay Sun (孫嘉明) said.
EVA would also introduce a three cabin layout — business, premium economy and economy — in the planes by the middle of next year, Sun said.
For its 787-10s, which are longer with greater passenger capacity, the airline would offer two classes of service — business and economy — and fly them mainly to destinations in the Asia-Pacific region, he said.
The company has continued to order Boeing 787s because they are made with composite materials such as carbon fiber that do not erode or rust easily and reduce the overall weight of a plane, it said.
The new aircraft are to use GE Aerospace's GEnx engines to decrease fuel consumption and cut emissions, it said.
Comments will be moderated. Keep comments relevant to the article. Remarks containing abusive and obscene language, personal attacks of any kind or promotion will be removed and the user banned. Final decision will be at the discretion of the Taipei Times.