CEOs expect global slowdown: poll
INTERNATIONAL CONCERNS: Taiwanese CEOs in a survey cited economic volatility, geopolitical conflict and inflation as the biggest threats this year, PwC Taiwan said
A majority of CEOs expect the global economy to soften this year, while only a few are upbeat about revenue prospects, a survey released on Wednesday by PricewaterhouseCoopers (PwC) Taiwan said.
Seventy-seven percent of CEOs polled expect at a slowdown in global GDP growth, the worst sentiment since the survey began in 2012.
In last year's survey, 79 percent of CEOs had expressed optimism.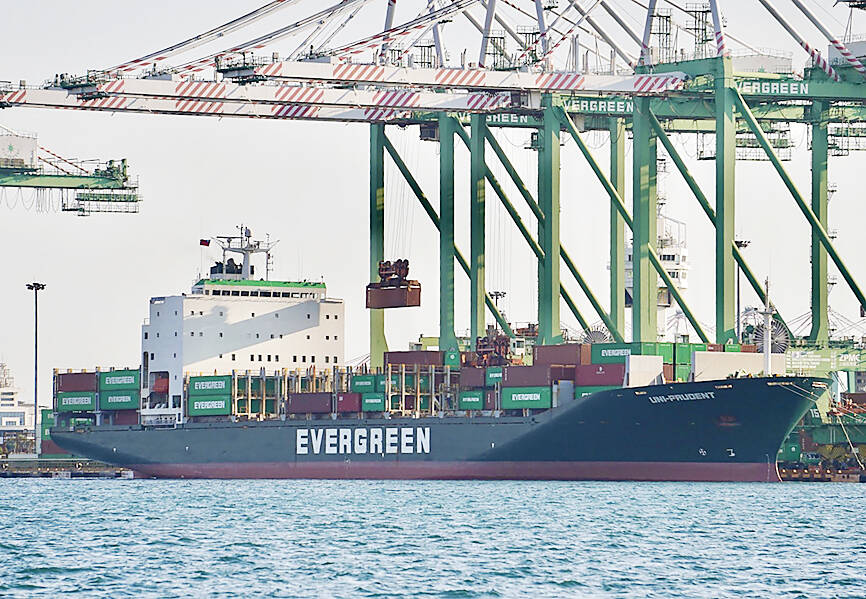 An Evergreen Marine Corp container ship is docked at the Port of Kaohsiung on Jan. 31.
Photo: CNA
Only 37 percent expressed confidence about revenue growth in the latest survey, a steep decline from 52 percent last year.
The consultancy collected the responses through online surveys, and telephone and face-to-face interviews from October to December last year.
The survey seeks to understand how local CEOs execute their strategic priorities against a constantly changing macro-environment, the PwC Taiwan Web site says.
Economic volatility, geopolitical conflict and inflation constitute the biggest threats this year, replacing the COVID-19 pandemic and wild currency swings, it said.
Taiwanese CEOs tend to control economic risks by diversifying products, finding alternative suppliers and reducing costs, it said.
When considering moves to mitigate exposure against geopolitical conflict, Taiwanese CEOs tend to adjust current markets and expand into new markets, whereas global CEOs tend to focus on cyberinvestments, it added.
TECHNOLOGY DISRUPTORS
While Taiwanese CEOs see supply chain disruptions and labor shortages as major challenges to their profitability, their global peers have expressed more concern over technology disruptors, and changing customer demand and preferences, PwC Taiwan said.
More than 60 percent of CEOs in Taiwan do not think their companies would be economically viable six years from now without transformation, it said.
Automation and skill enhancement-related investments rank high in terms of business management priority for local and global CEOs, it said.
In addition, global and local CEOs see climate change affecting their cost profiles and supply chains, PwC Taiwan said.
To address climate change, 22 percent of local CEOs closely cooperate with private enterprises, and most partner with non-business entities in sustainable development, it said.
China remains the most important market at 66 percent, followed by the US, Japan and Germany, it said, adding that Vietnam dropped in ranking to fifth spot with an 8 percentage point decline.
The consultancy urged companies to embrace change, calling it a reality all enterprises must face.
Strategies that can be adopted include digitalizing processes and upskilling their staff in priority areas, it said.
Comments will be moderated. Keep comments relevant to the article. Remarks containing abusive and obscene language, personal attacks of any kind or promotion will be removed and the user banned. Final decision will be at the discretion of the Taipei Times.