German EV chip deal a win for Olaf Scholz
In the auto industry's rocky transition to electric vehicles (EVs), German Chancellor Olaf Scholz is celebrating a small, but symbolic victory.
The cause is a US$3 billion deal between auto supplier ZF Friedrichshafen and semiconductor maker Wolfspeed Inc to produce chips for EVs in Saarland, a region in the western corner of Germany with an economy deeply tied to the fading internal combustion engine.
Scholz and German Minister for Economic Affairs and Climate Action Robert Habeck were yesterday scheduled to join executives from the two companies in Saarland to trumpet the project as a symbol of optimism to tens of thousands of workers in Germany's auto industry who fret that the transition to EVs could leave them without jobs.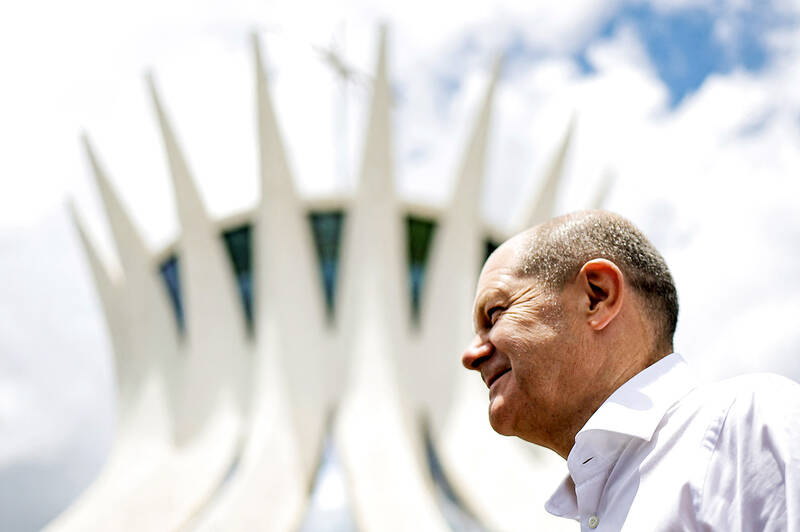 German Chancellor Olaf Scholz visits the Cathedral of Brasilia in Brazil on Tuesday.
Photo: Reuters
The global transition to EVs and the race to produce them more cheaply has forced legacy automakers such as BMW AG, Mercedes-Benz AG and Volkswagen AG to rethink and sometimes reinvent decades-old production practices. In Germany, where about 786,000 people are employed by automakers and parts suppliers, the shift is fraught with wide-reaching economic, social and political risks.
ZF and Wolfspeed's announcement is particularly timely for Saarland, where more than a dozen automotive suppliers employ about 44,000 people to produce components such as automatic transmissions, diesel injection technology and motor blocks.
In November last year, parts supplier Schaeffler AG said it was cutting 1,000 jobs in Germany — including 100 at its Homburg plant in Saarland — as the transformation to electric drivetrains accelerates.
Last week, Ford said it would stop producing vehicles at its Saarlouis plant, which employs 4,500 people, by 2025.
The US manufacturer is in early talks with potential investors, including China's BYD Co, about selling the site, people familiar with the matter said.
However, the new semiconductor facility — known as a wafer fab — offers hope that the region can have a future in an electrified auto industry. ZF and Wolfspeed plan to locate the wafer fab in Ensdorf, near ZF's Saarbrucken site, converting a former coal-fired power plant into the world's largest factory for silicon carbide semiconductors.
The companies are still waiting for specific subsidy commitments of about one-quarter of the total investment, but they aim for the details to be finalized within the next couple of months, and expect the facility to start production by 2027, reaching full capacity three years later.
Scholz's government has been working to shore up Germany's industrial sector amid a global race to get a leg up in the transition to green technologies and energy. Scholz is urging the US to ease subsidy requirements for the EV supply chain, and earlier this week visited Brazil, Argentina and Chile as part of a push to secure supplies of lithium and other key materials needed for the batteries that power EVs.
Wolfspeed specializes in silicon carbide semiconductors, which can boost the range of EVs by as much as 15 percent, while also cutting charging time compared with conventional silicon chips.
The US manufacturer has entered supply agreements with Mercedes and Jaguar Land Rover for its chips. US supplier BorgWarner Inc has invested US$500 million in the company to secure as much as US$650 million annual capacity for the silicon carbide devices.
Together with the factory, ZF and Wolfspeed also plan to set up a research and development center in Germany, majority-owned by ZF, to explore further uses of silicon carbide chips to make power inverters more efficient.
ZF plans to integrate Wolfspeed's chips in inverters that ZF supplies to electric truck manufacturers. It is also to integrate silicon carbide chips in its windmill transmissions and plans to use them in electric ships.
Comments will be moderated. Keep comments relevant to the article. Remarks containing abusive and obscene language, personal attacks of any kind or promotion will be removed and the user banned. Final decision will be at the discretion of the Taipei Times.