US, India target arms, AI to compete with China
AIR AND SPACE: GE was seeking permission to make jets with India, while New Delhi's space program would work with NASA on human space flight, the two countries said
The White House on Tuesday launched a partnership with India that US President Joe Biden said he hopes would help the countries compete against China on military equipment, semiconductors and artificial intelligence (AI).
Washington wants to deploy more Western mobile phone networks in the subcontinent to counter China's Huawei Technologies Co (華為), to welcome more Indian computer chip specialists to the US and to encourage companies from both countries to collaborate on military equipment such as artillery systems.
The White House faces an uphill battle on each front, including US restrictions on military technology transfer and visas for immigrant workers, along with India's longstanding dependence on Moscow for military hardware.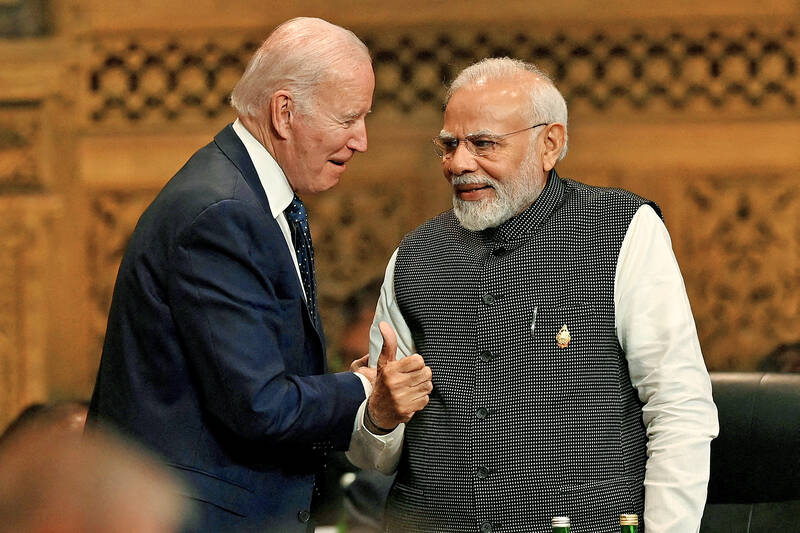 US President Joe Biden speaks with Indian Prime Minister Narendra Modi at the opening session of the G20 Summit in Nusa Dua, Indonesia, on Nov. 15 last year.
Photo: Prasetyo Utomo / G20 Media Center / handout via Reuters
US National Security Adviser Jake Sullivan and Indian National Security Adviser Ajit Doval met with senior officials from both countries at the White House to launch the US-India Initiative on Critical and Emerging Technologies.
"The larger challenge posed by China — its economic practices, its aggressive military moves, its efforts to dominate the industries of the future and to control the supply chains of the future — have had a profound impact on the thinking in Delhi," Sullivan said.
Doval was also to meet US Secretary of State Anthony Blinken during his three-day visit to Washington, which ended yesterday.
On Monday, Sullivan and Doval participated in a US Chamber of Commerce event with corporate leaders from Lockheed Martin Corp, Adani Enterprises Ltd and Applied Materials Inc.
Although India is part of the Biden administration's signature Asian engagement project, the Indo-Pacific Economic Framework, it has opted against joining the trade pillar negotiations.
The initiative also includes a joint effort on high-performance quantum computing and space.
Meanwhile, General Electric Co (GE) is asking the US government for permission to produce jet engines with India that would power aircraft operated and produced by India, said the White House, which added that a review is under way.
New Delhi said that the US government would review GE's application expeditiously and that the two countries would focus on joint production of "key items of mutual interest" in defense.
The countries also established a quantum technology coordination mechanism and agreed to set up a task force with the India Semiconductor Mission, the India Electronics Semiconductor Association and the US Semiconductor Industry Association to promote the development of semiconductor ecosystems.
India's space program is to work with NASA on human space flight opportunities and other projects, the Indian statement said.
Separately, a US official on Tuesday made the most direct comments by a US authority to date acknowledging the existence of a deal with Japan and the Netherlands for those countries to impose new restrictions on exports of chipmaking tools to China.
"We can't talk about the deal right now," US Deputy Secretary of Commerce Don Graves said on the sidelines of an event in Washington. "But you can certainly talk to our friends in Japan and the Netherlands."
Bloomberg on Friday last week reported that an agreement had been finalized and two people familiar with the matter later confirmed the news to Reuters.
The US in October last year imposed sweeping export restrictions on shipments of chipmaking tools to China, seeking to hobble Beijing's ability to supercharge its chip industry and enhance its military capabilities.
For the restrictions to be effective, Washington needed to bring on board the Netherlands and Japan, home to chipmaking powerhouses ASML Holding NV and Tokyo Electron Co, among others.
The US Department of Commerce said in an e-mail that it would continue to coordinate on export controls with allies.
"We recognize that multilateral controls are more effective than unilateral controls, and foreign engagement on these controls is a ... priority," the agency said.
Last week, officials from the Netherlands and Japan were in Washington discussing a wide range of issues in talks led by Sullivan.
Comments will be moderated. Keep comments relevant to the article. Remarks containing abusive and obscene language, personal attacks of any kind or promotion will be removed and the user banned. Final decision will be at the discretion of the Taipei Times.