FDA approves first local-made vaccine for EV-71
Enimmune Corp (安特羅生技) has obtained marketing approval from the Food and Drug Administration (FDA) for its EnVAX-A71 vaccine for enterovirus 71 (EV-71), becoming the nation's first enterovirus vaccine completely made in Taiwan, it said yesterday.
After spending 13 years and NT$1.5 billion (US$49.77 million) on the research and development of the vaccine, Enimmune plans to start manufacturing and marketing it by the end of March, the company said in a statement, without disclosing customer order figures.
"It is possible that the vaccine would not be included in a national vaccination program initially, and consumers would need to pay for it themselves," parent company Adimmune Corp (國光生技) told the Taipei Times yesterday.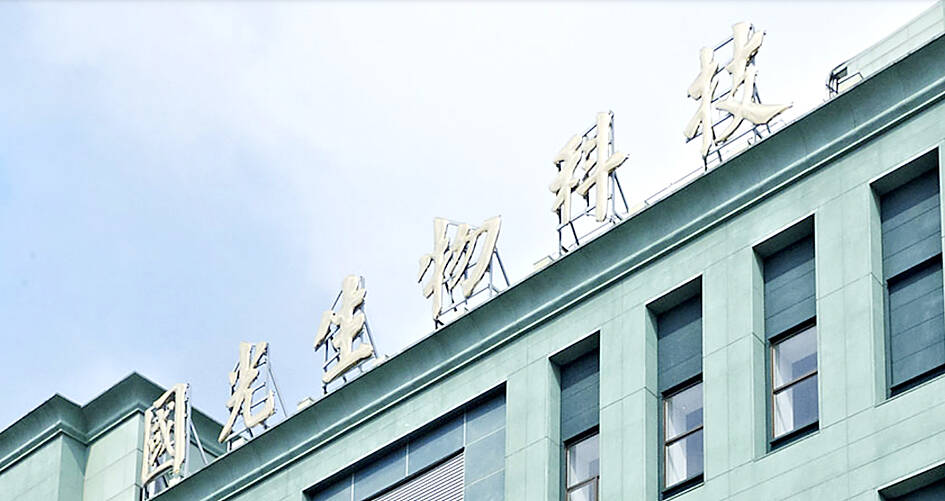 The Chinese name of Adimmune Corp is pictured at the company's headquarters in Taichung in an undated photograph.
Photo courtesy of Adimmune Corp
"However, we are working with the government, and hope that this vaccine could be included in a national vaccination program for children, as EV-71 is a common pathogen that causes polio-like syndrome and can lead to severe sickness," Adimmune said.
As the vaccine would be administered to children younger than five and each child would need to have two shots, the total demand for the vaccine in Taiwan is estimated at 300,000 doses per year, the company said.
EnVAX-A71 is designed to act against genotype B4 of EV-71, which is widespread in Taiwan.
Enimmune has signed a memorandum of understanding with a Vietnamese state-run vaccine company to collaborate on EnVAX-A71 and is to complete a phase-three human test of the vaccine in the country in the near term.
In the long term, the company aims to enter the Southeast Asian market where demand for an enterovirus vaccine could exceed 20 million doses, it said, adding that it also plans to enter the Chinese market.
Enimmune's revenue grew 72 percent year-on-year to NT$188 million last year, while Adimmune's revenue grew 37 percent to NT$2.25 billion, companies data showed.
Local rival Medigen Vaccine Biologics Corp (高端疫苗) is also developing an enterovirus vaccine in Taiwan, but has not yet obtained marketing approval after submitting an application in 2021.
Comments will be moderated. Keep comments relevant to the article. Remarks containing abusive and obscene language, personal attacks of any kind or promotion will be removed and the user banned. Final decision will be at the discretion of the Taipei Times.