China's phone shipments drop to lowest in 10 years
China's smartphone sales fell 13 percent year-on-year last year, the largest plunge for the sector in a decade as consumers spent cautiously, market research firm International Data Corp (IDC) said yesterday.
The total number of devices shipped was 286 million, down from 329 million last year, IDC researchers in a report.
That meant total sales volume was the lowest since 2013, and the first time since then that annual sales have dropped below 300 million, IDC said.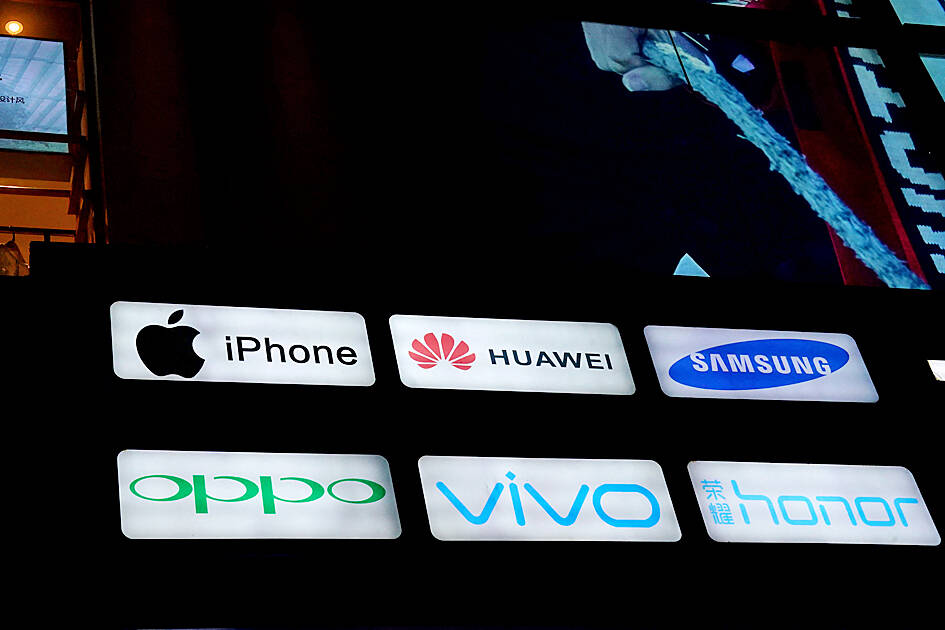 The logos of smartphone makers Apple, Huawei, Samsung, Oppo, Vivo and Huawei's Honor are displayed outside a store in Beijing on Aug. 11, 2020.
Photo: Reuters
Android handset maker Vivo Communication Technology Co (維沃) was the top-selling brand last year, with a market share of 18.6 percent, although its total shipments fell 25.1 percent year-on-year.
Honor Terminal Co (榮耀) ranked as the second best-selling brand, with shipments growing more than 34 percent, albeit from a low base.
Apple Inc was the third best-selling phone brand last year, tied with Oppo Mobile Telecommunications Corp (歐珀).
Apple's overall sales fell 4.4 percent year-on-year, broadly outperforming the market downturn.
In the fourth quarter of last year, despite being the top-selling brand in the three-month period, year-on-year sales for iPhones remained down, as supply chain issues caused by worker unrest at manufacturer Foxconn Technology Group's (富士康科技集團) plant in Zhengzhou compounded demand that was already worse than expected, IDC said.
Strict COVID-19 controls in China, which ramped up in the spring of last year across several cities, weighed heavily on its economy, which slumped to one of its worst levels in nearly half a century last year.
The plunge in smartphone sales in China reflected the sector's performance globally. Last year, global smartphone shipments hit 1.2 billion units, the lowest since 2013 and a year-on-year fall of more than 11 percent, according to IDC.
Comments will be moderated. Keep comments relevant to the article. Remarks containing abusive and obscene language, personal attacks of any kind or promotion will be removed and the user banned. Final decision will be at the discretion of the Taipei Times.